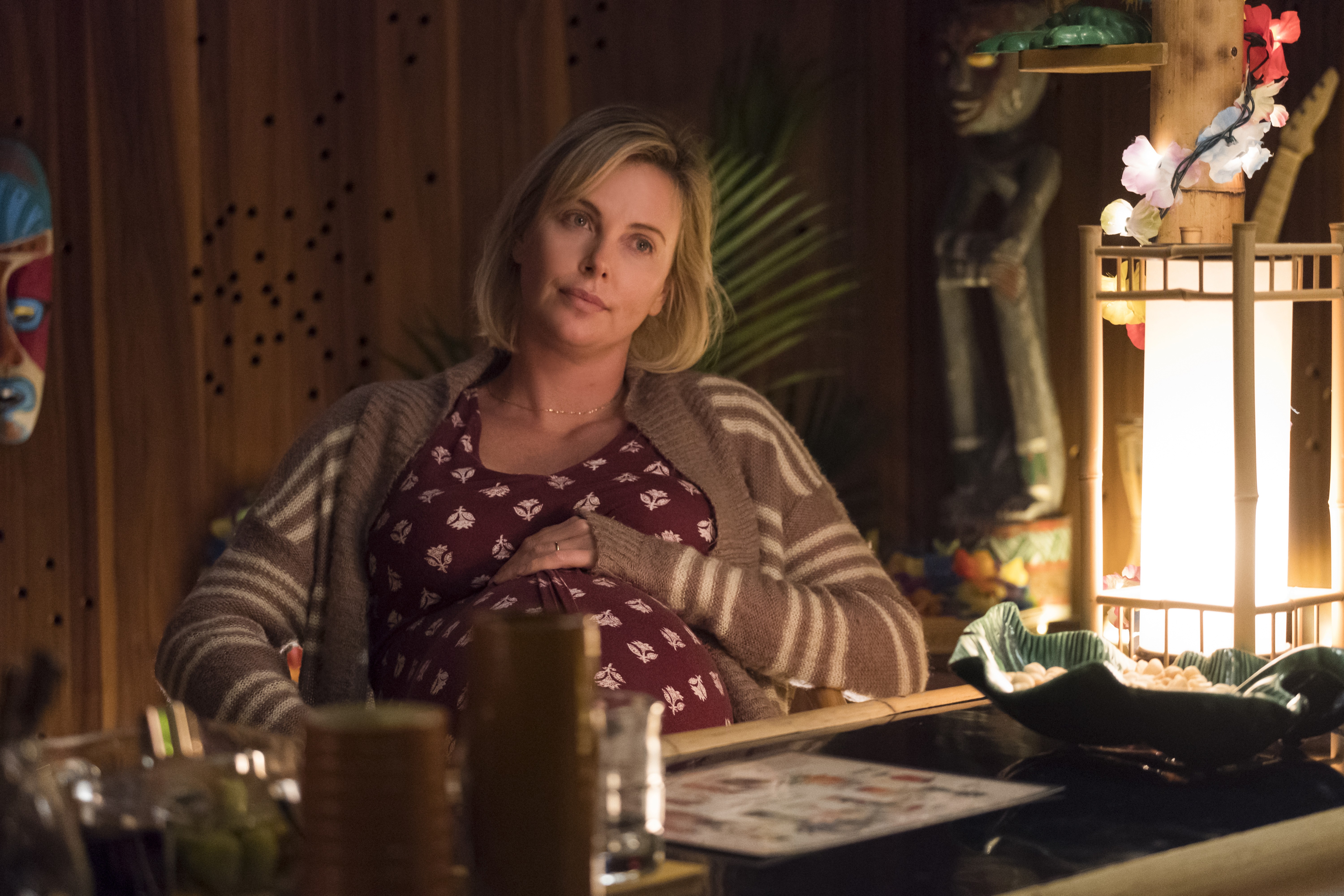 The publicity for Tully describes the movie as a comedy, but we're not sure that's completely accurate. For us, this intimate character study of two women making their way through one little corner of the world is a drama of great emotional complexity masquerading as a sitcom. Directed by Jason Reitman from a screenplay by Diablo Cody — they collaborated on the celebrated Juno (2007) — and outfitted with remarkable performances by actors Charlize Theron and Mackenzie Davis, Tully is the sort of quiet, thoughtful glimpse into interior lives that opens up and blossoms into something more expansive and rewarding than an ordinary comedy of lifestyle predicaments.
Marlo (Theron) has two kids and is pregnant with a third. Her young son (Asher Miles Fallica) has behavioral issues that make it hard for him to remain in a regular school setting. Her daughter (Lia Frankland) and Marlo's husband (Ron Livingston), the dithering dad of the family, function mostly as a reticent, unhelpful Greek chorus to the household hurly-burly. It's Marlo who does the heavy lifting. While we're on the subject of heavy, actor Theron reportedly put on 50 pounds in order to portray Marlo — shades of her Aileen Wuornos in Monster.
Over and above the stunt value of such a plunge into character, Theron's Marlo deals with a full plate of aggravations in addition to the maternal weight gain: depression, low self-esteem, compulsive food binges, and a brother whose family life, by comparison, drives Marlo up a tree. Her brother Craig (Mark Duplass) is the archetypal successful man who does not deserve it, with an obnoxiously chipper wife (Elaine Tan), two conspicuously perfect children, a designer home, and, worst of all, plenty of unsolicited advice for his harried sister. And yet, it's Craig who recommends Tully to Marlo.
Part flower child, part Tinker Bell, Tully (Davis) the "night nanny" is hired to arrive at the grownups' bedtime, sit up with the newborn, give the exhausted mother a chance at a good night's sleep, and soothe the family's anxious nerves. Tully does all that and more. Is she real or imaginary? Regardless, she turns out to be Marlo's instant best friend, her alter ego, and the guardian angel of her nighttime dreams. Theron (Gringo, Mad Max: Fury Road) outdoes herself as Marlo. In tandem with Davis (Blade Runner 2049) as fairy-tale caregiver Tully, this diary of a mad housewife — another difficult trick by the Reitman-Cody combo — dispenses cheer and hope without smarm and the accompanying guilt. Tully is a serendipitous treasure.

[embed-1]