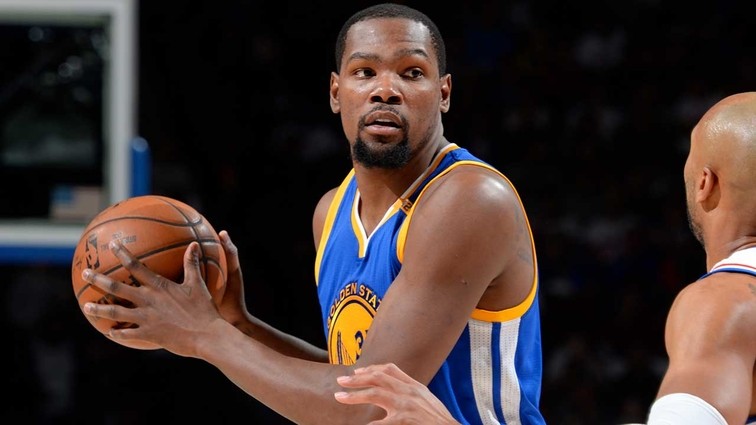 Stories you shouldn't miss for Aug. 18, 2017:
1. Golden State Warriors superstar Kevin Durant told ESPN that he will not visit the White House if the NBA champions are invited, saying "
I don't respect who's in office right now,
" reports Mike Lerseth of the
San Francisco Chronicle
$. The NBA Finals MVP also said he also doesn't think his teammates will go to the White House as long as Donald Trump is president: "I know my guys well enough, they'll all agree with me."
2. One rookie Oakland firefighter
was shot to death and another was badly injured
at a food and music event in San Jose last night, reports Jason Green of the Bay Area News Group$. The two young firefighters had recently graduated from Oakland's fire academy. Other Oakland firefighters held vigil outside Valley Medical Center, where the injured firefighter was reported as being in stable condition.
3. Two powerful water agencies that would benefit from Gov. Jerry Brown's plan to build giant tunnels underneath the fragile Sacramento-San Joaquin River Delta are scheduled to
vote in September on whether they will pick up most of the project's $17 billion tab
, the
Sacramento Be
e$ reports. Metropolitan Water District, which serves Los Angeles, is expected to greenlight the project, but it's uncertain whether Westlands Water District, which represents agribusinesses in the dry San Joaquin Valley, will do so. Environmentalists and Delta farmers and residents strongly oppose the tunnels.
4. California's three chapters of the ACLU have broken with longstanding tradition and are refusing to represent neo-Nazis who engage in violent rallies, saying "
white supremacist violence is not free speech
," reports Matt Pearce of the
LA Times
$. The American Civil Liberties Union has a long tradition of representing people who espouse hate speech, but the California chapters say the First Amendment does not apply to those who engage in violence.
5. Despite widespread opposition in Richmond, the U.S. Postal Service
has shuttered the historic downtown post office in the city and plans to sell it
, reports Tom Lochner of the
East Bay Times
$. The art-deco style post office in downtown Richmond was built in 1938. The Postal Service has been selling off historic post offices in recent years throughout the nation.
6. And in response to the deadly Islamic State terrorist attacks this week in Spain, President Trump
pushed a false and debunked
century-old story about U.S. Gen. John J. Pershing killing captured Muslim rebels in the Philippines in 1913 by shooting them with bullets dipped in pig's blood,
The New York Times
$ reports. Trump claimed on Twitter that Pershing's actions stopped terrorism, but no part of the story is true.
$ = news stories that may require payment to read.