Update 12/8 10:57 a.m.: I visited the tree this morning to take some photos of the flooding, which you'll find posted below. In one, you'll see a sign reading "PLEASE KEEP OUT: Help us keep our oak tree healthy" — ironic considering the potential damage the excess water could be causing to the tree.
A common rule of thumb is that the diameter of the root system of a mature tree is approximately two to four times the diameter of its crown. This means that the oak's roots extend well beyond the concrete barrier where this sign is posted, and are likewise susceptible to water damage throughout that entire area. (As the site also notes, "improper watering can injure roots, increasing stress and susceptibility to disease and insects. … Once a root system is severely affected, the tree usually must be removed.")
This morning I also witnessed a Public Works employee, perhaps prompted by our calls to Sue Piper and Karen Boyd yesterday or the below story, checking the sprinkler valve in the tree well to ensure it was closed tight, testing the soil moisture with a narrow rod, and taking a series of photos around the base of the tree. You'll see him in the first photo in a bright orange vest. Stay tuned to find if this results in any changes to the city's excessive watering of Frank Ogawa Plaza.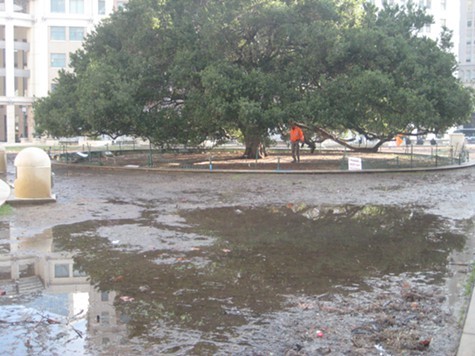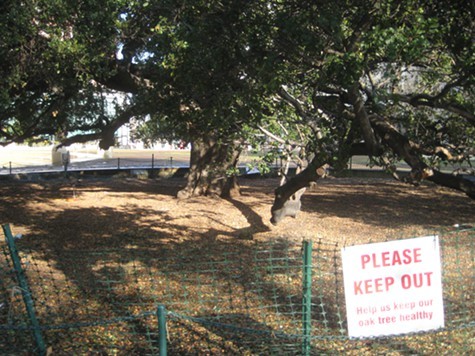 ***
The Express received a letter this afternoon from a reader concerned that the ongoing flooding of Frank Ogawa Plaza, which dates to before November 19, when this photo was taken*, threatens the survival of the plaza's iconic coast live oak. Even today the area surrounding the tree well is soaked, as is much of the rest of the plaza.