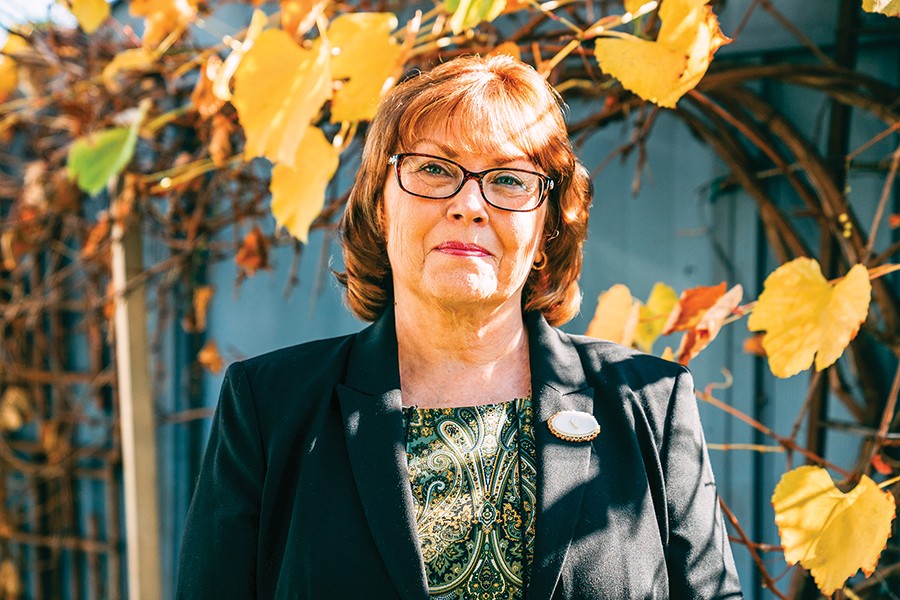 Mary Seymour was out on medical leave last month when the Express published an investigative report on her boss, Oakland City Auditor Brenda Roberts, detailing Roberts' verbally abusive behavior toward staffers, the rampant turnover that resulted, and the sharp decline in substantive output from an office tasked with rooting out corruption and waste in city government. But Seymour knew that she likely would never return to her job.
Seymour, a performance audit manager hired in 2015 who had worked in the office longer than any other staff member currently employed, said she witnessed Roberts' verbally abusive behavior toward several employees over the past two years — and experienced it first-hand. "It is a very abusive workplace," she said during a recent interview. "It's toxic. Hostile."
Seymour is now the fourth former employee of the auditor's office to speak openly about the city auditor's abusive behavior. The others are Robert McMenomy, a former longtime FBI agent who was the audit manager running Oakland's Fraud, Waste, and Abuse Prevention Program; Timothy Knight, a former Indianapolis police officer who was Roberts' executive assistant; and Sharon Ball, who ran the Fraud, Waste, and Abuse Prevention Program before McMenomy. In addition, several other current and former employees have spoken anonymously to the Express about Roberts and have confirmed the abuse allegations against her.
Seymour decided to come forward with her story after Roberts put her on administrative leave following the release of the Express' report, "Watching the Watchdog," published on Oct. 11. She said she and others had tried all of the city's mechanisms available to them to try to solve the problems with Roberts before going public. "We have reported it to Employee Relations; we have reported it to Sabrina [Landreth] the city administrator; we have reported it to HR [Human Resources]. We have done the full chain of command, and we have no alternatives."
Seymour's official departure from the department occurred on the same day a response to the Express' report began circulating, purportedly from the remaining staff members of the auditor's office — now down to six full-time employees in an office budgeted for ten. The response sought to vindicate Roberts and dismiss criticisms of her and was emailed to city officials and department heads and was later posted as a comment on the Express' website. It was also posted and then subsequently removed from the auditor's official website as was Roberts' own response to the original Express report.
Seymour said she would have contested the contents of the letter, which followed a similar format and borrowed sentences from Roberts' personal response posted on the official Oakland City Auditor website a day before and falsely stated that Roberts was absolved of abuse allegations. In reality, an independent investigator hired by the city found Roberts' behavior conflicted with the city's official code of conduct. The response also included a misleading chart that swelled numbers referencing the work that's been done since Roberts' term began in 2015.
Emailed from Executive Assistant Dena Shupe, who declined to be interviewed about the response, the letter stated that it was from "active staff members" but was not signed by any individuals. One employee, currently out on maternity leave, said she was not made aware of the response until after it had already been emailed to city officials. And others, Seymour said, may have felt pressured not to push back against the city auditor. Roberts "is verbally and emotionally abusive of every employee except those close to her."
Of the five employees left in the office who might be considered "active," the two management-level staff members, Assistant Auditor Carlos Hickerson and Performance Audit Manager Alessia Dempsey, both donated to Roberts' 2014 election campaign and were subsequently hired by her. Hickerson, who now works as Roberts' second in command, also served as her campaign manager.
Despite the assertions in the response letter that the team is "united, thriving, and gaining traction," city records show that Seymour is the fourth full-time employee to leave the department this year.
Seymour, along with the others interviewed both for the original report and again following the release of the department's response, described being berated and chastised over small mistakes or harshly evaluated after pushing back against Roberts' decisions. Often, former employees said, those who tried to get the workflow up to speed were singled out and driven out of the office, either through poor workplace evaluations, verbal bullying, or being let go. Knight resigned after Roberts forced him to scrub the office floorboards on his hands and knees while wearing a suit and tie.
Roberts declined to comment before the publication of the Express' in-depth report on the allegations about her behavior toward her employees, citing personnel reasons. She blamed her office's low productivity on staff turnover and vacancies.
A certified internal auditor with more than 30 years of experience, Seymour said her working relationship with Roberts was strained for more than a year and deteriorated during the first six months of her employment when she tried to increase the efficiency in the office and help with executive duties in her role as a manager. She said that in April 2016, Roberts put her in bureaucratic isolation, and she was not given any work other than ordering office supplies or filing invoices (other employees who have worked in the auditor's office over the past two years confirmed Seymour's account). "We ended up with craziness," she said. "And it's gotten worse, and worse, and worse."
In one example, Seymour said, she was asked in a meeting to recall specific numbers for an in-progress audit, and she said she asked if she could retrieve her computer because she didn't have the information memorized. "[Roberts] just started screaming, screaming, screaming at me," Seymour said, adding that the altercation ended up causing another employee in the room to become visibly emotional. "That's how abusive it was."
Seymour said that she reached a breaking point in July 2017. She filed a police report against Hickerson, following a meeting at which she said she felt threatened. The incident has yet to be officially investigated, but after it occurred, Seymour began working with a union representative to negotiate an exit strategy. (Hickerson did not respond to requests for comment for this report.)
Seymour is now in talks with the city to finalize a contract — but there's a catch.
The settlement offered by the city grants her paid administrative leave through January and medical benefits she relies on until April of next year, but also bars her from speaking out about her treatment in the office. She hasn't signed it yet.
"The contract they would like me to sign is basically a gag order for five years," Seymour said. "That's [Robert's] entire term if she got reelected."
But even with her descriptions of the work environment in the auditor's office, along with the many accounts of verbal abuse alleged by employees, the lack of work coming out of the office, and the documented ways in which Roberts has failed to fulfill her mandate as Oakland's elected auditor, little has been done to hold Roberts accountable.
In an email sent prior to when the publication of the Express' in-depth report, city representatives noted that the city auditor, as an independently elected official, has "autonomous authority over her work plan." They also confirmed that an independent investigator concluded that Roberts' treatment of her staff did not follow the city's official code of conduct, but stated that the city administration "took steps to address the allegations and resultant findings."
However, officials from the International Federation of Professional and Local Engineers Local 21, the union that represents employees working in the auditor's office, say nothing has been done to help or protect city staffers. "The situation in the Oakland City Auditor's office, as reported by the East Bay Express, is a true reflection of the atmosphere of intimidation, hostility, and retribution that workers have reported to me," Karmen Ortloff, lead representative for IFPTE Local 21, wrote in an email to me.
"Since the city auditor is an elected office and its own 'appointing authority' within the city of Oakland, the usual avenues of intervention and check on power offered by Human Resources and Employee Relations do not exist," Ortloff added. "That unchecked power, coupled with new worker's probationary status and high-level worker's at-will employment status, has meant that the city auditor has decimated the professional staff in her office, and there have been no consequences as of yet."