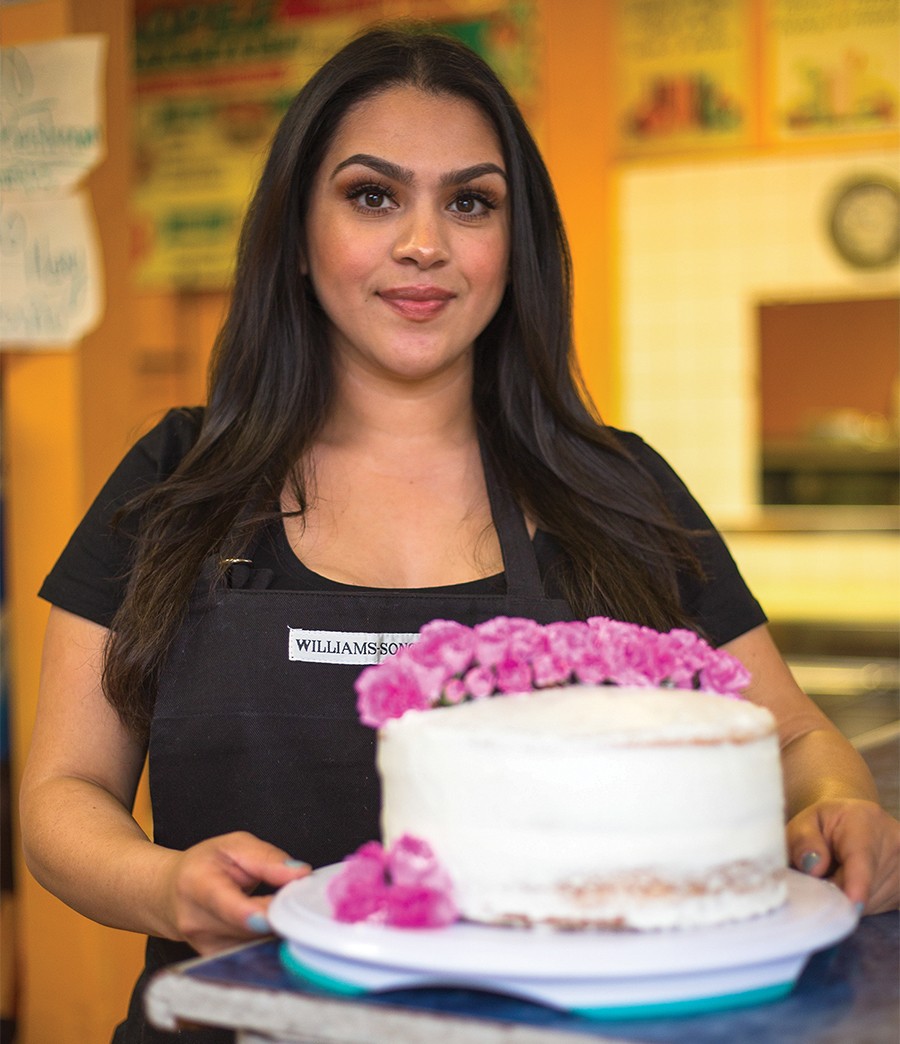 The thought of cookies, cupcakes, and other confections immediately brings to mind a retail bakery, with its large display cases full of sweet treats. But much is needed to sustain a storefront — rent, equipment, and staffing make up just some of the ever-rising operating costs. Thanks to the popularity of social media apps like Instagram, three young East Bay bakers have found ways to start profitable businesses without the need of an expensive brick-and-mortar.
In just under a year, Karla Lopez, 31, has garnered a small but devoted following under her Instagram account, Lopez Bakery. As an Oakland native, she takes pride in baking her cakes out of the commercial kitchen inside her dad's bakery in deep East Oakland.
Although she is self-taught, she comes from a family of bakers. Her uncle owns Los Mexicanos No. 2 in the Fruitvale, a bakery that has been in the same location for over 30 years. Her dad went on to open Lopez Bakery on 96th Avenue, which has been going strong for more than two decades. Both family members played pivotal roles in launching Lopez's business.
"Starting, being committed was the hardest — not knowing how far it was going to take me," Lopez said.
Lopez started baking and selling cakes just for her dad's bakery. Meanwhile, she posted pictures of her own creations on social media. Soon, the photos of her custom cakes took off, and the demand of orders from Instagram took all of her time. For now, she takes on a maximum of six orders per week, which means she must often decline potential clients. As a mom and wife, she has to juggle her time. In the future, though, she hopes to expand both her dad's bakery and her online business.
In Emeryville, Tashma Morgan, 29, splits her time between being a supervisor at Public Market Emeryville and running Sugar Rush Baking Company. The Richmond native started Sugar Rush back in 2011.
Like Lopez, Morgan is also a self-taught baker. After graduating high school, she dreamed of going to culinary school. She toured Le Cordon Bleu in San Francisco but quickly realized she wouldn't be able to afford the exorbitant tuition prices ($45,000 per semester back in 2007). Instead, she opted to attend community college.
Still, Morgan has worked in the food industry since she was a teenager. When management changed at her last restaurant, she took the plunge and started her own business.
"The scariest thing about starting was finding the confidence to set my price, name my product, and go out there and market it," she said.
At first, Morgan gave her cupcakes away for free as she wasn't sure if people would like them. She has come a long way: Morgan is not backed by anyone but herself, and even without a storefront, the success of Sugar Rush has allowed her to hire two employees and expand from selling just cupcakes to custom cakes, meal-prep services, catering, and cannabis-infused goods. She infuses oatmeal dream pies, Snickers-topped chocolate cupcakes, and honey bears with cannabis, but also other goods like candy, honey, olive oil, and even barbeque sauce. She takes pride in exclusively using locally sourced ingredients.
Eventually, she would like to have a permanent space, starting with a concession trailer that she'd take to county fairs.
The most well-known of the three bakers is also the youngest. Yahshimabet Sellassie, 14, was the first runner-up in 2016's Food Network's Kids Baking Championship. Although she didn't win, her TV appearance led her to start her own business, Yahshi Bakes, alongside her parents Tsadae Neway and Abba Yahudah Sellassie.
Selassie's cooking skills began developing when she was a toddler. Her favorite thing to make? "I love baking cakes, and I'm really good at decorating," she said.
"Her presentation and aesthetics are equally as important as the taste," said Neway, her mom.
Growing up with a gluten allergy shaped the Yahshi Bakes menu, though after a surgery, Sellassie is now able to consume some wheat, and not all of her goods are gluten-free. Her cultural background — she's of Jamaican and Ethiopian descent — has also heavily influenced her baking style. One of her cupcakes, for example, combines dark chocolate, raspberries, and berbere, the Ethiopian spice blend. "There are so many spices that I incorporate," she said.
Her famous granola is a staple at Red Bay Coffee in the Fruitvale. Though she's barely in high school, Sellassie already has plans to grow her wholesale business. "I don't want to be doing the same thing as everybody else," she said. "I have to be different from something someone can get at Starbucks."
Self-taught bakers like Lopez, Morgan, and Sellassie are proof that there are many ways to launch a successful business in the digital age — regardless of whether a brick-and-mortar is ultimately the goal. It is their dedication, perseverance, work ethic, and social media marketing skills that have given them the edge.