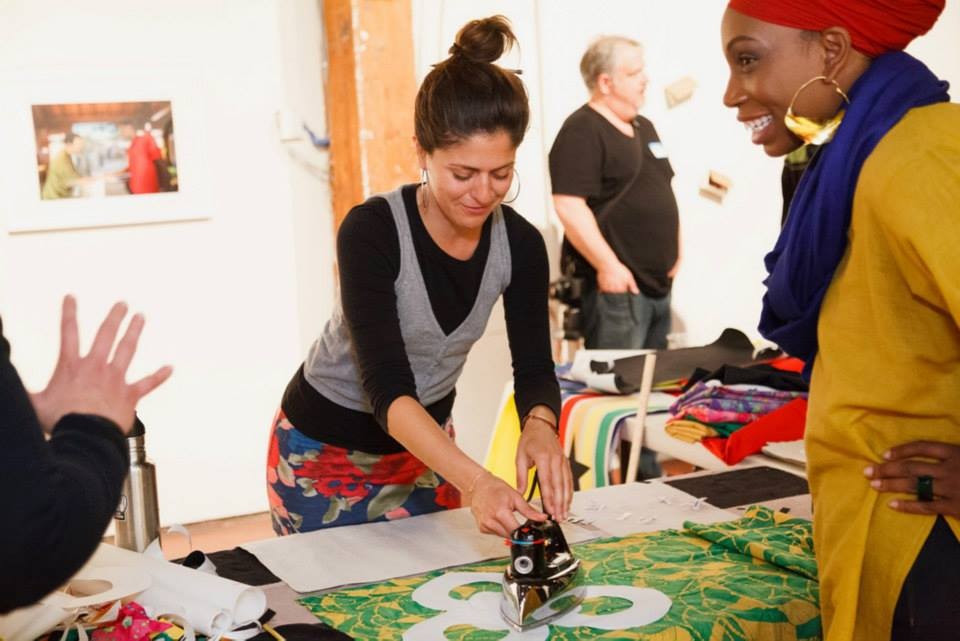 For Cuban-American artist Cristina Victor flags serve more than a practical purpose — they are also works of art. Victor's next project, "
My Story is My Flag
," is a collaborative effort commissioned by
Interface Gallery
that Victor will undertake along with a cohort of students from
Oakland International High School
. Together, Victor and the students will produce a series of twelve flags that will be displayed along Telegraph Avenue for four weeks beginning on June 14.
[jump] Flag-making is an apt project for Oakland International High School students, nearly all of whom are English-language learners who have immigrated to the United States within the last four years. The student body includes immigrants from 33 different countries, and 33 percent of these students are refugees. "My Story is My Flag" will allow this diverse group of students to negotiate matters of nationhood, identity, and belonging through the flag-making process.
Victor, who has prior experience facilitating public workshops, including a 2014 vexillology (the study of flags) workshop at SOMArts Cultural Center, will be working alongside Oakland International High School to support instructors Tygue Luecke and Madenhali Hassan as they carry out the project.
The trio will lead the students through a curriculum that includes studying flags and their symbolism, journaling, field trips, and using flag design as a way to express their cultural and personal identities. Working in groups of no more than three, the students will produce to-scale designs of seven or eight flags. Victor will design the remaining four or five flags and fabricate all twelve using an industrial sewing machine and weatherproof vinyl.
The entire project will be carried out during Oakland International High School's "post session," a daily, intensive series of classes during which students make up a year's worth of art credits in three weeks, between May 23 and June 10.
To commission the project, Interface Gallery founder and director Suzanne L'Heureux applied for and received a $2,000 matching grant from the
East Bay Fund for Artists
. To meet the matching grant goal, Interface Gallery's fiscal sponsor, Intersection for the Arts, has launched a
fundraising campaign
on Flipcause, a site dedicated to non-profit fundraising.
The $3,600 fundraising goal accounts for the $2,000 needed for the matching grant, as well as a surplus sum to cover materials, marketing, and other miscellaneous costs. The fundraising campaign officially ends on June 14, the project's opening date. But, as L'Heureux explained in a recent interview, she is hoping that the project can reach its fundraising goal well before then.
On June 14, Victor and the students will be present to lead tours and talk to community members about their work. The flags, which will measure two-feet wide by four-feet tall, will be hung on existing street posts along Telegraph Avenue between 51st and 45th Streets.
In all, L'Heureux is most excited about the project's potential to deepen a sense of connection among community members and the Oakland International High School student body. "I live right up the street from [Interface Gallery] and I walk by Oakland International High School students on a daily basis," L'Heureux said. "There's these young people coming into our community all the time. … I thought it would be a really great way to bring the communities together."