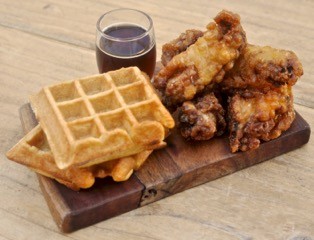 For the professional brunch eater, the quest for ever-improved versions of eggs Benedict, hash browns, and
fried chicken and waffles
never ends. Oakland has a handful of anointed favorites — Brown Sugar Kitchen in West Oakland and Aunt Mary's Cafe in Temescal, to name two — where the lines are as reliably long as the food is good. But if you're looking to try something new this weekend, here are five local spots that have recently jumped into the brunch fray.
[jump] 1. In the Fruitvale district,
The Half Orange
(3340 E. 12th St., Ste. 11) has been serving the occasional weekend breakfast sandwich special — an exceedingly sloppy but delicious, kimchi-laden thing — for a couple of months now, but the restaurant will start full-fledged brunch service this Saturday and Sunday, June 20–21, 11 a.m.–3 p.m. Given chef Jay Porter's San Diego roots, it should come as no surprise that the menu will feature a San Diego-style breakfast burrito with eggs, breakfast potatoes, bacon, and chorizo. But I'm most excited to try Porter's own take on chicken and waffles: fried chicken necks (aka
buches
; see photo above) served alongside cornmeal mini-waffles. To drink, there will be sparkling Gamay wine and Red Bay coffee provided by a new coffee shop next door opened by Luis Abundis, who owns the nearby Mexican ice cream shop Nieves Cinco de Mayo.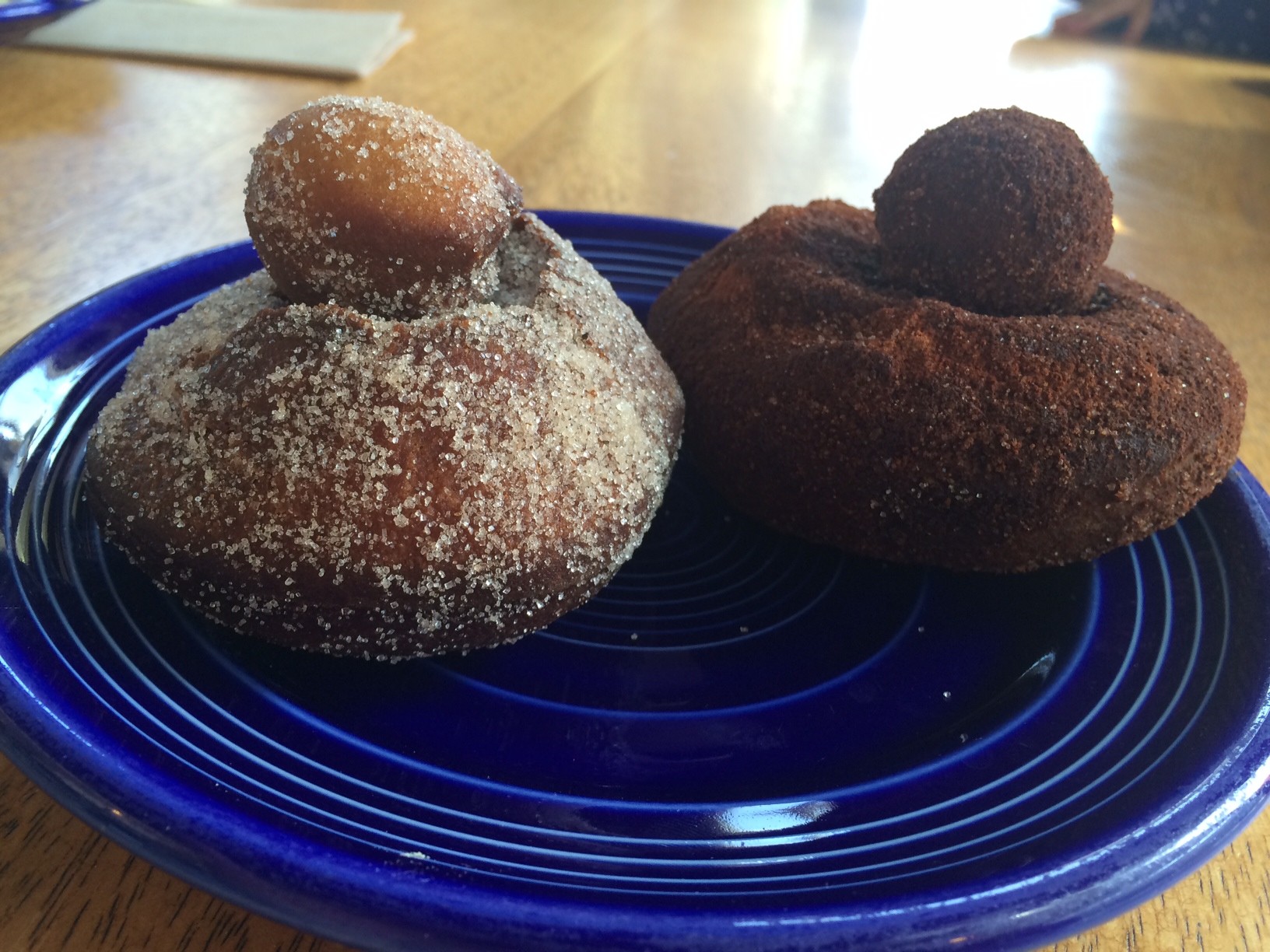 2.
Sweet Bar
(2355 Broadway), the two-year-old Uptown bakery cafe,
launched brunch service
this past Sunday, 9 a.m.– 1 p.m., with a short and sweet menu of mostly egg-centric specials: a couple different versions of eggs baked in a ramekin, a bacon-and-egg-topped breakfast pizza, challah French toast, and a poached egg sandwich served on house-made ciabatta bread. For at least the next several weeks, the bakery will also serve doughnuts on Sundays, including one kind that was dusted in ancho chili-spiked cocoa powder and another with a more standard cinnamon-sugar topping. I tried the doughnuts on Sunday, and,
like many of Sweet Bar's pastries
, these had a slightly offbeat quality to them — strongly spiced, with a crunchy exterior crust that gave way to a dense, almost bread-like texture.
3. While the restaurant is mostly known as a
beer-centric dinner spot
, for the past several months
Hog's Apothecary
(375 40th St.) has been quietly making the case that craft beer and hearty American brunch fare are a match made in heaven. Toward that end, the brunch menu — available on Saturdays and Sundays, 10 a.m.–2:30 p.m. — features lots of rich, meat-intensive dishes that are best washed down with something bracing and cold: a variation on a Croque Madame, an egg sandwich with house-made scrapple, and an over-the-top version of biscuits and gravy to which you can add — because why not? — fried chicken.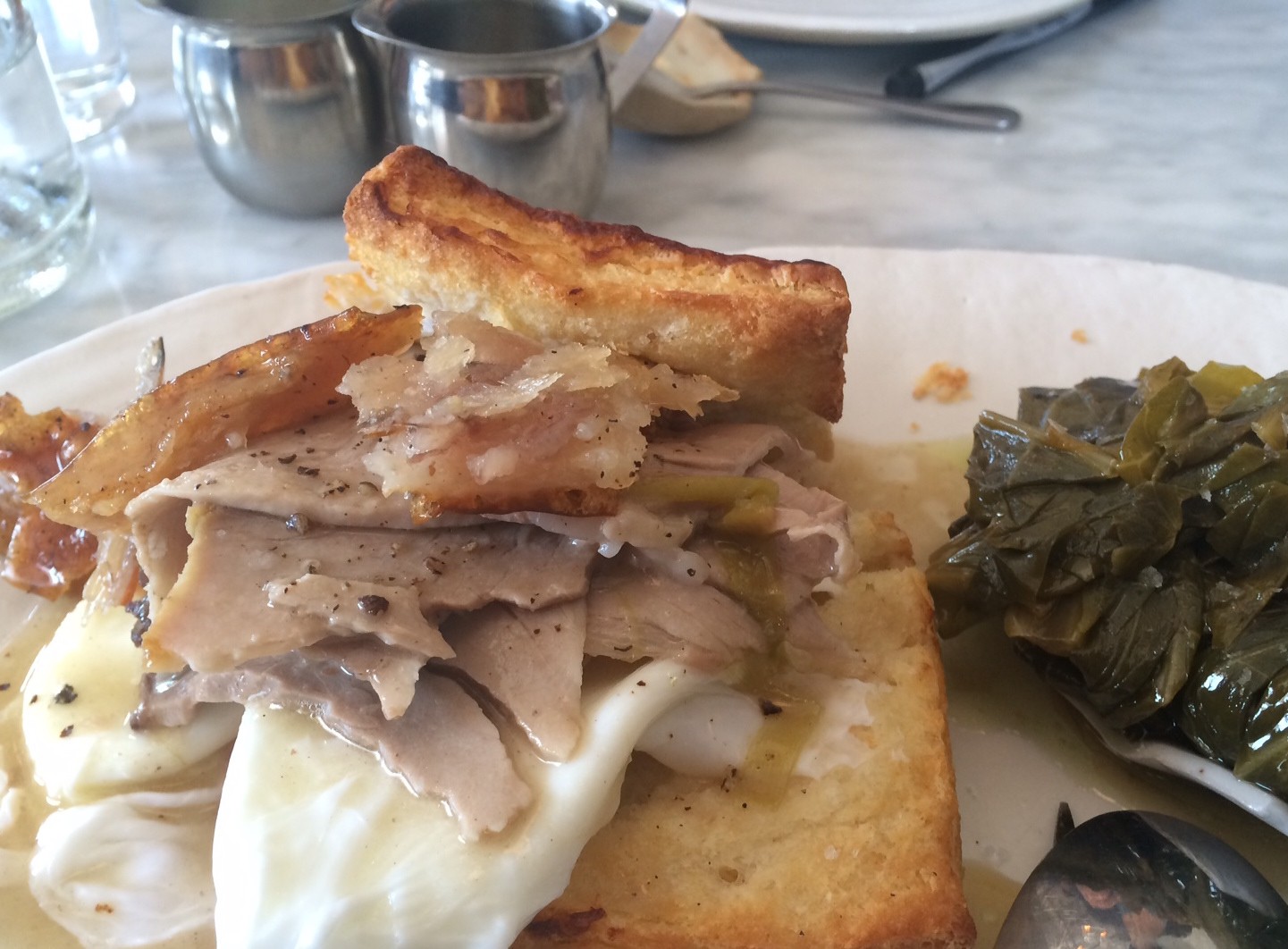 4. The burger gets all the headlines at
Kronnerburger
(4063 Piedmont Ave.), and perhaps rightfully so, but if my recent brunch visit was any indication, the restaurant may soon make just as many converts with its flaky buttermilk biscuits, pork fat-studded baked grits, and custardy bread pudding (like French toast turned into a dessert). Also worth noting: Kronnerburger's brunch hours are unusually long, running from 10 a.m. all the way until 5 p.m. on both Saturdays and Sundays — a blessing to late risers.
5. Though I've yet to visit the restaurant, I would be remiss not to mention the recent opening of
Sequoia Diner
(3719 MacArthur Blvd.), an entire dining establishment dedicated to reclaiming breakfast and brunch for the farm-to-table crowd. Located in the former Full House Cafe, which was more of an old school greasy spoon, the new diner serves refined, sustainably sourced takes on American classics such as Red Flannel Hash and an array of house-made baked goods. The restaurant opens at 8 a.m. on weekends, just as it does during the week, making it a good choice for families with young children and other early birds. But what I'm most excited about is the fact that pie by the slice appears to be a regular feature.