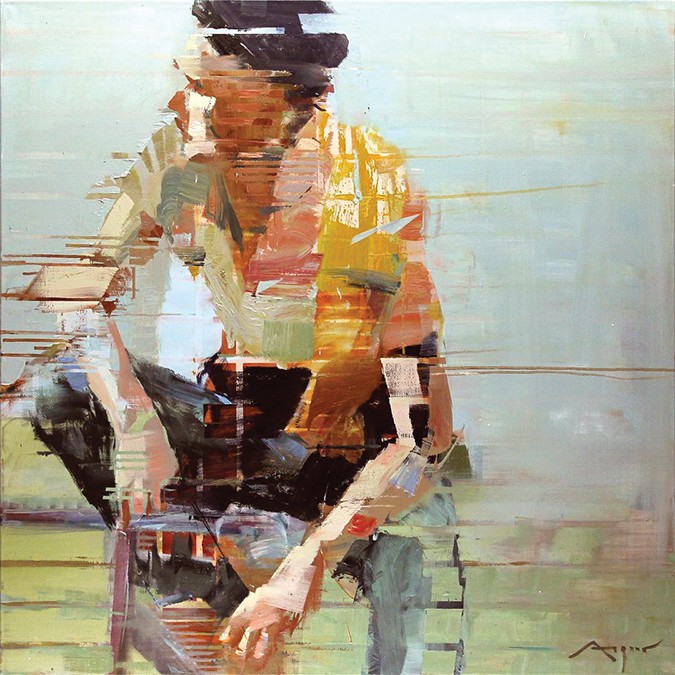 STAFF PICK
Blurring the Lines
When you go to most art galleries, you'll see photography and paintings. What you see far less of is art that combines both. Exploring this gray area between photography and oil painting is Blurring the Lines, a new exhibition at SLATE contemporary. The two artists whose blurred art is featured are Phillip Griswold and Michael Azgour. Mostly focusing on landscapes and human subjects, both artists use photography as a starting point and painting as a means to bring the images into the realm of abstract art. The effect is a surreal universe, almost as if a computer glitch created life. —
Aaron Carnes
Artists' reception on Friday, Feb. 2, 6:30 p.m., free. Exhibition runs through Feb. 24, SLATE contemporary, 473 25th St., Oakland, SlateArt.net

Art Galleries
Aggregate Space: Futility, 5th Annual Open Call for Works in Video A selection of video works in response to an annual open call for time-based media. Featuring works by Kelsey S. Brewer, Laneya Billingsley, Jamee Crusan, Nelmarie du Preez, Brynda Glazier, Tim Kopra, Wrik Mead, Allison Roberts, Gary Setzer, and Angela Willetts. Through Feb. 3. free. aggregatespacegallery.org. 801 West Grand Ave., Oakland, AggregateSpace.com.
[email protected]: BEITIA: The Extraction of My Existence Multimedia artist, and Oakland native, Aaron Beitia brings a collective of his art from transitioning post college to the real world everyday life. He demonstrates the trials and tribulations of being an Afro-Puerto Rican artist in 21st Century America. Starting Feb. 2. First Friday of every month, 6-9 p.m. Continues through Mar. 30. free. 431 13th St., Oakland.
Awaken Cafe: Alise & Jack Eastgate Opening reception. Fri., Feb. 2, 5-7 p.m. free. 1429 Broadway, Oakland, AwakenCafe.com.
Oakland Museum of California: Question Bridge: Black Males Immerse yourself in intimate videos—woven together and arranged to simulate face-to-face conversations between participants—among a diverse group of 150 black men across the United States. Through Feb. 25. free w/ museum admission. Take Root: Oakland Grows Food Unearth Oakland's multi-layered world of food in this exhibition exploring the ecological and cultural factors of how & why food is grown in Oakland. Through Jan. 13, 2019. free with museum admission. www.museumca.org. 1000 Oak St., Oakland, MuseumCA.org.
The California Hotel: Oakuba: The Rhythm of the Paintbrush Featuring the artwork of James Gayles and Pablo Soto Campoamor, Oakuba tells the story of two rich musical cultures and the magic produced by their encounter. Through Feb. 21. free. 3501 San Pablo Ave., Oakland.
Chandra Cerrito Contemporary: Sheila Ghidini and Sabine Reckewell Two concurrent solo exhibitions of works by Bay Area artists. Fri., Feb. 2, 6-8 p.m. free. 480 23rd St., Oakland, ChandraCerritoContemporary.com.
Creative Growth Art Center: An Other Life An exhibition of work that brings alternate realities to life. Through Mar. 2. free. 355 24th St., Oakland, CreativeGrowth.org.
GearBox Gallery: Shifting Gears An exhibition of Jeff Snell & Tiffany Schmierer's improvisatory, complex and engaging artworks. Through Feb. 10. free. 770 West Grand Ave, Oakland, GearBoxGallery.com.
Interface Gallery: Barometer Jon P. Geiger presents a series of circular, wall-based works he calls "Hondo Tondos," which incorporate a layering of steel, found photographs of the Western, American landscape, and magnetized ceramic components. Through Feb. 11. free. www.interfaceartgallery.com. 486 49th St., Oakland, InterfaceArtGallery.com.
Johansson Projects: Into The Blue A solo show by Matthew F Fisher. Opening reception on Friday, Feb. 2 from 5-8 p.m.. Feb. 2-Mar. 17. free. johanssonprojects.com/portfolio/matthew-fisher-february-2/. 2300 Telegraph Ave., Oakland, JohanssonProjects.com.
Joyce Gordon Gallery: Black Market An exhibit of paintings by Milton 510 Bowens which focus on the black dollar in the context of American capitalism and commercialism. Feb. 2-24. free. 406 14th St., Oakland, JoyceGordonGallery.com.
Manna Gallery: Impressions by Land An exhibition of California encaustic landscapes from Bay Area printmaker Karen Gallagher Iverson. Fridays, Saturdays. Continues through Feb. 10. free. www.mannagallery.com. 473 25th St., Oakland, MannaGallery.com.
Mercury 20 Gallery: Melting Point Installation, painting, sculpture, video and performance curated by Nick Dong & Johanna Poethig. Through Feb. 10. free. 475 25th St., Oakland, MercuryTwenty.com.
Oakland Asian Cultural Center: This Heirloom A graphic collage exhibition by filmmaker, writer, artist and social activist Mara Ahmed. Feb. 7-Apr. 26. free. www.oacc.cc. 388 9th St. #290, Oakland, OACC.cc.
Old Kan Beer and Co.: Photozine Release Party A photo show to celebrate the release of the third issue of the Razorblades & Aspirin Photozine. There will be prints on display and for sale as well as copies of the new zine, sick jams, and adult beverages! Fri., Feb. 2, 7-10 p.m. free. razorbladesandaspirin.com. 95 Linden Street, Ste 11, Oakland.
Omi Gallery: Catch Them Feels A solo show by Tigre Bailando. Through Feb. 24. free. 2323 Broadway, Oakland.
Pro Arts Gallery: Somatic Significations Three artists, Sofía Cordova, Xandra Ibarra, and Yetunde Olagbaju, in somatic significations consider the transformative agency of subjectivity through their interdisciplinary practices. Feb. 2-24. free. proartsgallery.org/event/somatic-significations/. 150 Frank H. Ogawa Plaza, Oakland, ProArtsGallery.org.
Roll Up Project: Inside and Out (On This Exact Spot) Roll Up Project is pleased to present two monumental paintings by Frank Cole. Playing with perspective, illusions, and concepts of space, Cole expertly guides the viewer through realms of indoor and outdoor, which exist simultaneously in these paintings. Mondays-Fridays, 10 a.m.-5 p.m. Continues through Feb. 22. free. www.rollupproject.com. 217 Harrison St., Oakland, rollupproject.com.
Roscoe Ceramic Gallery: Vanessa Ditullio New ceramic work Feb. 2-27. 473 25th St., Oakland, RoscoeCeramicGallery.com.
Royal NoneSuch Gallery: Lost in the Found The wildly imaginative sculptures on view in Lost in the Found transport viewers into a strange and curious world, one that is both playful and menacing, deeply personal and universal. Through Feb. 25. free. www.royalnonesuchgallery.com/. 300 Jefferson St, Oakland, RoyalNonesuchGallery.com.
SLATE contemporary: Blurring the Lines Phillip Griswold + Michael Azgour SLATE contemporary | 473 25th Street, Oakland, CA January 18 – February 24 | Hours: Thursday—Saturday 12—5p + by appt Artist talk and tour: Friday February 2nd | 6:30pm Two SLATE contemporary artists Phillip Griswold and Michael Azgour, explore the convergence of painting and photography in Blurring the Lines, which highlights abstract landscapes and figurative subjects. Fri., Feb. 2, 5-9 p.m. slateart.net/exhibition/blurred-lines/. 473 25th St., Oakland, SlateArt.net.
Vessel Gallery: Persistence of Light Artworks by Cheryl Calleri, Irene Imfeld, and Ron Weil. Artist talk on Saturday, Feb. 10, 2 p.m. Through Feb. 17, 6 p.m. free. 471 25th St., Oakland, Vessel-Gallery.com.
Museums
$5 First Friday at Chabot: Each $5 First Friday at Chabot is an exciting and immersive experience for all ages! Join us each month for hands-on activities and live demonstrations that are fun for the whole family. Each month there will be new things to explore!, Some activities have limited capacity and are first come, first served. Pre-purchase your tickets First Friday of every month, $5, www.chabotspace.org/first-fridays.htm. Chabot Space & Science Center, 10000 Skyline Blvd., Oakland, ChabotSpace.org.
Attractions
Asian Cultural Center First Fridays: Oakland Asian Cultural Center hosts First Fridays, showcasing Asian and Pacific Islander art, cultural performance, informative workshops and exciting games every first Friday of the month. OACC is located in the Pacific Renaissance Plaza. First Friday of every month, 6-8 p.m., Free. Oakland Asian Cultural Center, 388 9th St. #290, Oakland, OACC.cc.
Fairs, Festivals, & Fiestas
Friday Nights @ OMCA!: Get your Oakland groove on at Friday Nights @ OMCA! Jam to live music, special performances, and dance lessons, get crafty at drop-in art workshops, and join local foodies for a variety of demos and tastings. Indulge in a wealth of curbside cuisine options with over 15 Off the Grid food trucks that gather at OMCA on 10th Street and Oak Street. Grab a drink from the bar and cheers to the weekend as you admire beautiful views of Lake Merritt from OMCA's terraced sculpture garden or sprawl out with a family picnic in the courtyard. Gallery admission is half-price for adults and free for ages 18 and under! Fridays, 5-10 p.m., Free. Oakland Museum of California, 1000 Oak St., Oakland, MuseumCA.org.
Social Events
First Fridays at The New Parkway: Come enjoy the First Friday Art Walk at The New Parkway Theater! Happy hour specials: $10 for a pint and appetizer, 6-9pm (with flyer). Artist showcase: All Around Oaktown, by Bayflix (reception from 6-7:45pm in the Mezzanine). Karaoke in the Mezzanine, 8-11pm. Throwback Theater: Love Jones, 9:30pm. First Friday of every month, 6-11 p.m. Continues through Nov. 1, Free. The New Parkway Theater, 474 24th St., Oakland, TheNewParkway.com.
Culinary & Wine
First Fridays Community Potluck: Once a month ArtVale invites the community to come on out and break bread with one another. Bring friends, family and food to share. Stay for a small drawing session. First Friday of every month, 6-9 p.m., Free. ArtVale Gallery, 3463 Champion St, Oakland, artvalegallery.com.
Live Variety
First Friday Follies: Burlesque performances, with MC JUICY D. Light and music by, Elegant Trash First Friday of every month, free. Stork Club, 2330 Telegraph Ave., Oakland, StorkClubOakland.com.
Hoodslam: Monthly underground wrestling event for the 21+ crowd First Friday of every month, 9 p.m., $20. Oakland Metro Operahouse, 522 2nd St., Oakland, OaklandMetro.org.
Music
The Love-Birds: Seablite, Bearcats, Horrible/Adorable, +DJ Poindexter. Friday, Feb. 2, 9 p.m., free.. The Uptown Nightclub, 1928 Telegraph Ave., Oakland, UptownNightclub.com.
Riddim Hours: Al Ross & Haunta. Friday, Feb. 2, 10 p.m., $10-$20. The New Parish, 1743 San Pablo Ave., Oakland. TheNewParish.com