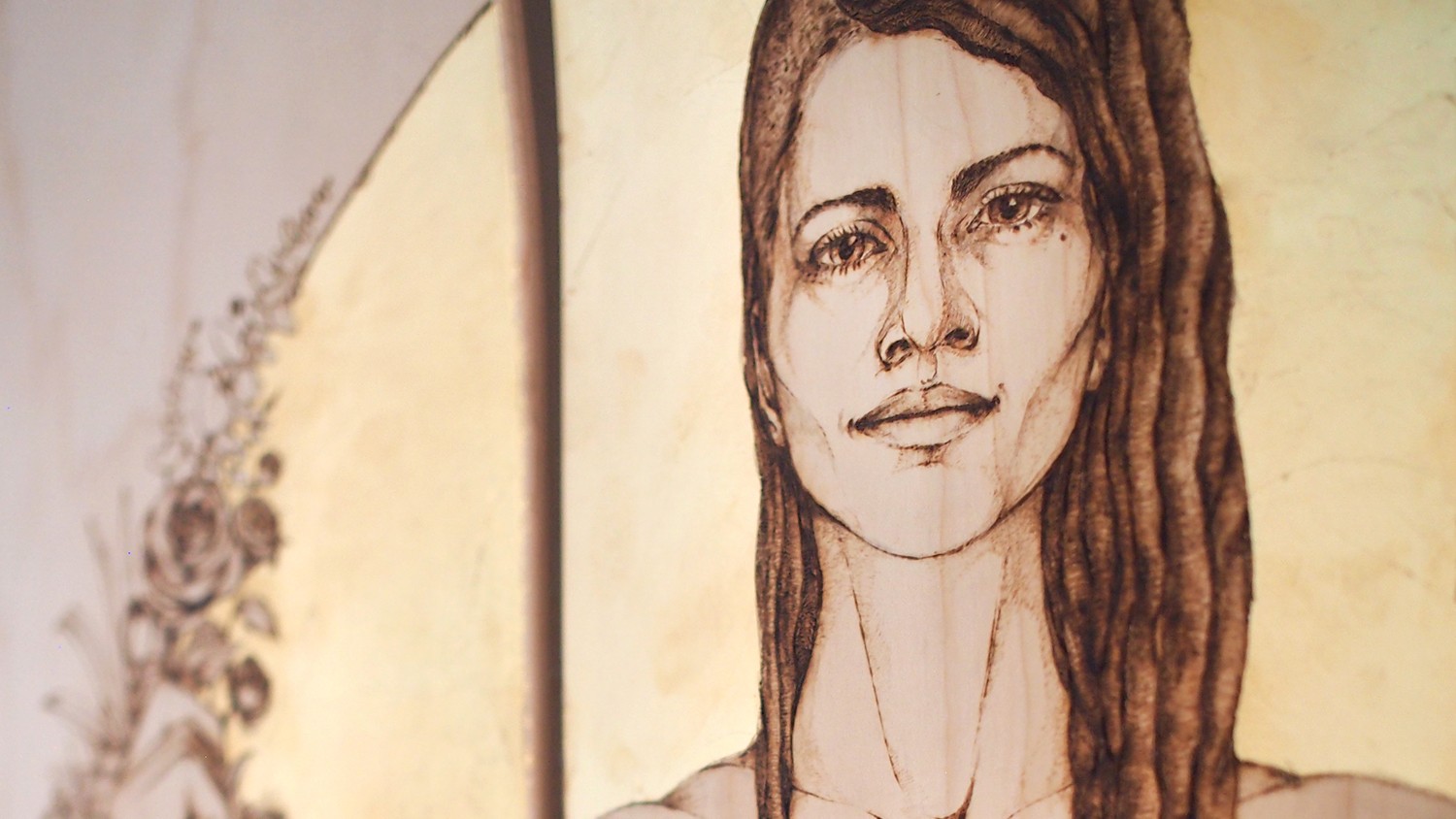 Continuity
By meticulously focusing a flame's tip on a specific corner to add shadows and create an illusion of depth, Shannon Hood takes her artistic vision to the next level. Hood, who has been drawing and painting since she was a kid, discovered pyrography — the art of wood burning — while attending Virginia Commonwealth University. She views wood as a natural canvas that is always different, and in turn, is more encouraged to pay attention to every detail. "There's no erasing or going back," she said to the Express. Inspired by change, challenges, and the unknown, Hood presents Continuity, a solo exhibit at Werkshack, which also serves as a new chapter in her career. The pieces take a look at cycles in nature and life, and how reaching a point of equilibrium is crucial to survival. "There's a primal quality, from the smell to the tranquil and chaotic nature of a flame, to the wood itself, which naturally draws me deeper." — Amyra Soriano
Saturday, Dec. 7, 6-9 p.m., free, Werkshack, 481 25th St., Oakland, GalleryAtTheWerkshack.com

Art Galleries
20/20 Vision: An annual exhibition and sale of smaller works by Mercury 20 Gallery artists, responding to the theme of "20/20." Artists reception on Saturday, Dec. 8, from 4-6 p.m.., Dec. 6-29, free. Mercury 20 Gallery, 475 25th St., Oakland, MercuryTwenty.com.
2018 – A Year in Review: See a taste of what passed through Archer this year. Opening reception on Dec. 7, from 6-9 p.m.., Dec. 7-31, free. Art@Archer, 431 13th St., Oakland.
Festive!: Reasonably priced paintings and works in fused glass by Mark Lightfoot and custom jewelry by Gretchen Greene. Fridays, Saturdays. Continues through Dec. 22, free, Manna Gallery, 473 25th St., Oakland, MannaGallery.com.
Hysterical Organs: Aubrey Learner and Mitsu Okubo explore the unsettling corners of corporeality. Paintings, prints and other 2D works will fill the walls of the cavernous showroom as they fill you with a luxurious and colorful unease. Through Dec. 31, free, Classic Cars West, 411 26th St., Oakland, ClassicCarsWest.com.
Loop Melody: United by a mutual appreciation for rhythm, color, and pattern, artists Alexander Kori Girard and Rachel Kaye spiral off into their own personal explorations of hidden symbols and frenetic motion. Through Jan. 4, 2019, free, Johansson Projects, 2300 Telegraph Ave., Oakland, JohanssonProjects.com.
The Edge: A modern and minimalist exhibition featuring two painters and one sculptor, bringing into focus the lines, curves, and forms that make up compositions that can be at once geometric and organic. Through Dec. 29, free, SLATE contemporary, 473 25th St., Oakland, SlateArt.net.
Attention People! Look What Amazes You Before Your Eyes: A chance to marvel at the beauty, humor, and creativity that gives us reasons to celebrate. Exhibition opening and preview sale on Friday, Dec. 7, from 5:30-9 p.m., continues through Jan. 18, free. Creative Growth Art Center, 355 24th St., Oakland, CreativeGrowth.org.
Common Threads: The Mending Collective Leeza Doreian, Liz Harvey, and Danielle Wright present an exhibition highlighting how the practices of selected artists shed light on the textile industry and its excesses. Through Dec. 14, free. Chandra Cerrito Contemporary, 480 23rd St., Oakland, ChandraCerritoContemporary.com.
Desire Humor and Outrage: A solo exhibition of Irene Dogmatic's paintings, which deal with her emotion and perception of the world and politics. Opening performance and reception on Friday, Dec. 7, from 6-9 p.m.., Dec. 7-Jan. 3, free. Pro Arts Gallery, 150 Frank H. Ogawa Plaza, Oakland, ProArtsGallery.org.
Imposter: This emanative exhibition originates within Alicia McDaniel's and her family's different experiences with racial profiling, skin privilege, and assimilation, using materials that reference systematic forms of oppression. Through Dec. 22, free, Aggregate Space, 801 West Grand Ave., Oakland, AggregateSpace.com.
Lil Tuffy 11th Annual Retrospective Show: Rock 'n' roll art legend Lil Tuffy brings his collection of over 600 eccentric, handmade concert posters back to the East Bay Fri., Dec. 7, 6:30 p.m.; Fri., Feb. 1, 6:30 p.m., free. Kuhl Frames + Art, 1645 Telegraph Ave., Oakland, KuhlFrames.com.
Provisions: Featuring works from Oakland-based artists Liz Hernandez and Ryan Whelan. Through Dec. 7, free. Part 2 Gallery, 1523B Webster St, Oakland, Part2Gallery.com.
The Small Art Show: Over 300 pieces of art priced at or under $200. The evening includes work from several local vendors, cocktails, and music by DJ Justincredible, Through Dec. 7, free, ScrivaniProductions.com. Warehouse416, 416 26th St., Oakland.
Stasis: A three-day festival of sounds, video, art, performances, an art market, and more. Dec. 7-9, $9-25 per day. Pro Arts Gallery, 150 Frank H. Ogawa Plaza, Oakland, ProArtsGallery.org.
Museums
$5 First Friday at Chabot: Hands-on activities and live demonstrations that are fun for the whole family. Chabot Space & Science Center, 10000 Skyline Blvd., Oakland, ChabotSpace.org.
Attractions
Oakland First Fridays: An immersive art and community experience with galleries, artist collectives, street artists, local culinary artisans, performers, musicians, dancers, DJs, and poets. First Friday of every month, 5-9 p.m. Telegraph Avenue from W. Grand to 27th Street, Oakland.
Saturday Stroll: A weekly component to Art Murmur, but with more focus on the galleries. Saturdays, 1-5 p.m., free. Uptown District, 19th St. at Telegraph Ave., Oakland, OaklandArtMurmur.org.
Fairs, Festivals, & Fiestas
Friday Nights @ OMCA!: Jam to live music and get crafty at drop-in art workshops. Gallery admission is half-price for adults and free for ages 18 and under. Fridays, 5-10 p.m., free. Oakland Museum of California, 1000 Oak St., Oakland, MuseumCA.org.
Kids
Children's Storytelling: Storytelling by local children's book author Melissa Reyes, reading from her book, I Am Sausal Creek, a bilingual English and Spanish picture book about the history of Oakland told through the voice of a local waterway. Fri., Dec. 7, 6-7:30 p.m., free, Chapter 510, 2301 Telegraph Ave., Oakland, Chapter510.org.
Live Variety
First Friday Follies: Burlesque performances, with MC JUICY D. Light and music by Elegant Trash, First Friday of every month, free. Stork Club, 2330 Telegraph Ave., Oakland, StorkClubOakland.com.
Hoodslam: Monthly underground wrestling event for the 21+ crowd, First Friday of every month, 9 p.m., $20. Oakland Metro Operahouse, 522 2nd St., Oakland, OaklandMetro.org.