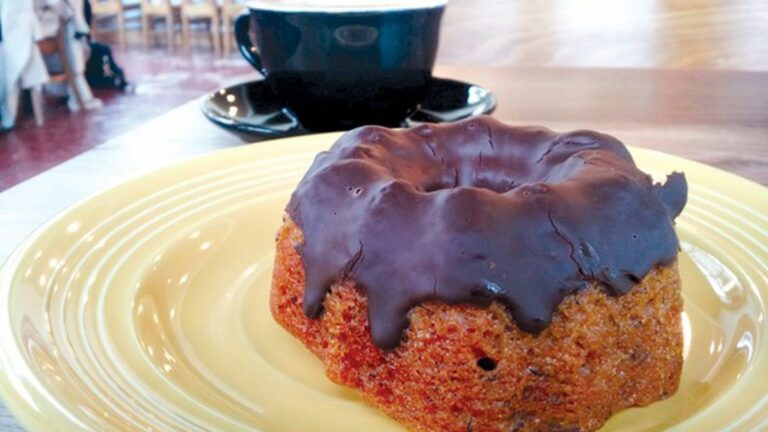 Last Friday was the first full day of business for Uptown Oakland's Sweet Bar (2355 Broadway), the highly anticipated artisan bakery from Mani Niall, the man perhaps best known as a former personal chef to Michael Jackson.
When I stopped that day to check it out, who else would be on the speakers but the King of Pop? As it turned out, Friday happened to be the thirtieth anniversary of the release of Thriller — a landmark event that Niall credits with landing him that initial personal-chef gig, and ultimately helping launch his career.
All and all, a fortuitous day to kick off his latest project.
Niall has had quite a career, post-MJ: He founded a trailblazing Los Angeles bakeshop that pioneered gluten-free and vegan baked goods before that was a trendy thing to do. More recently, he spent six years as the executive chef for Just Desserts, the San Francisco-based commercial baking company. But opening a bakery of his own here in the Bay Area is the fulfillment of a long-held dream.
As was the case with his first bakery, just about everything sold at Sweet Bar is organic or otherwise sustainably sourced. Many of the baked goods are gluten-free or vegan; others incorporate whole grains or sugar alternatives.
On Friday, the refrigerated display case held cupcakes and a couple of whole pumpkin-sweet-potato pies. Out on the front counter were assorted cookies, muffins, and scones (both sweet and savory). From 11:30 a.m. to 3 p.m., lunch is served — a selection of mostly-healthful-sounding salads, sandwiches, and flatbreads.
I opted for a banana-chocolate "fauxnut" ($3), which resembled a doughnut from a distance insofar as it was round and topped with chocolate glaze. Up close it looked more like an upside-down cake or mini bundt cake — baked rather than fried, and fairly substantial. Niall sweetens the cake with agave, and it's vegan (the chocolate ganache is almond-milk-based).
Yet, in spite of everything it was missing, the fauxnut was one of the best banana-bread variants I've had in some time — moist, slightly gingery, and sticky enough that it begged to be eaten with a fork (or plenty of napkins, anyway).
Turns out the fauxnut has a good story to go with it, too: Apparently, Niall invented the cake in the early Nineties at the behest of a Hollywood prop master who needed a doughnut that Danny DeVito could eat for a film he was shooting — but DeVito didn't eat sugary fried foods.
At first glance, Sweet Bar's Auto Row location seems slightly disadvantageous — a bit of a hike from BART and most of the area's day-to-day foot traffic. But the bakery is also right in the thick of Art Murmur's wheelhouse and, despite Friday's glum weather, attracted a decent crowd for its first day — curious passersby, laptop-wielders, and even a couple of food-blogger types who scribbled notes and snapped away with their cameras.
For now, Sweet Bar is open from 7 a.m. to 7 p.m., Monday through Friday, and from 8 a.m. to 6 p.m. on the weekend.
Hail to the 'Kouign'
Plenty has already been written about Starter Bakery's remarkable kouign amann (pronounced something like "Queen Iman"). Suffice it to say the hockey-puck-sized pastry — a distant, slightly sticky cousin of the croissant — is dangerously habit-forming: crisp and chewy, salty and sweet, and luxurious in the way that things made mostly of butter and caramelized sugar are.
If you're a frequenter of Bay Area cafes, chances are you probably already know two or three places that carry them. But maybe you didn't know this: Oakland's Highwire Coffee Roasters now sells an espresso custard kouign amann — decadence on top of decadence. Following a tip on Chowhound, I headed over to Highwire's Rockridge Market Hall retail shop (5655 College Ave.) to check it out.
The espresso custard version ($4, tax inclusive) looks just like Starter Bakery's regular kouign amann, except that when you peek into the X-shaped opening on top, you'll spy a layer of dark brown custard within. Bite in, and there's a pronounced (and distinctly grown-up) coffee flavor — but not so much so that the coffee drink you wash the pastry down with will feel redundant.
Starter Bakery co-owner Brian Wood told me he makes the coffee custard by infusing vanilla beans and ground Highwire espresso beans into milk and cream. He makes a pastry cream out of that infusion and fills the kouign amann dough with it just before baking.
"The flavors pair so well," he said.
Starter Bakery makes the espresso custard kouign amann exclusively for Highwire, but Wood said they're also sometimes available at weekend farmers' markets (Grand Lake on Saturdays, Temescal and Lafayette on Sundays). In addition to the standard kouign amann, cafes and other retail shops carry seasonal (often fruit-filled) varieties.