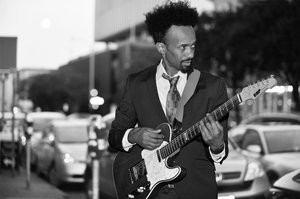 Fantastic Negrito, the Oakland-based blues singer and songwriter with a dusty and endearingly ragged sensibility, has won NPR's Tiny Desk Concert Contest. His video was chosen by a team of jurors from over 7,000 submissions and announced as the winner this morning. 
[jump] Fantastic Negrito, whose biography involves overcoming staggering adversity and a series of rebirths, wooed the NPR jurors with his "soulful character," "passion," and "conviction," according to this morning's
announcement
.
The video for "Lost in a Crowd" depicts Fantastic Negrito and his band in a cramped freight elevator, which looks instantly familiar to any local musician who frequents a West Oakland practice space or underground venue. Like the well-known NPR program's usual appearance, Fantastic Negrito and his band play acoustic instruments around a desk. The set-up lends itself especially well to Fantastic Negrito, an artist who's accustomed to creating compelling art with limited means. 
Fantastic Negrito will appear on NPR's "All Things Considered" this evening for an interview. Watch his winning submission below.
[embed-1]