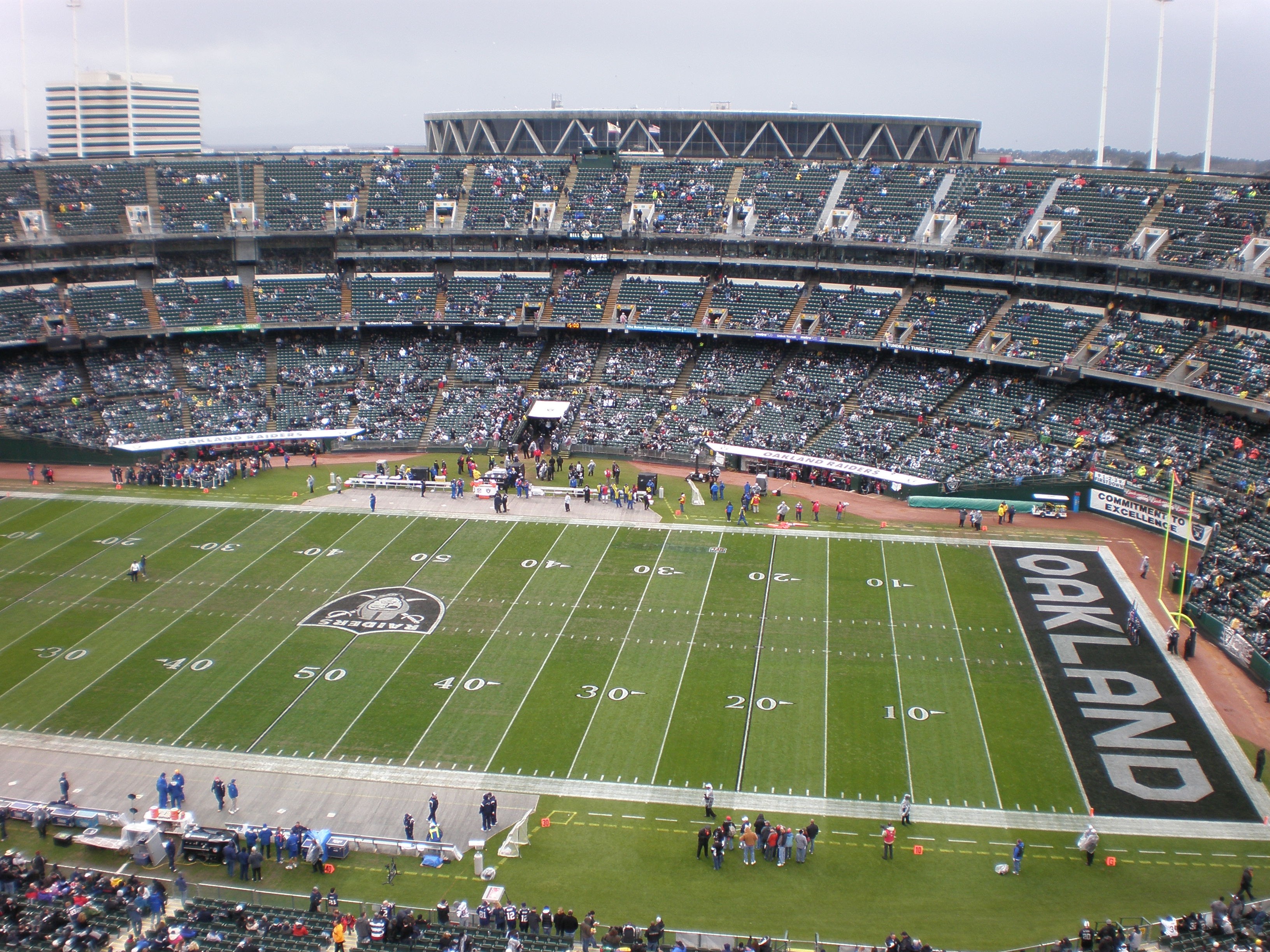 The legend of the Oakland Raiders was forged in the 1970s, when George Blanda, Kenny Stabler, and others performed so many last-second miracles in front of adoring, raucous East Bay crowds. The Oakland Coliseum quickly became known as the "House of Thrills."
Those colorful dramatics at 66th Avenue and Hegenberger Road bred an enduring, never-say-die attitude among Oakland football fanatics. And now, as the Raiders aim to move to Las Vegas in two years, committed East Bay fan groups are taking that fighting spirit to off-field venues where they say they're exploring legal options in pursuit of several goals, including keeping professional football in town.
We Stand with Oakland and Forever Oakland – a pair of organizations led by East Bay business owners and die-hard fans – announced Tuesday they're not giving up on their quest to prevent the Raiders' relocation. The community groups, represented by Ray Bobbitt and Griz Jones, said they were contacted by "multiple prominent law firms" after a judge's ruling last month allowed St. Louis' lawsuit to continue against the NFL over the Rams' 2016 relocation. That case now is headed to trial.
Groups of attorneys, whom Bobbitt and Jones declined to name, view the St. Louis ruling as a precedent for what Oakland can do in response to the NFL's decision to allow the Raiders to move.
"The recent St. Louis decision has triggered interest from large law firms that want to represent us," Bobbitt said. "That ruling made it clear to us that one of the legal options for us to identify is the league's relocation guidelines, because we don't believe the NFL followed them in this case in Oakland."
The fan group leaders have been trying to get either the Oakland City Council, the Alameda County Board of Supervisors, or the Coliseum Joint Powers Authority (JPA) to join their groups in exploring legal action over the Raiders' relocation plans. The JPA rejected that idea in October, citing fears over rising legal costs.
However, the attorneys who've approached We Stand with Oakland have offered to work on a contingency basis, Bobbitt said.
"That means there will be no financial risk at all for taxpayers from exploring these legal options," Bobbitt said. "We thought it was important that the public knew that."
Alameda County Supervisor Miley, along with Oakland City Councilmember Noel Gallo and State Assemblymember Rob Bonta, D-Alameda, joined the community groups Tuesday in downtown Oakland.
"I'm extremely encouraged by the fact that a number of prominent law firms … are interested in pursuing legal action to support the county and city and JPA on any endeavors we might undertake either to keep the Raiders here or for the possibility of securing an expansion team," Miley said.
The Alameda County Board of Supervisors discussed the issue in closed session Tuesday, shortly after the press conference. But no action was announced when they returned to open session.
The community groups' goals include keeping the Raiders in Oakland, or keeping the storied franchise's name, logo, and Silver-and-Black colors, along with a commitment from the NFL to place a club in the East Bay called the Oakland Raiders. Should Raiders owner Mark Davis successfully depart to Sin City with the Raiders, the fan groups want an NFL expansion team in Oakland. Lastly, they aim get the NFL to pay off the remaining Coliseum bond debt.
Leaders of the fan groups say Davis, Raiders executives, and NFL leaders did not negotiate in good faith with Oakland and Alameda County officials before the team filed for relocation to Vegas in early 2017. They point to media reports within the past year that indicate the Raiders have been actively trying to move out of town for years.
Davis tried to relocate the Raiders to Los Angeles in January 2016, but his fellow NFL owners rejected that effort, placing the Raiders third in a three-team competition for Tinsel Town. Davis then met with casino magnate Sheldon Adelson 17 days after the L.A. vote, asking the Vegas billionaire to help the Raiders move Sin City, according to ESPN. Together, Adelson and Davis garnered enough votes from Nevada state legislators to pass a hotel tax in October 2016 that provided the Raiders $750 million in taxpayer money for a new dome stadium near the Las Vegas Airport.
The NFL's 32 owners approved the Vegas move 10 months ago, by a 31-1 margin. Miami Dolphins owner Stephen Ross was the lone dissenter and later told the media he didn't think the Raiders had met the relocation criteria by doing all they could to find a workable solution to stay in the Bay Area. A few weeks later, ESPN reported that Davis was boasting to NFL officials of his desire to move the Raiders to Las Vegas as early as July 2014 – nearly three years before the NFL granted his wish. Davis also reportedly purchased the "lasvegasraiders.com" website domain name in 1998 – nearly 20 years ago.
A week ago, LVSportsBiz.com reported that Davis first met with University of Nevada, Las Vegas' interim President Don Snyder in 2014. Davis again met with Snyder in early 2015 – this time at UNLV's Sam Boyd Stadium. They were joined then by university President Len Jessup, Raiders President Marc Badain, and other team consultants "to evaluate using the venue as a temporary stadium for the Raiders while a new NFL stadium was built in Las Vegas," according to LVSportsBiz.com.
That partial list of actions by the Raiders front office illustrates that the team and the NFL might have violated its own relocation guidelines in the years and months before the team's announced move to Vegas, Bobbitt said.
"We're not here to badmouth anybody, we just believe that it's wrong," he said. "And we want an opportunity to prove that it's wrong."
"We've been watching this closely, and we're exploring all our options."
Chris De Benedetti writes a regular sports column for the
Express.