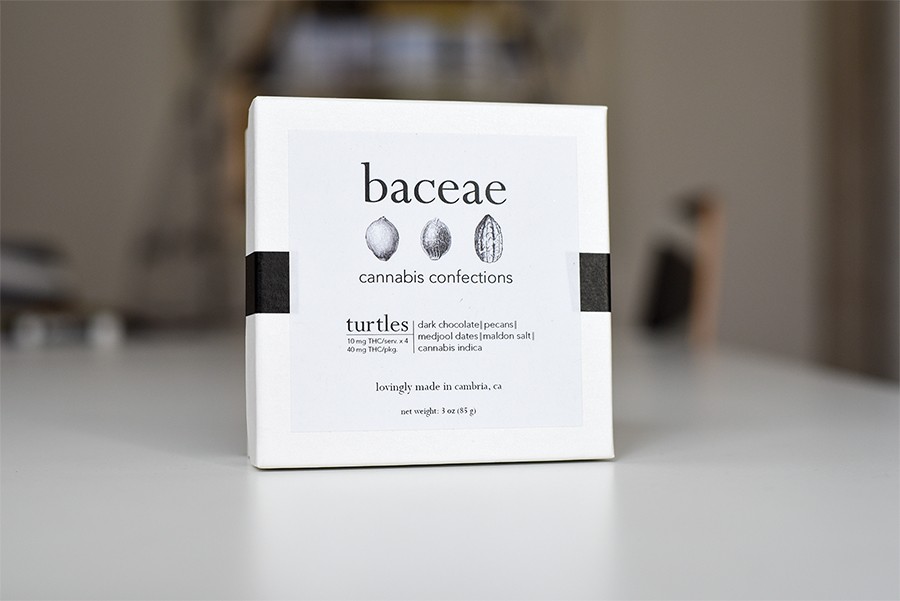 What's the difference between a regular-old edible and a cannabis-infused "confection"? Packaging, presentation, and quality.
Cambria-based company
Baceae
hits the nail on the head with its decadently rich Turtles, a collection of four 10mg miniature treats, consisting of a raw pecan and medjool date filling, and coated with dark chocolate, with a sprinkle of maldon salt. The delectable is packaged in a chic little box with the company's minimalist logo on the front.
Although I prefer sativa everything, I was excited to try these indica edibles just because of how gorgeous they looked. Most times, eating an edible is not that exciting in and of itself. It's usually the anticipation of what's to come that colors the experience. But eating these was just as satisfying as the after effects. The creamy, crunchy combination of nuts and dates paired great with the velvety chocolate, and the freckles of salt just took it up a notch. Plus, although I typically don't mind it, I could barely taste any cannabis.
Individually, these are not designed to lay you out — but they will slow you down a bit. The high was subtle, smooth, and set on in barely noticeable increments, like a light dimmer. No sudden changes, just a calm, cool descent into chillville. Most of the experience was concentrated in my body; my muscles loosened and tension seemed to dissipate from the knots in my shoulders. I didn't really experience much of a traditional head high or, if I did, it was very faint. I wasn't staring off into space or immersed in any trivialities, but my mind did seem relaxed and less tense.
I'd recommend this as an evening treat, or something to snack on once you're sure you don't have anything to do.  
Learn more at Baceae.com.