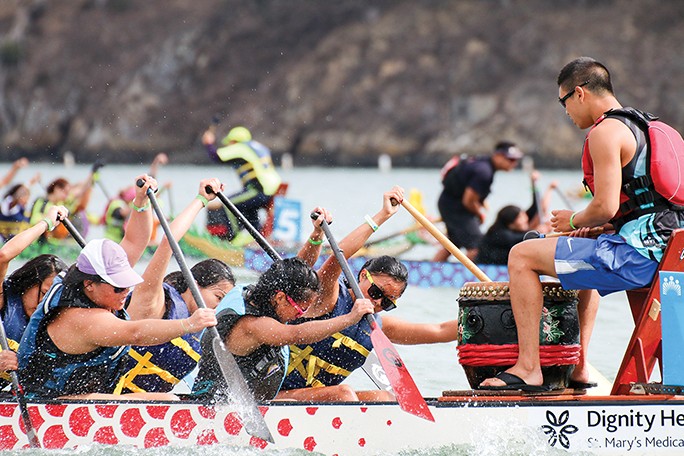 FESTIVALS
Northern California International Dragon Boat Festival
For the second year running, Lake Merritt's northern shore will be jammed with cultural performances and vendors to celebrate the annual NorCal International Dragon Boat Festival. A small sampling of the offerings: dragon air-brush tattoos, booming taiko drummers, yo-yo stunt artists, a zither ensemble, acrobats, magic shows, folk dances, gospel choirs, your usual outdoor food fare, and dodge ball and face-paint for the kiddies. But that's all garnish for the main event — a series of exciting races between 40-foot-long, intricately painted dragon boats. Opening ceremonies begin at 11:30 a.m. on Saturday, with a traditional blessing of the boats by Buddhist monks from the Fa Yun Chan temple. — R.P.
Saturday, Sept. 23, and Sunday, Sept. 24, 10 a.m., free. Lake Merritt Boating Center, 568 Bellevue Ave., Oakland. SFDragonBoat.com.
ART
Arts + Design Mondays: Public (Re)Assembly
With Berkeley again claiming center stage in this Trump era of public demonstration, Berkeley Arts + Design restarts its popular Monday night lecture series with a running exploration of the word "assembly." Topics interconnect the political, technological, and artistic, including Big Tech's existential threat to the human mind, how theater can break down barriers within a politically mixed audience, how social media has shifted museum curation into an ongoing conversation, the connection between art and empathy, a philosophical history of the varied forms of "assemblage," and how musical archives engage displaced communities while forming new ones. The first lecture will be hosted by Shannon Jackson, associate vice chancellor of art and design at UC Berkeley. — R.P.
Most Mondays from Sept. 11 through Dec. 14, 6:30 p.m., free. UC Berkeley Art Museum and Pacific Film Archive, 2155 Center St., Berkeley. BAMPFA.org

Metamorphosis & Migration: Days of the Dead
Every other year, the Oakland Museum of California develops an exhibition themed on "Days of the Dead." This year, it's about the life-cycle of the monarch butterfly, focused on its mass migratory event, where a cast of millions across several generations of butterflies make the two-way trip across North and South America to escape the north's cold winters. On display will be rarely viewed monarch specimens from OMCA's collection, newly commissioned works from Oakland artists Hung Liu and Favianna Rodriguez, and traditional Days of the Dead altars. OMCA will also hold its 23rd annual Days of the Dead Community Celebration on Sunday, Oct. 22. — R.P.
Runs Oct. 18 through Jan. 14, 2018, free with general admission. Oakland Museum of California, 1000 Oak St., Oakland. MuseumCA.org.
Nature's Gift: Humans, Friends & the Unknown
Enter a dreamy world where imagination and reality meet at Oakland Museum of California's exhibition Nature's Gift: Humans, Friends & the Unknown. World-renowned art collective FriendsWithYou — Samuel Borkson and Arturo Sandoval III — collaborate to create a multisensory experience intended to spark positive and euphoric emotions. The light-filled installation is interactive and designed to promote social connection. Since 2002, FriendsWithYou has promoted Magic, Luck, and Friendship™ all over the world. OMCA will hold an exclusive members-only preview party for Nature's Gift on Friday, Oct. 6, 11 a.m.-10 p.m., before openings its doors to the public the next day. — A.S.
Runs Oct. 7 through Jan. 21, 2018, $4 for exhibition in addition to museum admission, 1000 Oak St., Oakland, MuseumCA.org

Question Bridge: Black Males
After spending years as a traveling show, this heavily praised exhibition returns to the Oakland Museum of California for its second run; its first was back in 2012. The video installation features a series of question-and-answer sessions with 150 different Black men from around the country, arranged to simulate face-to-face conversations, meant to both redefine and criticize the portrayal of Black America in mainstream media. Questions range from the personally profound ("Am I the only one who has problems eating chicken, watermelon, and bananas in front of white people?") to the broadly philosophical ("Why is it so difficult for Black American men in this culture to be themselves, their essential selves, and remain who they truly are?"). — R.P.
Runs Sept. 29 through Feb. 25, 2018, free with general admission. Oakland Museum of California, 1000 Oak St., Oakland. MuseumCA.org
DANCE
Dorrance Dance
The history of tap dance is a little unclear, but we do know it became a hit with vaudeville shows, mixing with the Lindy Hop craze of the 1930s. At the forefront of tap's recent revival is dancer and choreographer Michelle Dorrance, who is lauded for connecting tap's history to contemporary culture, pushing the boundaries of the art form and delivering performances brightened with humor. Dorrance will perform three pieces with her troupe Dorrance Dance, including one co-commissioned by Cal Performances with original live music. Another will showcase Dorrance's forward-thinking experimentation, set to music by Aphex Twin and Thom Yorke, while the third piece will trace tap's jazz and blues days. — J.B.
Friday, Oct. 27. 8 p.m., $30-$58. Zellerbach Hall, 101 Zellerbach Hall, UC Berkeley campus. CalPerformances.org


Oakland Ballet's Luna Mexicana
Día de los Muertos is a sacred tradition celebrated by Mexican families across the world in which they honor their loved ones who have passed away by setting up ofrendas (altars) with pictures of the deceased, traditional Mexican food, sugar skulls, and vibrantly colored flowers. This tradition has transpired borders, with movies like A Book of Life and the upcoming Pixar film Coco, festivals around the country (including one in Oakland), and dance presentations such as Luna Mexicana by the Oakland Ballet. Returning to Oakland for a second year, Luna Mexicana tells the story of a young woman's dream to bring her loved ones back to life in the form of dancing skeletons, accompanied by colorful costumes and traditional folkloric music. Choreographed by Oakland Ballet artistic director Graham Lustig, this year's program will also include Mexican folkloric dance, a performance by Mariachi Mexicanisimo, and a special performance of José Limon's important solo work, Chaconne. Limon was an internationally acclaimed and highly influential choreographer who resided in New York City. Attendees are encouraged to dress in Day of the Dead attire, and Mexican treats — including pan de dulce — will be available for sale prior to the performance. Don't miss your chance to be part of this stunning presentation. — A.R.
Friday, Nov., 3, 7 p.m., $5-$45, VIP $100-$200, The Paramount Theatre, 2201 Broadway, Oakland, OaklandBallet.org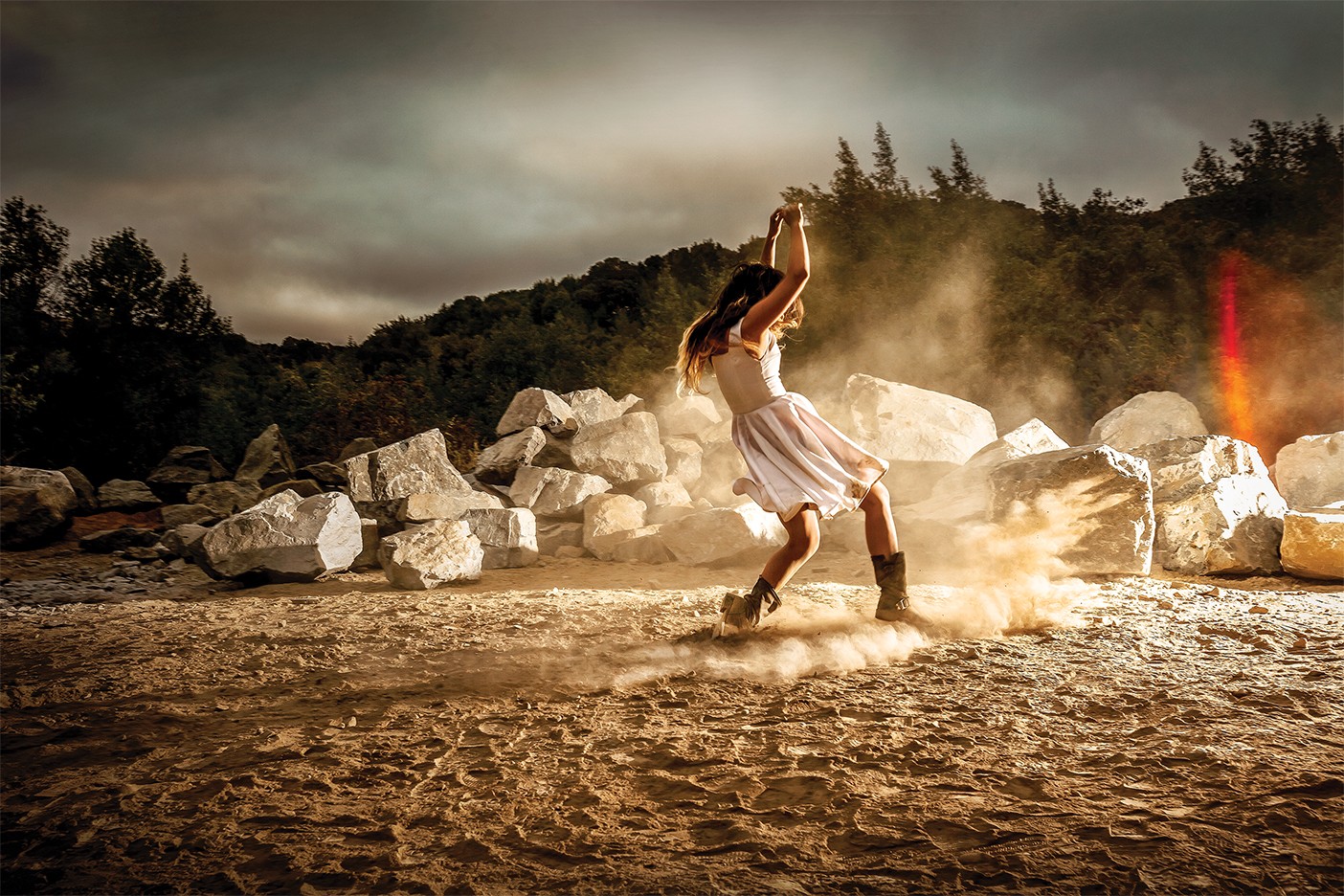 ODC/Dance Presents boulders and bones
It's always a rare treat to catch San Francisco's ODC/Dance on this side of the Bay Bridge. Presented by Cal Performances, this evening is fully dedicated to the modern dance troupe's boulders and bones, an exploration of the creative process through light and movement. Renowned British landscape artist Andy Goldsworthy designed the set, which changes throughout the piece to highlight natural materials and shifting shadows. The installation is very much a part of the performance itself, which gets amplified by a driving, electro-acoustic score by cellist Zoë Keating. Best of all, Keating gets a prominent place on stage alongside the dancers. — J.B.
Wednesday, Oct. 11. 8 p.m., $30-$68. Zellerbach Hall, 101 Zellerbach Hall, UC Berkeley campus. CalPerformances.org
FILM
9th Annual Cine+Más SF
For the past nine years, Cine+Más SF has been bringing some of the best films from Latin America to the Bay Area. This year, the festival will include 24 feature-length films, 40 shorts, and 10 documentaries from such diverse countries as Argentina, Austria, Brazil, Chile, Colombia, Costa Rica, Dominican Republic, El Salvador, Guatemala, Mexico, Cuba, Peru, Spain, and the United States. Filmmakers will be at several of the screenings. The opening night will take place at the Alamo Drafthouse in San Francisco's Mission district, but the festival will travel across the bridge. Four films will be shown in the East Bay, including Pachamanka-Singing for Freedom, by Austrian filmmaker Markus Toth, which tells the story of the members of a Chilean band trying to stay true to their political and cultural principles while trying to survive as musicians. It screens at La Peña Cultural Center on Sept. 30. Also at La Peña on Oct. 1, Translucid, from Ecuadorian director Leonard Zelig, follows the story of Rubén, a cancer patient with only three months to live. "The festival's purpose is to build community through film, while educating, entertaining, and recognizing the work of Latin American, Spanish and U.S. Latino filmmakers, which otherwise may not be seen in San Francisco," said festival director, Lucho Ramirez. Don't miss your chance to support independent films and Cine+Más, a volunteer-run program. — A.R.
Runs Sept. 15-30, in venues in San Francisco, Oakland, Berkeley, and San Rafael. For schedule and tickets, go to SFLatinoFilmFestival.org
Berkeley Video & Film Festival
East Bay Media Center will hold its 26th annual Berkeley Video & Film Festival on Oct. 27-29 and Nov. 3-5. The festival will showcase a variety of indie documentaries, feature films, experimental videos, and student films from around the world. Among the highlights: The premiere of Defender, which follows San Francisco Public Defender Jeff Adachi and examines racial biases in the judicial system. Other official selections include The Good Blonde, which is based on Jack Kerouac's short story and is about a hitchhiker and woman's encounter on a beach, and Transitions, a 13-minute experimental film focused on the "built and design" of moving from a desert to a city. The festival will also include student films from USC School of Cinematic Arts. Look for the full screening schedule closer to the film festival. — A.S.
Oct. 27-29, Nov. 3-5, times vary, $5-$25, 1939 Addison St., Berkeley, BerkeleyVideoFilmFest.org
Dracula with Philip Glass and the Kronos Quartet
In 1999, Universal Films commissioned famed American composer Philip Glass (Einstein on the Beach, the Qatsi trilogy) to create a new score for its latest home release of Tod Browning's seminal classic vampire film, Dracula. Upon its release, Billboard called the keyboard-heavy score "one of Glass' most lyrical, moving works." As part of the year-long celebration of Glass' 80th birthday, the composer has enlisted the help of the Bay Area's own Kronos Quartet to play a live accompaniment of the score on Halloween night, all as Bela Legosi menacingly lurks on the big screen behind them. The show is particularly fitting for the Paramount, which opened in 1931, the same year Dracula was released. — R.P.
Tuesday, Oct. 31, 8 p.m., $50-$125. Paramount Theatre, 2025 Broadway, Oakland. ParamountTheatre.com.
Last Flag Flying
Remember The Last Detail? That 1973 Columbia release, with Jack Nicholson in one of his most electric roles as an extra-salty US Navy sailor named "Bad-Ass" Buddusky, was adapted from Darryl Ponicsan's novel and shaped by director Hal Ashby into the quintessence of the "buddy" movie — made all the more relevant by its stateside setting at the height of the Vietnam War. Now, 44 years and several armed conflicts later, Ponicsan's Last Flag Flying arrives as a "spiritual sequel" to the earlier film. Directed by Richard Linklater (Boyhood, the Before series) from a script he wrote with Ponicsan, the new movie stars Bryan Cranston, Laurence Fishburne, and Steve Carell as three former Vietnam-era GIs who reunite to bring the body of one of their sons home for burial, after he is killed in Iraq. The journey takes them up the East Coast to New Hampshire, echoing the road trip from The Last Detail. So how does this fit into the filmography of the man who gave us Dazed and Confused and Slacker? We shall see. One thing is certain: Without Bad-Ass, we'll expect more poignancy but less yodeling in the canyon. — K.V.
Opening Nov. 3 in select theaters.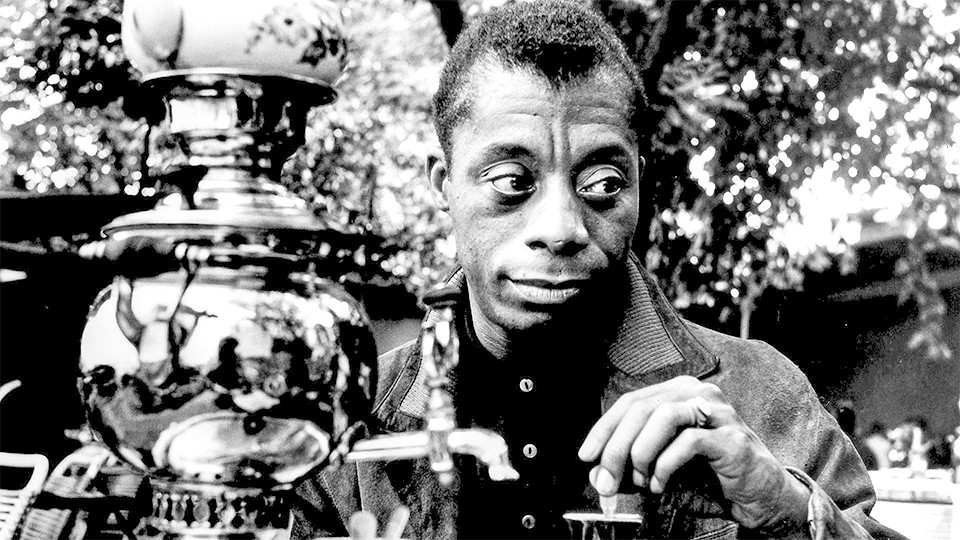 "Reflection and Resistance: James Baldwin and Cinema"
Inspired by the writings of the late African-American novelist-essayist-playwright James Baldwin — notably his book The Devil Finds Work, a classic of politically engaged film criticism — this concise retrospective is keyed by one of the very best movies of 2016, director Raoul Peck's Baldwin think-piece adaptation I Am Not Your Negro (Sept. 14 and 17), a blistering portrait of American cupidity and racial antagonism. The series continues with two pics originally reviewed by the eternally skeptical Baldwin: Stanley Kramer's The Defiant Ones, with Sidney Poitier and Tony Curtis (Sept. 21) and John Huston's In This Our Life, starring Bette Davis and Olivia de Havilland (Sept. 28). Karen Thorsen's documentary profile James Baldwin: The Price of the Ticket (Oct. 5) features writers Maya Angelou and Amiri Baraka. Baldwin's perspective on mainstream screen entertainment will probably ruin your opinion of studio "blockbusters" forever. Let it come down. In the same series curated by Kate MacKay, Damon Young, and Stephen Best: John Akomfrah's doc on the African diaspora, The Nine Muses (Nov. 9), and Tongues Untied, an ultra-personal film essay by the late Oakland filmmaker Marlon Riggs, who declares: "Black men loving Black men is the revolutionary act" (Nov. 16). — K.V.
Runs Sept. 14 through Nov. 16 at the UC Berkeley Art Museum and Pacific Film Archive, 2155 Center St., Berkeley. BAMPFA.org
Suburbicon
George Clooney is no stranger to provocative projects, whether as an actor (Up in the Air, Three Kings) or as a filmmaker (Syriana, Michael Clayton, The Ides of March). But his fans might be surprised to find him listed as director of a home-invasion thriller. The outline of Suburbicon, directed by Clooney from a script by Joel and Ethan Coen — creators with a similar iconoclastic bent — with input by Clooney and Grant Heslov, seems lifted from the routine actioner file. A conventional middle-class family headed by Matt Damon and Julianne Moore undergoes a terrifying ordeal, circa 1959, in an ostensibly "safe" suburban community that in reality has a rotten core. The Coen brothers' screenplay has reportedly been gathering dust for more than 20 years, waiting for Clooney and writer-producer Heslov's Smoke House Productions (Argo, August: Osage County) to help finally put it on the screen, as a tense melodrama instead of as a satire. Oscar Isaac costars. — K.V.
Opening Oct. 27 in select theaters.
MUSIC
Ludovico Einaudi
Beautiful, understated, and meditative, Ludovico Einaudi's works are meant to be experienced live. Instead, most of the world has actually heard the Italian composer's music in movie theaters; he rose to international fame for scoring films such as Black Swan and This Is England. He glides between solo classical piano and experimental pieces blended with electronica, and the results sound wholly unique. Critics have compared Einaudi to Radiohead, which might explain why he became the first classical pianist to reach the top 15 on the UK album charts. It's difficult to picture a more apt venue to hear his music than the Paramount Theatre, where Einaudi will be joined by an ensemble featuring violin, cello, synth, waterphone, vibraphone, and more. — J.B.
Sunday, Oct. 15. 8 p.m., $45-$105. Paramount Theatre, 2025 Broadway, Oakland. SFJazz.org
Oakland Music Festival
Established in 2013 as a one-day block party in Uptown, the Oakland Music Festival has evolved into a series of showcases, discussions, workshops, and networking events at venues such as Oaklandish HQ, the Legionnaire Saloon, and Sole Space. This year's event will be held Sept. 29 through Oct. 7 and focus on the theme "Charge: (verb) to agitate, stimulate, or excite." Organizers say the goal is to inspire the creative community into action and bring together artists, local stakeholders, and the community to celebrate Oakland's one-of-a-kind music and arts scene. This year's headliners haven't yet been announced, but there is no doubt that OMF knows how to throw a good party. Past musical performances include Chuy Gomez, Jay Ant of the HBK Gang, Nick Jame$, Show Banga, and WAVBROS. — A.S.
Runs Sept. 29 through Oct. 7, various venues in Downtown Oakland, prices vary, OaklandMusicFestival.com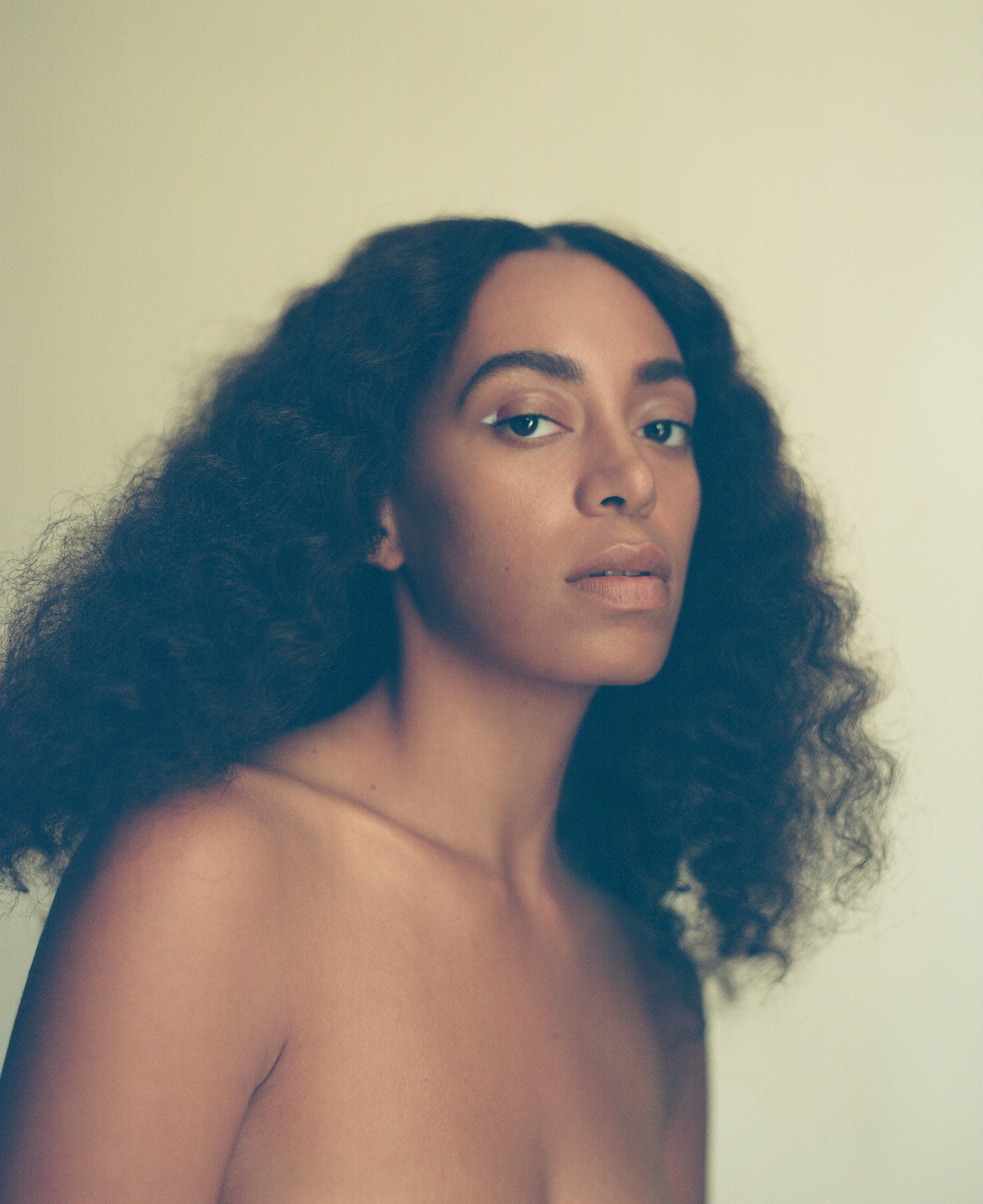 Solange
From the all-white affair "An Ode To" at New York's Guggenheim to the intimate "Scales" at Houston's Menil Collection and Pérez Art Museum in Miami, Solange has been sharing her transitory installations and performance pieces in cities around the country. And now, with only two planned stops in D.C. and New York City, Solange will grace Berkeley's Greek Theatre for her third, and potentially final, performance of "Orion's Rise." The eclectic show will include dynamic sets and dazzling costumes to go along with the soul-penetrating music from Solange's third studio album, A Seat at the Table. Special guests Earl Sweatshirt, Flying Lotus (in 3D), and Chassol — what Solange calls the "lineup of [her] actual dreams" — will also perform. This will surely be a night of aesthetic ecstasy and a soothing respite from the ways of the world. — N.Y.
Friday, Oct. 20, 7 p.m., $49.50, Greek Theatre, 2001 Gayley Rd., Berkeley. APEConcerts.com
Sundays in the Redwoods
Sundays in September and October in the Oakland Hills are magical thanks to the outdoor concert series Sundays in the Redwoods. Held at the Woodminster Amphitheater in Joaquin Miller Park, this year's lineup will feature English singer-songwriter Marsha Ambrosius, Swiss jazz pianist and composer Alex Bugnon, R&B singer-songwriter Lyfe Jennings, and, from Vallejo, soul band ConFunkShun. As is typical in the East Bay, the fall months are bound to be warm, so bring your mom and grandma, or come with friends and enjoy an afternoon of music surrounded by redwood trees, with breathtaking views of the bay. — A.R.
Sept. 17 through Oct., 8, 2-7 p.m., $35, $300 for VIP tables (seat eight). Woodminster Amphitheater, Joaquin Miller Park, 3300 Joaquin Miller Rd., Oakland, SundaysintheRedwoods.com
The West Coast Women's Darkwave Festival
What makes this music festival particularly exciting is its commitment to showcasing women and trans folks in every capacity. Not only will the bands and DJs be female- and trans-led, but the vendors, sound engineers, lighting techs, and visual artists will all be as well. Nearly 30 acts will perform across four nights and three venues in Oakland, including the Uptown Nightclub, Eli's Mile High Club, and the Golden Bull. Among the highlights are Portland post-punk band Arctic Flowers, Seattle alt-rock group Strap on Halo, and Oakland's Ötzi, which will also be releasing its debut full-length Ghosts that weekend. Overall, expect lots of howling guitar and doomy, atmospheric sounds with a touch of goth. — J.B.
Nov. 2-5. $45 for four-day pass, $10-$15 single-day tickets. The Uptown, 1928 Telegraph Ave., Oakland; Eli's Mile High Club, 3629 Martin Luther King Jr. Way, Oakland; The Golden Bull, 412 14th St., Oakland. Facebook.com/thehanginggarden
THEATER
Black Rider: The Casting of the Magic Bullets
On March 31, 1990, Thalia Theatre in Hamburg, Germany premiered a play with an eclectic kind of star power behind it. Based on the German folk story of a marksman who sells his soul to the devil for six magic bullets that will strike whatever he desires, The Black Rider marked the lone collaboration between experimental director Robert Wilson, postmodern author William S. Burroughs, and musician Tom Waits. (The play's music was later recorded by Waits for a 1993 release under the same name.) This adaptation for Shotgun Players will be directed by Mark Jackson, founding artistic director of San Francisco's Art Street Theatre, and promises all the autumn oddness of the original. — R.P.
Runs Nov. 9 through Dec. 31, times vary, $5-$40. Shotgun Players, 1901 Ashby Ave., Berkeley. ShotgunPlayers.org
Blasted by Sarah Kane
In 1995, British playwright Sarah Kane premiered her final production, a provocative three-person play featuring rape, suicide, and cannibalism. It shocked London audiences with its unflinching depiction, and was met by largely negative reviews. But in the years since — both in the wake of Kane's suicide, and as audiences and critics became more accustomed to savage portrayals — the play's legacy has shifted from "shock for shock's sake" to an appreciation of, as a review in The Guardian called a 2015 run, its "minimal, almost surgical beauty" in spite of the content. The play comes to Berkeley's Shotgun Players for a month-long production, beginning with the theater's standard week-long "pay-what-you-can" preview performances. It should go without saying, this one's for mature audiences. — R.P.
Runs Sept. 21 through Sunday, Oct. 22, times vary, $5-$40. Shotgun Players, 1901 Ashby Ave., Berkeley. ShotgunPlayers.org
Driveway Follies
For the 11th year running, artist Larry Schmidt, along with a growing collection of volunteer artists and puppeteers, hosts Halloween-themed marionette performances from an intimate theater space in his driveway. Handcrafted puppets perform musical vignettes to an eclectic soundtrack spanning decades in front of an impeccably designed set — with a short break between for setup — until the crowd thins out for the night. (Last year's show included Igor Stravinsky's "Infernal Dance" from 1910 and the Idle Race's "The Skeleton and the Roundabout" from 1968.) Performances begin each evening at dusk, and run continuously. Adults are encouraged to show up after 9 p.m., when most of the kids have gone to bed. — R.P.
The days leading up to and including Halloween, continuous shows after dark (start and end times vary), free. 3854 Greenwood Ave., Oakland.
The Royale
Written by producer and award-winning Sons of Anarchy writer Marco Ramirez and inspired by the first African-American heavyweight world champion, Jack Johnson, The Royale follows protagonist Jay Jackson on his journey both in and out of the ring. Set in the early 1900s, the play portrays how "The Sport" took on the current heavyweight champion and dealt with Jim Crow-era discrimination in the process. Since originally premiering at New York's Lincoln Center Theatre, The Royale has won many awards. Aurora Theatre's production is directed by Darryl V. Jones and should make for a worthwhile evening. — A.S.
Runs Nov. 3 through Dec. 3, times vary, $46, Aurora Theatre, 2081 Addison St., Berkeley. AuroraTheatre.org
Editor's Note: Our writeup on Public (Re)Assembly erroneously stated that the event is presented by BAMPFA, when the series is actually presented and sponsored by Berkeley Arts + Design and is hosted at BAMPFA. This story has been updated.