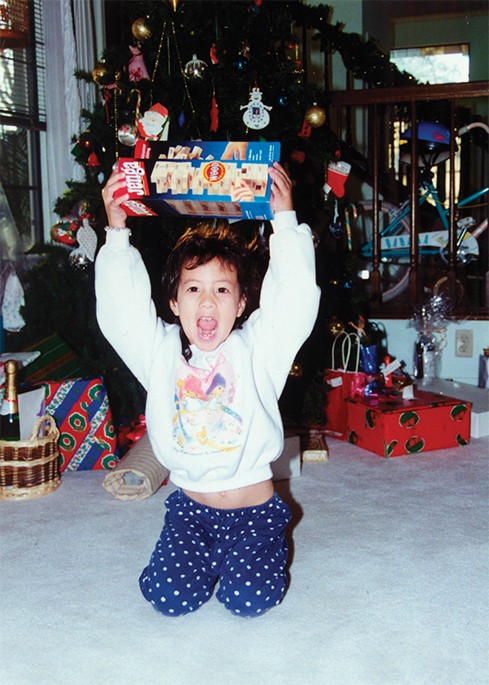 The holidays mean different things to different people, and to demonstrate, we asked our staff members what their families typically do for the holidays. Behold:
Janelle Bitker, Staff Writer
Growing up, my family almost exclusively ate Chinese food at home, so Christmas always functioned as an excuse to make a really Western feast. Usually my dad cooks up waffles for brunch after we open presents. For dinner, it's something time-consuming we would normally never bother with, like beef stew or lasagna. The past few years, my dad has been fixated on perfecting seared duck with an orange-cherry sauce. There's always red wine and multiple homemade desserts, sometimes followed by a couple of noisy hours of mahjong.
We also always go see a movie in the afternoon.
Justin Harris, Sales Operations Manager
We cook French toast Christmas morning at my dad's house.
We also volunteer to serve Thanksgiving dinner at Mar Vista Gardens, which is an affordable housing community in Culver City, although my dad and some extended family members are the ones holding down the tradition these days, since my brother and I don't come down for Thanksgiving anymore.
Caitlin Albritton, Senior Account Executive
My Mom's family is Sicilian. My Nani and Grampa live across the street from my parents' house. We head over for lasagna, cannolis, biscotti, and braciole. My Dad's Okie side of the family will join us and bring banana pudding with vanilla wafers.
Ryan Lindsay, Editorial Intern
Growing up, my brother and I would get to open one gift on Christmas Eve. After my parents went to sleep and after Santa *coughmyparentscough* went back to sleep, my brother and I would wake up and sneak down the hallway to see the tree and the gifts that magically appeared underneath it. We'd also make sure that Santa had eaten the cookies and milk we left out for him.
One year, when Beanie Babies were hot, my mom left a trail of Beanie Babies wrapped up in tissue paper, with notes cut into pieces leading up to the tree.
Also, I don't know if you'd call this a tradition but we always have a Black angel on top of the tree because #representationmatters. 
Katy Lee, Account Executive
My family does all the standard white people Christmas activities, like having a tree and a big turkey dinner and presents. Every year we also try to get into the car and drive around Oakland and Alameda looking at Christmas lights. The best displays are on Thompson Avenue in Alameda and Picardy Drive in Oakland. It's nice to see everyone in a neighborhood work together to create holiday cheer.
Nicole Heirich, Account Executive
My family has never been religious but we are members of the "Retail Church," as my mom calls it, and make a midnight shopping trip out of Black Friday. My mom and I also set up a fairly elaborate "Christmas Village" each year, made up of years' worth of collected knick-knacks. "Christmas Village" spans multiple rooms and comes complete with a musical ice rink, fake snow, and an electric LEGO train that chugs around the room with chocolates in its compartments. We also spend the day making a big dinner, and will pretty dependably cook up enough honey-baked ham to make me sick of ham sandwiches until next Christmas.

Nick Wong, Production Manager
Up until a few years ago, my whole family on my father's side would get together on Christmas/Christmas Eve and have a dinner at my parents' house. We would have a Santa visit to bring the kids gifts; as I child, I would always get a Macy's Jingle Bear. Every year, my dad and his siblings would toast egg nog from their matching personalized '60s cheesy Santa mugs they've had since they were kids. 
Recently, we've starting going on vacations during the holidays with my immediate family.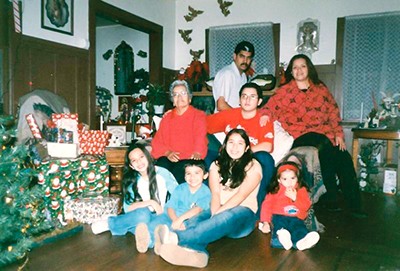 Azucena Rasilla, Associate Editor
Holidays at home are the one time of the year that I most look forward to. My family consists of six siblings (with me being the oldest), my mom and dad, and my grandma.
Our busy lives usually keep us separated, although we consistently make the effort to hang out at my parents' house at least once a week, mostly to be with grandma who loves when we all get together.
The lighting of the Christmas tree at Union Square in San Francisco the day after Thanksgiving officially marks the beginning of the holiday season for my family. On this night, my siblings and I get together and we take the trip to the city to see the tree get lit up.
This entire holiday weekend is always dedicated to decorating my parents' house. Grandma bought a rotating tree with lights years ago, and this is the tree that gets decorated year after year.
We take such pride in seeing the house all decked out in shades of forest green, red, white, and gold. My grandma's reaction is also priceless. When we were younger she would be the one to take out all of the boxes from storage, and would carefully place the ornaments on the tree. As she has gotten older, this crucial responsibility has been given to me. The most precious decoration of them all, the nativity set directly brought from the motherland, takes center stage, along with the tree.
A traditional Mexican Christmas is celebrated on Dec. 24. On this night we gather around the table, anxious to indulge in the dishes my mom cooks every year. The menu usually consists of bacalao, dry salted cod simmered in olive oil, tomatoes, capers, and olives, served with a baguette and potato salad. Romeritos, sprigs of a wild plant known as seepweed, are cooked in a mole sauce with potatoes, nopales, and shrimp cakes. We gulp it all down with ponche while listening to traditional Christmas carols "Adeste Fideles," "Mi Burrito Sabanero," "La Marimorena," and countless others.
Christmas Eve concludes with the family sitting down around the Christmas tree exchanging gifts. The one we all look forward to? Tickets to the A's opening night.
Kathleen Richards, Editor in Chief
Both my parents converted to Catholicism, so growing up Christmas was sort of a big deal. Every year my mom would take me to see the San Francisco Ballet's Nutcracker and the giant tree inside Neiman Marcus in San Francisco. We'd bake butter cookies and decorate them with sprinkles, chop down our own Christmas tree at a tree farm in Orinda (and usually argue along the way), and meticulously decorate the tree with ornaments while listening to Christmas music. I loved the smell of the pine tree and would always keep a few needles in a basket so I could smell it year-round. On Christmas Eve our parents dragged us to midnight mass, where I would always fall asleep. As my brother and I grew up, however, my parents scaled back Christmas. They stopped buying trees and now we just have a low-key brunch and exchange a few modest gifts afterward.
Robert Gammon, News Editor
The holidays in my family begin on Thanksgiving at my apartment in Oakland. My sister and her family come from Sacramento; I smoke a turkey on the barbecue; and we drink way too much wine.
In early December, we usually drive down to the Santa Cruz Mountains to cut down a tree (we leave the bottom third so it'll grow back). But because my wife and our kids are Jewish, we typically leave the tree in a bucket of water on the back porch until Chanukah is over. We celebrate the eight nights of Chanukah, lighting candles, with the kids getting gifts each night.
Usually in mid-December, we get together at my older sister's house in Inverness for a holiday celebration. (I'm the youngest of six children.) Now that my kids are in their teen years, I play Santa Claus (perhaps the tallest ever), handing out gifts to younger nieces, nephews, and cousins.
Finally, on Christmas Eve or the day before, we head up to my sister's house in Sacramento for a few days. It's a secular affair (neither my sister nor I are religious). We eat a ton of food, drink lots more wine, and bake Greek pita (I'm half Greek). We also go see a movie or two and, of course, watch and sing along to White Christmas on TV.