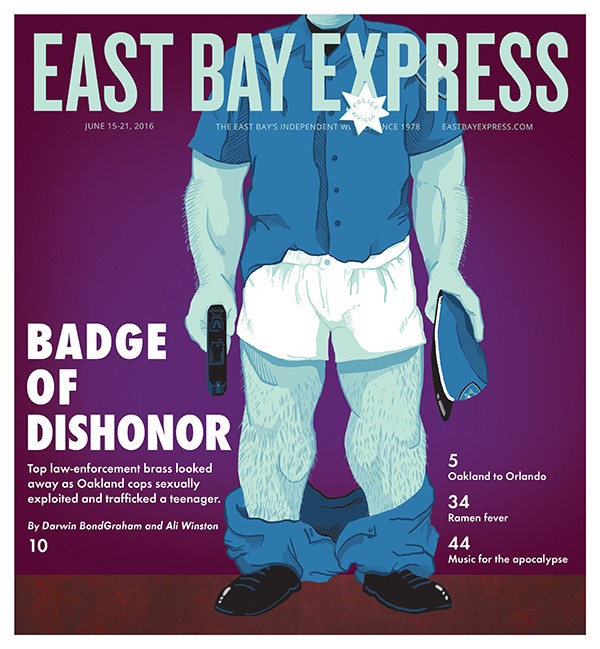 News is flying about Oakland police's sexual misconduct and revolving door police-chief situation. So, here's a quick roundup of all of the
East Bay Express
' reporting by Darwin BondGraham and Ali Winston on OPD's explosive sex-crime and human-trafficking scandal, and also Mayor Libby Schaaf's unprecedented week of canning three police chiefs.
First, the
Express
blew the story wide open a week ago, on June 10, with this exposé on the firing of OPD chief Sean Whent
. This was the first reporting to really lay out the scope of the Oakland police sex-crime scandal: the many officers from multiple agencies who slept with a teenaged sex worker, how the scandal extended to top police brass, how officers leaked the victim confidential information on undercover operations, how police leadership covered it all up, and why the mayor really fired former chief Whent. This piece also was the first media account to discredit Oakland Mayor Libby Schaaf's claim that chief Whent resigned for "personal reasons." Whent was fired on the morning of June 10, and this story dropped that evening.
We followed this story up with a richer, narrative-driven piece on June 15,
Badge of Dishonor: Top Oakland Police Department Officials Looked Away as East Bay Cops Sexually Exploited and Trafficked a Teenager
. 
Less than a day after "Badge of Dishonor" was published,
Oakland's mayor dismissed interim chief Ben Fairow after less than six days on the job
, citing something in Fairow's past that made him unfit to lead OPD at this time. She tapped assistant OPD Assistant Chief Paul Figueroa as the next interim boss.
But then, yesterday,
Mayor Schaaf fired Figueroa, the third police chief in a week
 to be removed.
Figueroa's firing came just hours after the
Express broke a story that a top OPD detective was put on leave and is being investigated
for making his girlfriend file his police reports, even giving her access to sensitive and confidential murder-case documents.
Also this week, the two attorneys responsible for putting OPD under federal court oversight announced that they intend to pursue an effort to
place the department's recruiting and training of officers in receivership
. The Oakland Police Department would be the largest local law-enforcement agency in the state to lose local control if it heads down this path.
You can listen to
Express
 reporters BondGraham and Winston discuss all this and more on radio
here
.
Meanwhile, it's little surprise that
unions
and electeds are turning against law enforcement, including the possible
green-lighting of a tougher police commission ballot measure
for this fall. For a while now, the city of Oakland has debated
the best way to watch over its police department
. City Hall has also worked to
delay and obstruct any ballot measure making it to November
.
Last month, the
Express
 was the
first to report
that the Oakland police sex-crime scandal expanded to other Bay Area law-enforcement agencies.
This story began on May 12, when the
Express
linked reports of three officers on leave to Officer Brendan O'Brien,
who committed statutory rape of the victim last year before committing suicide in September 2015
.
The
Express
later showed how
cops used social media to traffic the victim
, who goes by the name Celeste Guap, among their ranks and with their buddies.
Keep checking EastBayExpress.com for more on the sex-crime and human-trafficking scandal, and pick up next week's issue for additional coverage.