Environmental groups have filed a second lawsuit in an effort to block a plan by Caltrans to widen two highways along the pristine Smith River in Northern California. The groups are concerned that the widening project, which is being done to accommodate additional big rig trucks in a remote area near the Oregon border, will ultimately result in an accident that could spoil the state's last undammed major river.
[jump]
The Smith River is the only major river in California that flows freely to the Pacific Ocean. Conservation groups Friends of Del Norte, the Environmental Protection Information Center, and the San Francisco-based Center for Biological Diversity first sued in May in state court to block Caltrans' plan to widen parts of Highways 197 and 199 in the Smith River Canyon. Then on Monday, the groups sued in federal court, alleging that the project also violates federal environmental laws.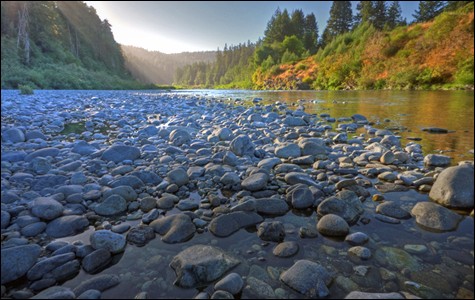 Patrick Hui/Flickr(CC)
The Smith River
"This is a case of a road versus a river," states the newest lawsuit, filed in US District Court for the Northern District of California.
The groups contend that the project would not only endanger the river as a habitat for numerous species, including endangered salmon, but also pose a threat to the old-growth redwoods growing along the river, part of which winds through Jedediah Smith Redwoods State Park. In addition, the groups say widening the narrow roads to allow larger vehicles to pass through would endanger drivers and locals by increasing the likelihood of accidents and the potential for toxic spills into the river.
"Caltrans would have us believe allowing oversize trucks to drive faster through the tight Smith River canyon will make this scenic highway safer, yet it will do the opposite," said Don Gillespie with Friends of Del Norte in a statement. "We are challenging this project to protect motorist safety and defend our treasured Smith River."
This is the latest action undertaken by The Caltrans Watch coalition, a statewide alliance of conservation organizations challenging various Caltrans highway-widening projects that they they contend demonstrate fiscal and environmental irresponsibility while ignoring public input.