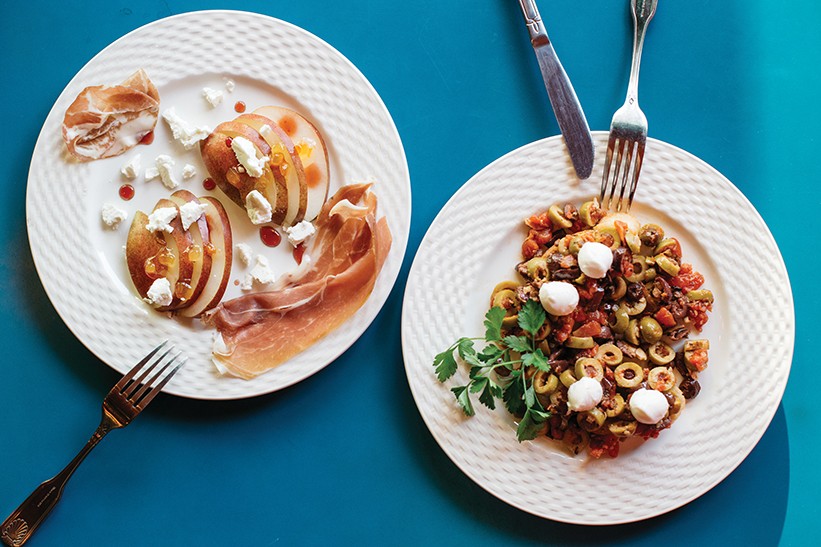 Jamshied Basseri wasn't supposed to open Enoteca Mediterraneo.
His plan for 2017 was to return to his native Iran and compose his first cookbook. But when Donald Trump issued his so-called Muslim ban, Basseri worried he'd never be able to return to his Berkeley home. "I might have to wait three years," he said.
Instead, he decided to open a wine bar.
In fact, last fall brought two stellar yet very different wine bars to the East Bay: Enoteca Mediterraneo on Solano Avenue in Albany and CDP on Piedmont Avenue in Oakland. Enoteca Mediterraneo is colorful, vibrant, and charming — a direct reflection of Basseri's personality — with exceedingly affordable wines and tapas. CDP, meanwhile, is chef James Syhabout's bar accompaniment to his Michelin-starred restaurant, Commis. It feels just as elegant, sleek, and minimalist, with impeccable small plates and an emphasis on sparkling wine and brandy. Both establishments excel at what they do.
Let's start with Enoteca Mediterraneo. It's the sort of wine bar I think most folks wish they had in their neighborhood — a relaxing and warm place, equally suitable for reading a book at the bar with a $7 glass of red or slowly feasting for hours with friends.  
The eclectic menu takes inspiration from Spain, Greece, and Morocco, as well as Basseri's own heritage as a Persian Jew. There are minty dolmas glazed with a tart pomegranate sauce; bruschetta topped with roasted tomato, house-cured olives, and fresh mozzarella; and tangy herring fillets in Chardonnay with dilled yogurt and pickled red onion. Few items top $10.
On my first visit, figs were still in season, and Basseri served them "Italiano" style, smeared with goat cheese and black cherry preserves alongside prosciutto. There's always some variation of this sweet-salty-creamy dish on the menu. Another popular item, steamed spinach loaded with sesame seeds and a pomegranate mint sauce, was slightly too sweet for me. I generally preferred the hearty, savory stews, including a Moroccan-style bean version topped with yogurt and smoked ham, and a lamb leg with fall-off-the-bone meat in a comforting tomato sauce. My favorite dish, though, starred flecks of wild, smoked white fish on top of crispy toast and a thin layer of yogurt. The common theme throughout these dishes is satisfying simplicity.
It's a small space, splashed with deep red, bold teal, and cornflower blue, with just two tables and a bar. Basseri will likely be your server, sommelier, and chef — he usually just has one other person helping out in the back. That's why service can be a bit slow, but Basseri prefers the intimacy. Hospitality, feeding people — these are his joys. After getting his engineering degree from San Jose State University, he found his calling while working for Narsai David in Berkeley. At age 27, he opened his first restaurant, Cornucopian on College Avenue, before spending almost two decades in the wine industry. Then, he opened Saffron Gourmet, the Middle Eastern deli and market in Albany that couldn't survive the Great Recession. Perhaps it's no surprise, then, that Basseri plans to eventually turn an extra space connected to Enoteca Mediterraneo into a deli and wine shop.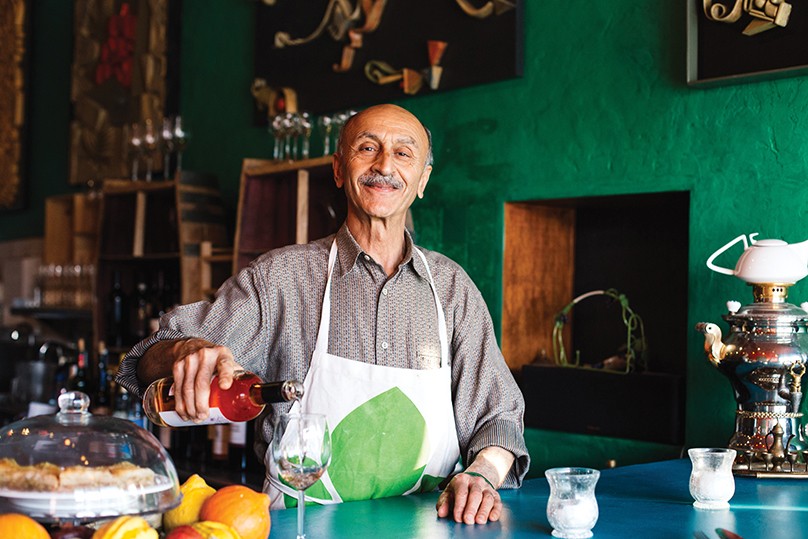 CDP, meanwhile, feels gloriously luxurious. A mirror image of Commis, it presents one of the best ways to have a fancy night out without necessarily dropping a ton of money. Sure, you could splurge on a $55 glass of champagne — or more than $600 on a bottle — and $65 caviar service, but you could also cobble together a light meal with a drink for closer to $40. And you'll still feel pretty baller.

Happy hour here is particularly incredible. Everything on the menu is $9 or less, including a perfectly balanced old-fashioned that changes with the seasons. I loved the hen liver mousse gougères that burst with sweet apple cider; the mixed mushrooms marinated in white soy sauce, lemon, and thyme; and the ideal mouthfuls of brown butter blini, smoked trout roe, and cream, finished delicately with slivered green onions.
While most of the menu is unique to CDP, there are two notable carryovers from Commis. If you've never tasted Syhabout's mind-blowingly delicious slow poached egg yolk, you should probably make plans to hit up CDP as soon as possible. It's his signature dish for a reason, with velvety onion purée, buttery oats for crunch, and smoked, malty dates that deliver an extra layer of depth. Pair it with blistered bread and chicken skin butter for a true Commis experience.
While they're still in season, don't miss the Brussels sprouts, caramelized and funky with fermented cabbage and garlic confit vinaigrette. The beef tartare is as lively of a version as you could hope for, studded with bright tarragon cream and crispy lavash infused with beef fat. And if you're really just looking for bar food, the ham-and-cheese sandwich is awfully good — buttery and aromatic with caraway seeds and orange blossom honey while still letting the Taleggio and speck speak for themselves. At CDP, it's all about intricate renditions of classics — simpler than Commis, sure, but far more involved than your typical wine bar.
Naturally, the execution was flawless and the service was expert, if a little stiff. Yet I love how folks are also treating it like a neighborhood bar. No special occasion needed, and certainly no suit jacket or heels are required. Considering the quality — and how a meal at Commis costs $159 — I appreciate how Syhabout keeps the prices reasonable enough for, say, journalists like me to drop in every so often.
For most of CDP's existence, you couldn't make a reservation. I never had trouble snagging a seat at the bar, but it does fill up by 7 p.m., and people tend to linger. Recently, however, CDP started offering reservations for a $65 prix-fixe menu.  
Regardless of whether your preferences lean upscale or laid-back, modern or traditional, it's a prime time to order a glass of wine and a few small plates in the East Bay. Plus, you'll be supporting immigrant-owned businesses. It's something that Basseri thinks about at Enoteca Mediterraneo, particularly in light of Trump.
"I want to show him what a person coming from a 'shithole' place can do," he said.
Enoteca Mediterraneo

1389 Solano Ave., Albany
(510) 528-8282
Hours: Wed.–Sat. 5–10 p.m.; Sun. 5–9 p.m.
Cash only
Sample Menu

Bruschetta with white fish $9
Dolmas
$7
Bean stew with ham $12
CDP

3859 Piedmont Ave., Oakland
(510) 653-3902
Hours: Wed.–Sat. 5–11:30 p.m., Sun. 4:30–11:30 p.m.
Cash, all major credit cards
Sample Menu

Beef tartare $15
Slow poached egg yolk $13
Brussels sprouts $9