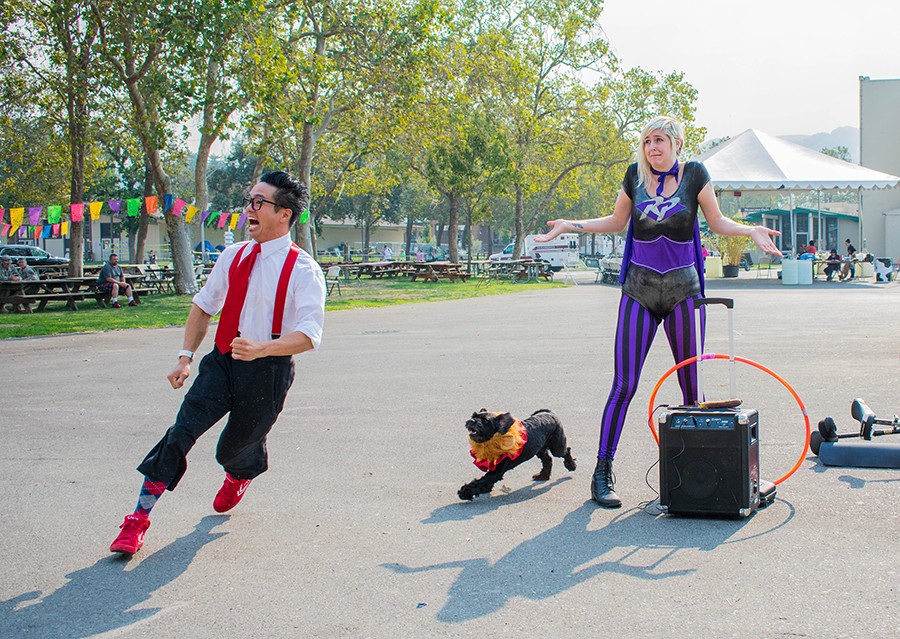 A week after devastating wildfires swept across Northern California, smoke hung thick in the air at the Sonoma County Fairgrounds in Santa Rosa. The site, which typically hosts concerts, horse races, and conventions, had been turned into a temporary evacuation center for victims of the deadly fires. While many evacuees had left the center to return home or stay with family members, some 50 people remained, sleeping on cots in a large gymnasium surrounded by Red Cross workers and military personnel. The atmosphere was quiet and morose. But walking up and down the aisles was Robin Lara, wearing a purple cape and a black and purple spandex leotard with the initials RP, which stand for her superhero persona, Robin Possible, stitched on her chest. She told people that a circus was starting outside in 15 minutes, and they wouldn't want to miss it.
The show kicked off with Bri Crabtree, a Bay Area circus performer, who did a series of hat tricks and an act that involved rolling a bracelet on top of a spinning parasol. Calvin Kai Ku, known for his variety acts around the Bay and work with the group Medical Clowns, performed a series of tricks with his adorable assistant, Lily the dog. Lara finished off the show by inflating a giant balloon and climbing inside of it, which was met by laughter and cheers from those sitting in the bleachers. After the show, as the performers were packing up to head to a second performance, parents and children approached them, offering profuse thanks for bringing some laughter into an otherwise tragic place.
While an evacuation center seems, at first, like an odd setting for a circus, it is precisely the kind of place the Emergency Circus was founded to serve. "There are basic needs that have to be met, like food and shelter," said Lara, "but I feel like making connections to people and being able to feel something positive are as well."
Lara, who lives in Oakland and has been performing as a clown, unicyclist, juggler, and more professionally since she was 13, has been a core member of the Emergency Circus for two years. She's also the organizer of the circus' "Fireproof Fun Tour," bringing performances into evacuation centers throughout the North Bay. A week earlier she had been in Houston with the circus' founder, Clay Letson (aka Claymazing), performing for communities affected by Hurricane Harvey. "We performed for these people who had been evacuated to and were stuck in an old Macy's," said Lara. "After the performance, people came up to us and said it was the first fun thing that had happened in weeks."
Letson, who splits his time living in New Orleans, Washington state, and San Francisco and traveling abroad, has been juggling and clowning for more than a decade. He said the idea for the circus first came to him five years ago while traveling through Canada with a group of circus performers. "I started to think about this concept of a circus designed to be there in dire situations," he said in a phone interview.
The first performance was in 2012 at the hospital where he was born, in Tucson, Ariz. Since then, the circus has traveled across the country in a brightly colored, refurbished ambulance, dubbed the Sh'zambulance, bringing joy and laughter to where it's needed most. Letson noted that the ambulance was especially important to him, because "it's a sign of something helpful, but also that something wrong has happened, and using that with clowns brings a lot of levity to a situation." Along with performing in Houston, Letson was recently in Europe riding trains with Syrian refugees, juggling and clowning for them.
Superheroes play a central role in Emergency Circus. Performers give themselves superhero names and incorporate concepts of strength and overcoming adversity into their acts. Lara said this is "to inspire people to find the superhero within themselves." While it may seem a little on the cheesy side, Lara said the point is to let kids — and adults — know that "you guys can do this, too." "We're just regular people who put our minds to something," she continued, referring to the highly skilled labor of circus performance. "This is something that's hard, but if you believe in yourself and show perseverance, you can do anything."
Emergency Circus is not the first organization to pair clowns and crisis. Other notable groups include Clowns Without Borders, Medical Clowns, and Patch Adams' Gesundheit! Institute, which was the initial nonprofit fiscal sponsor for Emergency Circus. What sets Letson's group apart is how he sources his performers. Aside from Lara and Letson, all of the Emergency Circus performers are volunteers who are local to a stricken area, meaning that the roster of relief clowns is dependent on where the circus travels to. In doing this, Emergency Circus manages to keep the ambulance less crowded and offers a chance for performers from a community dealing with disaster to feel useful and give back.
On the first day of the Fireproof Fun Tour, Emergency Circus performed at the Sonoma County Fairgrounds and the Veteran's Memorial Building in Petaluma. Paige Williams, communications coordinator at the Veteran's Memorial evacuation site, said, "It was a blessing having them here. They brought joy to the children and helped parents and other adults focus on something besides tragedy."
Looking toward the future, Emergency Circus plans to return to the North Bay to provide joy and laughter as the community shifts its focus to rebuilding what was destroyed by the fire. The group is also planning a trip to Puerto Rico in January, where they hope to perform as well as bring much needed supplies, such as solar-powered generators and water-filtration pumps. Lara, Letson, and all the other performers work as volunteers and are not paid for their efforts. Emergency Circus covers all expenses through private donations, which go toward gas, housing, food, and the occasional prop. To get involved with their efforts, visit their website at EmergencyCircus.com.