Calavera, the new high-end Mexican spot, is about as buzzy and as fashionable a restaurant as you will find in Uptown Oakland, with its menagerie of colorful Oaxacan animal sculptures, handsome patio, and steady hum of lively conversation. It isn't the kind of place where I imagined I would be eating bugs — or, to be specific, the Oaxacan street snack chapulines, or fried grasshoppers.
And yet here I was, thanks largely to the efforts of Chris Pastena, a restaurateur whose growing mini-empire (Chop Bar, Lungomare, and, until he split with his partner, Tribune Tavern) is intertwined with the rise of Oakland's food scene. For Calavera, he's teamed up with partners Michael Iglesias and Jessica Sackler, who curate the restaurant's very extensive booze program and manage its day-to-day operations, and chef Christian Irabien, who was born in the Mexican state of Chihuahua and has spent much of his career cooking at fine-dining restaurants in the Washington, DC area. Most notably, Irabien did a stint as sous chef at Oyamel, the upscale Mexican eatery in DC by the Spanish-American chef José Andrés, where he briefly worked with Iglesias and Sackler.
The food at Calavera isn't meant to reinterpret Mexican flavors through the lens of California cuisine in the manner of so many of the East Bay's reigning high-end Mexican restaurants — places like Comal in Berkeley and Nido in Oakland's Jack London district. Instead, Pastena said he just wanted the restaurant to be as authentic as possible. In truth, it feels a little odd to invoke the specter of authenticity here in the New Oakland, at a restaurant that fronts the carefully curated urban hideaway known as the Hive complex, where you can spring for a $40 straight-razor shave or pay $2,200 a month to rent a small studio apartment. Calavera's well-heeled patrons are part and parcel of that mix.
But as far as the actual food is concerned, Irabien and his team mean business — in terms of cooking technique and a broad sense of doing everything in the proper, Mexican way. So, for instance, the tortillas aren't just hand-pressed; the nixtamal itself is made from scratch, in a labor-intensive process that starts with Anson Mills dried corn kernels and culminates on a wood-fired plancha designed specifically for cooking tortillas. Well speckled, petite, and redolent of toasted corn, the tortillas were good even lukewarm, and glorious the one time they arrived at the table piping hot. (The restaurant employs four women whose sole job is to make tortillas — a craft they've been perfecting since they were young girls in Mexico, Pastena said.)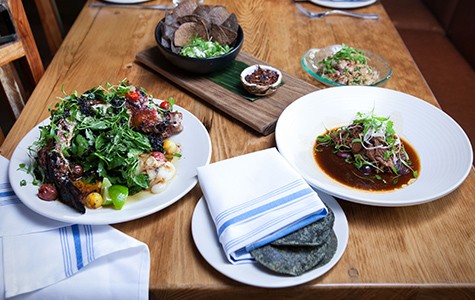 Then, of course, there were those fried grasshoppers, for now available only as an add-on to the guacamole, which was excellent in its own right. Scattered on top, the chapulines — which are shipped in from Oaxaca, where they are ubiquitous — were akin to intensely lime-y dried shrimp. They had a similar crinkly-papery texture and a slight funk to their aftertaste. These are worth trying at least once, though if you're squeamish about insects (full disclosure: I am), you might want to pop these in your mouth without looking too closely, lest you find the dainty antennae and the little folded-up legs too alarming.
Even if you pass on the six-legged critters, the various small plates sections of the menu are filled with interesting, boldly spiced dishes that offer a window into a wide swath of regional and modern influences beyond the restaurant's Oaxacan, mezcal-centric roots. The use of seasonal ingredients is Calavera's one nod to Californian cooking sensibilities, but the most memorable component of the restaurant's take on an heirloom tomato salad was the sikil pak, a nutty pumpkinseed sauce with roots in the Yucatan peninsula. Queso flameado, a specialty of Irabien's native Chihuahua, turned out to be a skillet full of stretchy melted cheese, topped with huitlacoche, aka corn fungus — little black nubs with a heady fragrance that often draws comparisons to truffles. Best of all was the ceviche de atun estile Jose: line-caught tuna topped with crunchy toasted amaranth seeds and marinated in an intensely tangy, umami-laden mixture of lime juice and Maggi sauce. The dish is Irabien's homage to his mentor José Andrés, who created a similar ceviche at Oyamel.
Calavera also serves what are probably the prettiest tacos in town. Priced at $3.50– $5 each, they're arranged on a rectangular plate like pieces of color-splashed artwork in miniature hanging on a white gallery wall. But there is a point of diminishing returns with an upmarket taco, and, as someone with a fierce love for the basic street taco (average price, $1.50), I often question how much you can improve — through innovation or the addition of luxury ingredients — what is already, at its core, a perfect food. The tacos at Calavera were tasty enough, but mostly they didn't leave much of an impression: The calabacitas in one taco were practically indistinguishable from your standard grilled summer vegetable medley (despite the squares of zucchini having been scattered just so), and the fried sweetbreads in another taco weren't so different from tripitas (pork intestines), a less rarefied lonchera standard. Cubes of black-seeded dragon fruit in the latter added visual flair but little discernible flavor.
In the end, the only one I'd go out of my way to order again was a chicken taco that featured the most satisfying mole poblano I've eaten in a long time. What I will say is this: Even a fancy-taco cynic such as myself has to admire the commitment of a kitchen willing to individually toast and process the thirty or so ingredients that went into that mole sauce — all just to drizzle it over a taco. No shortcuts here.
For the timid and the budget-conscious, the tacos may well be the safest option, but chances are if you're here for dinner, you're already splurging. And the big, shareable platos fuertes offer far deeper rewards. The goat birria, traditionally a rustic stew, had been given a bit of a modern, fine-dining makeover, with a roasted tomato broth poured over the mound of braised lamb tableside. This wasn't just for show: I haven't had many goat dishes this lush and tender, and the broth was concentrated with so much intense, meaty flavor.
And the huachinango asado — a grilled red snapper — was sublimely delicious even considering the fact that I have rarely met a whole fish I didn't love. Other restaurants might grill a fish just as expertly over a wood-fired grill, yielding skin just as crisp and flesh just as delicate. But what made the dish was the array of complementary flavors and textures on the plate: a sweet, earthy paste of mashed-up black garlic; soft-cooked cipollini onions; cherry tomatoes; and a generous handful of lambsquarter, a wonderfully toothsome and wild-tasting green. Once in a while, I'd come across an intensely fiery bit of chile de árbol. No two bites were the same. (For the true chili-head, a no-joke habanero hot sauce is available by request.)
Calavera isn't for everyone — not when it's as easy as it is for two diners to spend upwards of $100 even after bypassing the impressive selection of cocktails, $60-plus bottles of wine, and by-the-ounce craft mezcals and tequilas. The newly launched lunch menu, which adds a few $13–$14 sandwiches to the mix, is a little bit more accessible.
But, as much as I love going to town on a boatload of street tacos, who is to say that every Mexican restaurant ought to default to that kind of everyday fare? Pastena said he and his partners wanted to model Calavera after the kind of elegant fine-dining restaurants that are increasingly prevalent in parts of Mexico, such as Oaxaca, Guadalajara, and Mexico City. If you can accept the restaurant on its own terms, and if you can buy into its proprietors' particular vision for "authentic" Mexican cuisine, you'll find that there's no place like it in town.