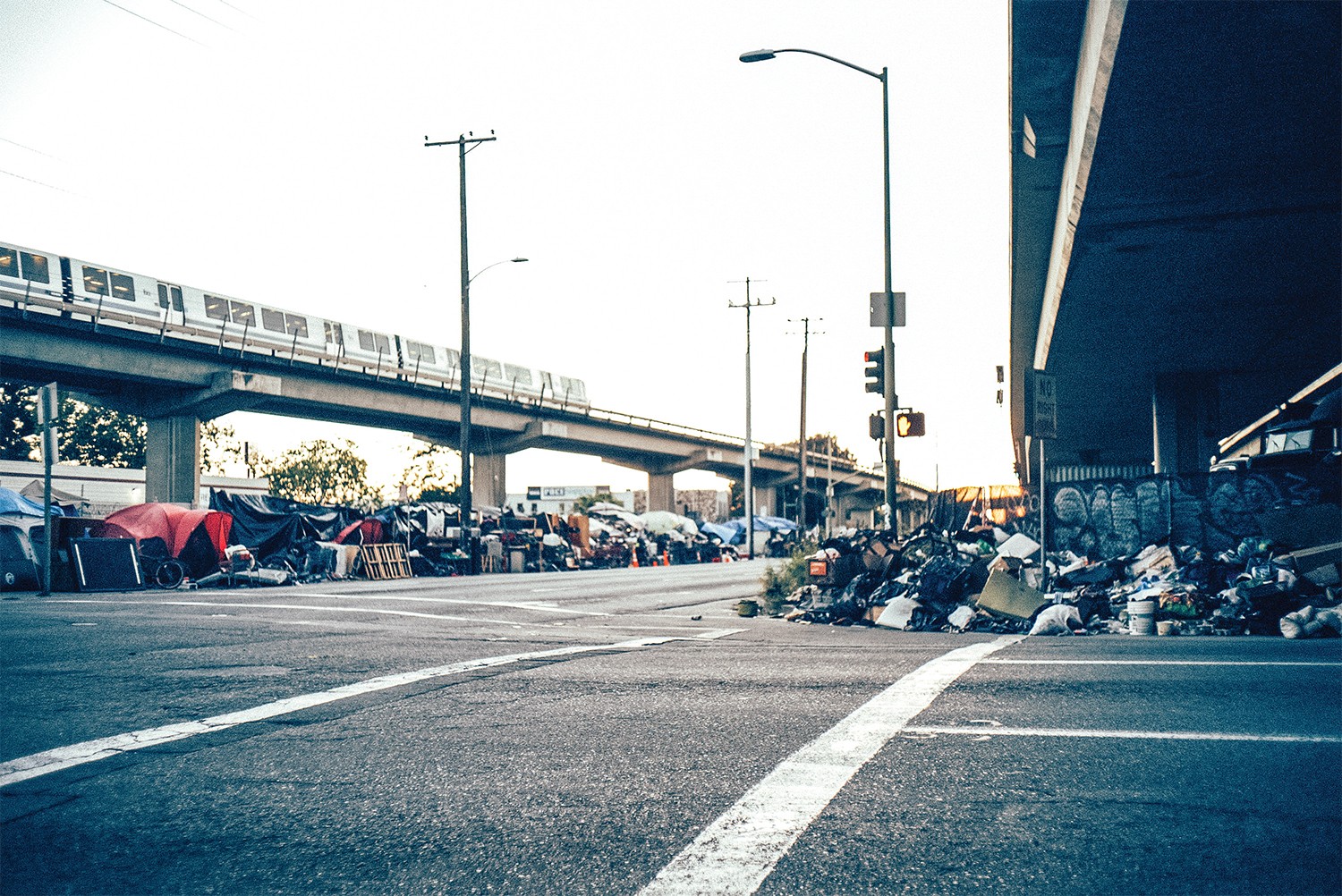 This past year marked a change in the way some local governments addressed the shelter crisis. A few East Bay cities, including Oakland, began to devote more resources to homelessness and started to sanction semi-permanent camps run by nonprofits.
But some homeless residents and activists question whether the cities' efforts will work. And they say that, despite the changes, local authorities are still enforcing policies that make things worse for homeless people. Camps still get "swept," possessions are routinely confiscated and destroyed, and people are pushed around like reluctant nomads while nearby homeowners and businesses perpetually lobby elected officials and the police to remove the poor, activists say.
"It's time to stop talking about how we have a solution to homelessness," said Osha Neumann, an attorney with the East Bay Community Law Center who has worked alongside homeless people for decades to advance their civil rights. "We don't have a solution. All the arteries that lead to housing are clogged right now and will remain clogged given the state of the housing market, and especially the lack of support for affordable housing."
According to Neumann, the East Bay needs to accept that homelessness is a chronic social problem caused by deeply entrenched inequalities. Real solutions to the crisis have to start with legalizing the existence of homeless people — not pretending that we can "solve" homelessness, or that a solution is just around the corner, Neumann said. Cities need to permit camps in public spaces for the long haul. Living in vehicles should be legalized. And the police must be directed to treat the homeless as residents with equal rights, not as criminals, Neumann added.
In the past two years, the number of homeless residents in Alameda County increased by 39 percent, from 4,040 to 5,629, according to the county's official census.
Last month, the city of Berkeley actually acknowledged that it can't house most of its unsheltered residents after a federal judge requested a plan to house "substantially all of Berkeley's homeless." The judge made the request after the "Here/There" homeless encampment on BART property was evicted by the transit agency. The eviction was only the latest forced move for the camp's residents.
"The city evicted us 17 times between Oct. 1, 2016 and January of 2017," explained Mike Zint of First They Came for the Homeless, a civil rights group led by unsheltered activists. "Once we got to Here/There, the city stopped raiding us," Zint said, but the eviction by BART, just as winter set in, did serious harm to the camp's residents.
The number of shelter beds Berkeley currently provides is far below the overall number of homeless people who would accept this kind of assistance, Berkeley's city attorney acknowledged in the city's plan. Even if the city were to turn municipally owned buildings into dorms, this could only house about 268 people, leaving the other 396 unsheltered residents without anywhere to go. And it would cost millions that currently isn't set aside in the city's budget.
That's why Neumann says the city should legalize camping on the streets and in cars, and specifically set aside spaces where camps can exist indefinitely, instead of constantly shutting them down and forcing people to move and then set up encampments elsewhere.
Zint agrees. "Sanction camping using rules, run by the inhabitants with community input," he wrote.
Berkeley's homeless population grew by 17 percent over the past two years, to 972 residents, according to official estimates. Most of these homeless people are unsheltered, but some sleep on friends' couches or in RVs. And even though the city's Black residents only make up 10 percent of the population, half of Berkeley's homeless are Black.
The city of Oakland, meanwhile, implemented policies designed to help get homeless people off the streets and into safer conditions. But the city also has continued to evict homeless residents from their self-organized communities.
In October, the city council and mayor approved a plan to set up "safe haven" camps that will provide Tuff Shed shelters, storage bins, portable toilets, and handwashing stations. The new city-sanctioned and nonprofit managed camps are a tacit acceptance that the city's homeless population is here to stay, that there aren't enough shelter beds, and there isn't enough affordable housing to place people in.
The impetus for this shift was The Village, said Needa Bee, one of the activists who set up the unpermitted settlement in North Oakland's Grove Shafter Park last January. The Village, also known as the Promise Land, included small insulated shacks, a communal kitchen, and gardens. Most important, said former residents, The Village was an intentional sober space that created a community of support for people dealing with drug and alcohol addiction.
But the city said The Village was a health and fire hazard and shut it down in February. Its residents moved back to the sidewalks along West Oakland's main streets, where hundreds of homeless people were already living in large encampments that are frequently made to move by the city.
The Village's closure directly led to the establishment of the Homeless Advocacy Working Group, or HAWG, which pressured Oakland's elected officials and city administrator to radically change the city's approach. HAWG's first action, in fact, was to march on City Hall while The Village was being dismantled.
"Half of us literally marched to City Hall and took over Joe DeVries office," said Bee, referring to Assistant City Administrator Joe DeVries, who handles homeless policy for the city. "He was forced to leave the Promise Land, and that moment was when it was established that we were a force that wanted to have a conversation with the city."
Since then, the city has distributed portable toilets to multiple self-organized homeless camps in East and West Oakland. And the city is setting up its own sanctioned camp made of Tuff Sheds, portable toilets, and hand washing stations. It opened recently on an empty lot at the corner of 6th and Castro streets.
"It's an innovative approach to the immediate crisis," said Oakland Mayor Libby Schaaf in October when the plan was first approved. "The long-term plan is to get more affordable housing onto the market ASAP."
But it's not clear whether homeless people will move into the Tuff Shed shelters. Moreover, at the same time the city was opening its camp, it was evicting well over 100 people who live in the nearby encampments that line the sidewalks. The move has upset many homeless people in the area because it disrupts the community they've created.
One resident of the Brush Street camp around the corner who identified himself as "Papa" Mike said he won't be moving into the city's Tuff Sheds. For one thing, the city's camp can only accommodate 40 people, or just 2 percent of the city's unsheltered residents.
"It's like they want to control us," he said, describing the fenced-in camp with its security guards and flood lights as prison-like. Visitors aren't allowed past 8 p.m. He added that he has sleep apnea and requires a breathing machine and was told there's no electricity in the sheds. At his tent on Brush Street, he and others had tapped into an electrical pole, but city workers evicted them last week.
Asked what Oakland should have done differently, Mike said to open the Tuff Shed camp while also permitting the existing encampment around it to continue to exist.
Homeless people and activists wonder if the past year was one of progress or just more of the same. "The city needs to recognize their solutions are part of the problem," said Zint. "We are trying to get them to understand, but they don't listen."