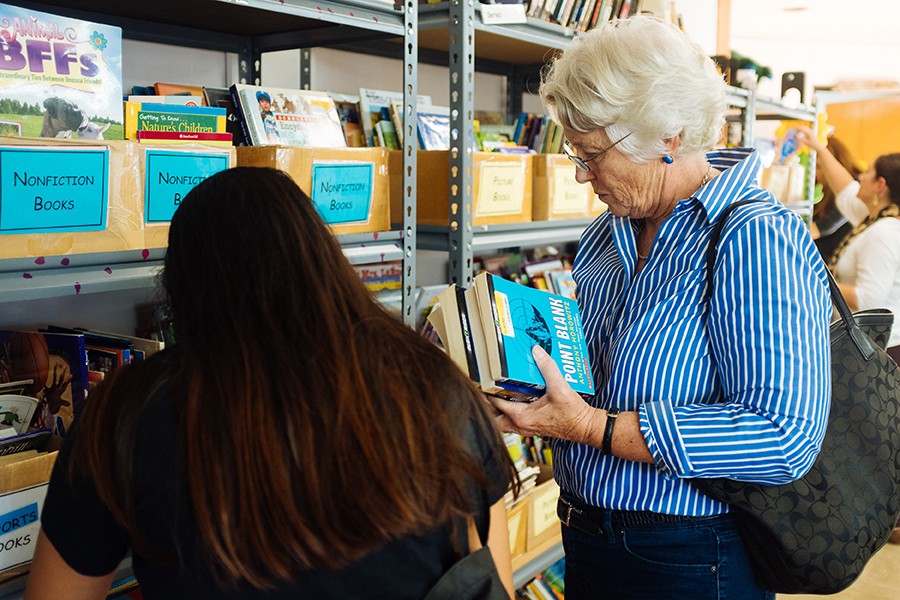 As she sifted through boxes filled with colorful picture books at East Bay Children's Book Project in West Oakland, Leslie Alfaro said the books she picks up here and takes back to the family resource center where she works in East Oakland could become a child's greatest source of stability.
The children she works with may not know where their next meal will come from or where they'll be staying that night, she said, but they'll always have the books that she gives them.
"When I tell them, 'Hey, do you want a book to take home?' their little faces light up," Alfaro said. "If they're in the homeless shelter, they'll have that book with them."
East Bay Children's Book Project has been providing that sense of stability to children since it began in 2005. To date, it has provided more than 1.6 million books for teachers, social workers, pediatricians, and others to give away to low-income children.
But after the program learned at the end of July that it would lose its lease at 959 12th St., in West Oakland, its entire mission could be in jeopardy.
Finding an affordable lease at a time when building rents are soaring and nonprofits are increasingly being displaced from Oakland has proved to be difficult. East Bay Children's Book Project Director Ann Katz said she has looked at more than 20 places to move into but has yet to locate an affordable space that has enough room for more than 20,000 books. With its monthly donations, the nonprofit can afford to pay about $1 per square foot.
Katz recently told some teachers that she was unsure if the program would make it through the end of the year. They were almost in tears.
Gaston Evans, who runs a nonprofit serving needy children in Oakland called We Tha People, said that while there are a few libraries around the city's low-income communities, they're not usually near the kids who need them.
As he looked through the books at the East Bay Children's Book Project to bring to his nonprofit's book bank, he came upon a box that had three copies of The Hunger Games books.
"Some of the kids I work with have heard of The Hunger Games," he said. "But they've never actually seen" the books.
His sentiment was shared by most of the teachers and social workers who were searching through the nonprofit's thousands of books that Thursday afternoon. Linda Grayson, a special education teacher at Martin Luther King Jr. Elementary school, said that many of the students she teaches have never owned their own book before. She lets them pick one out every Thursday to build their personal libraries.
It's for students like Grayson's that Katz and a group of other retired teachers started the East Bay Children's Book Project 12 years ago. They began by giving away the books they had collected for their class libraries over the years at the Grand Lake Neighborhood Center, and the nonprofit took off from there.
"It just kept growing and growing," Katz said. (The Express named the nonprofit Best Charity in the East Bay in 2013.)
As the program became more popular among teachers, it started to get more donations from local bookstores and community members.
In 2009, the project became too big to remain in the Grand Lake Neighborhood Center. It moved around over the next few years, operating out of Lotus Bloom Family Resource Center and Mosswood Park before finally settling at West Oakland's Bethlehem Lutheran Church.
Katz thought that the project would stay there forever. East Bay Children's Book Project gave the building a new paint job, built a ramp to make the program ADA-accessible, and moved in thousands of books.
But at the end of July, Katz received a letter from Bethlehem Lutheran officials stating that East Bay Children's Book Project had three months to move out. Church officials offered no explanation as to why they chose not to renew the nonprofit's lease and declined to comment on the subject to the Express.
Pastor Linda Boston, who originally spearheaded the effort to secure the nonprofit space at Bethlehem Lutheran when she worked at the church, said East Bay Children's Book Project is about providing children in the surrounding community a better future.
According to The Literacy Project Foundation, 85 percent of juvenile offenders have problems reading. The California Assessment of Student Performance and Progress found that, in 2016, 69 percent of students tested by Oakland Unified School District did not meet state literacy standards.
It's unfortunate, Boston said, that the church didn't share her same vision for the program after she left two years ago. "For a kid to have their own free book handed to them that doesn't have somebody else's name in it, somebody's else's scribbling in it –– that's a big deal" Boston said. "It would be a big loss to the children of Oakland and the city of Oakland if the project is no longer there."
Second grade teachers Jaine Kopp and Judy Washington, who work at Martin Luther King Jr. Elementary School, know what that loss would look like. Taking home books is the highlight of some of their students' weeks — and books from East Bay Children's Book project have been there to comfort them in tough times.
When one child's father passed away, Kopp said, the class read Badger's Parting Gifts –– the story of a badger who leaves presents to all his friends to remember him by after he dies. After they read it, Kopp said, the students were moved and all shared something emotional for them.
"We're blessed to have this place," Washington said.
"There's nothing like this anywhere," Kopp added.