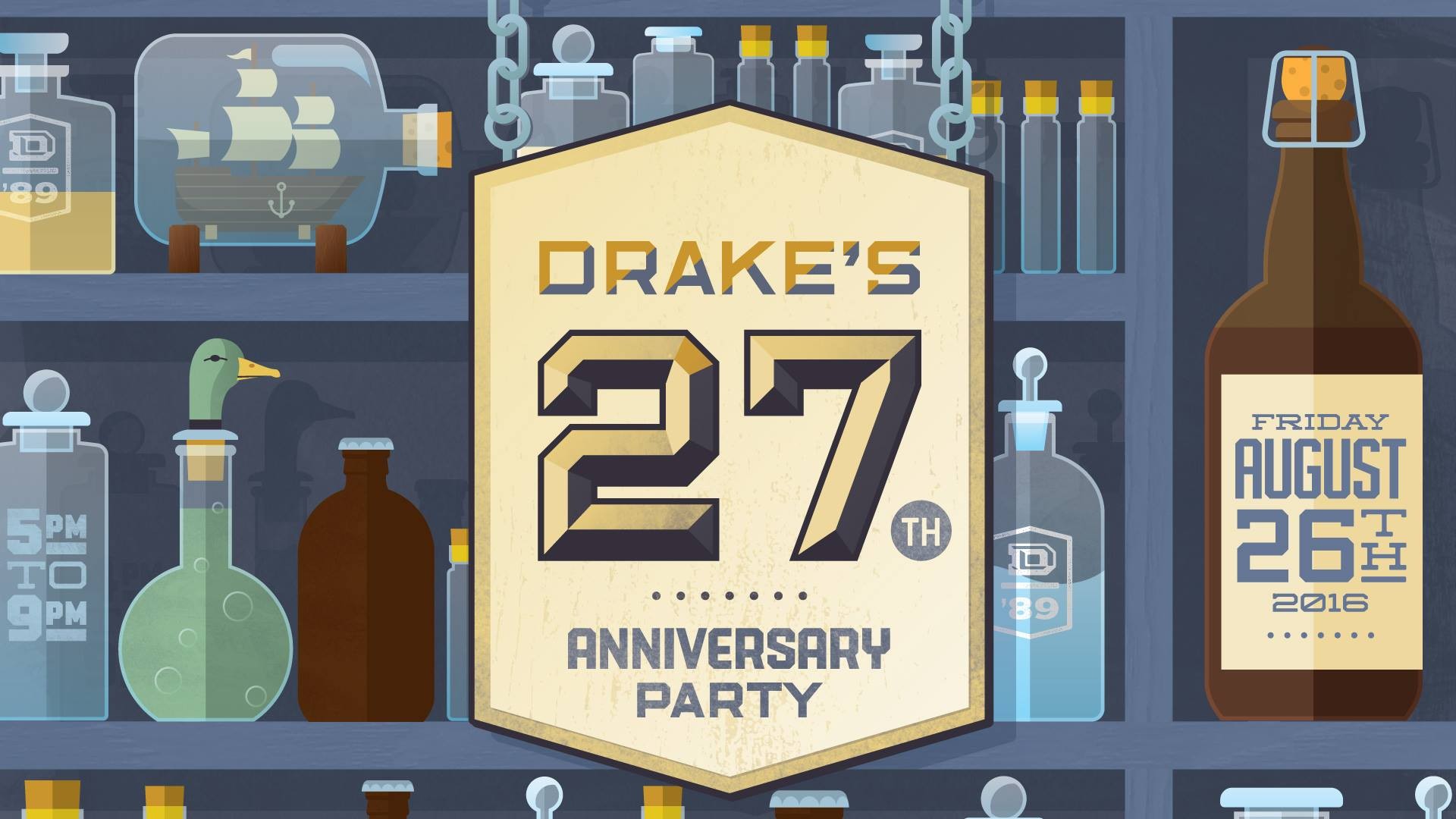 East Bay craft beer godfather
Drake's Brewing Co.
celebrates 27 years this Friday in San Leandro. And, in true Drake's fashion, they're busting out quite the birthday list of beers.
From their
Facebook page
:
Aroma Coma, IPA
Aroma Therapy, Triple IPA
Aroma Session, Session IPA
Aroma Prieta, IPA
Aroma Flora, Farmhouse Saison
On the Tap Trailer-
Aroma Coma, IPA
Aroma Therapy, Triple IPA
Aroma Session, Session IPA
Aroma Prieta, IPA
Strawberry Oaklander Weisse, Berliner Weisse
Flyway Pils, Pilsner
1500, Dry Hopped Pale Ale
Denogginizer, Double IPA
Robusto, Robust Porter
Firkin Station-
1500 Pale Ale w/ Grapefruit
Winning Lager w/ Bourbon Vanilla Oak
At the Meet the Brewers Station-
Unholy Alliance, Viognier Grape American Sour
Headzo, American Strong Ale
Mission Kriek, American Sour
Too Many Candles , Blonde American Sour
Santa's Brass, American Barleywine
Brette Davis Eyes, Blonde American Sour
BA Drakonic '14, Barrel Aged Imperial Stout
Lusu's Love Child, Zinfandel Grape American Sour
Harlequin, Bourbon Barrel Coconut Brown Ale
Zin Barrel Drakonic, Zinfandel Barrel aged Imperial Stout
BA Jolly Rodger, Barrel Aged Imperial Coffee Porter
There will also be stations with Drake's alumnus pouring beers from their new breweries:
Collin McDonnell, Henhouse – Saison
Jeff Kimpe, Triple Rock – Francis, Belgo American style Pale Ale
Rodger Davis, Faction – The Penske File, Strong Pale Ale
Alexandra Nowell, Three Weavers – Knotty, DIPA
Roger Lind, Schubros – Ship to Shore BB4 IPA
Cortlandt Toczylowski, Barebottle – Thickets & Wickets, English Summer Ale
Jesse Houck, Maui Brewing – Coconut Porter
Melissa Myers (Former Drake's Brewer, current owner of the Good Hop, collaboration beer w/ Iron Springs), Midnight Kolsch, Black Kolsch
So, yeah, that's a helluva list.
Tickets and more info here
. Cheers!
What
: Drake's Brewing Co. 27th Anniversary Party
Where
: 1933 Davis Street, Ste. 177, in San Leandro
When
: 5 p.m.
Who
: 21-and-over, no pets
Why
: beer, eh!