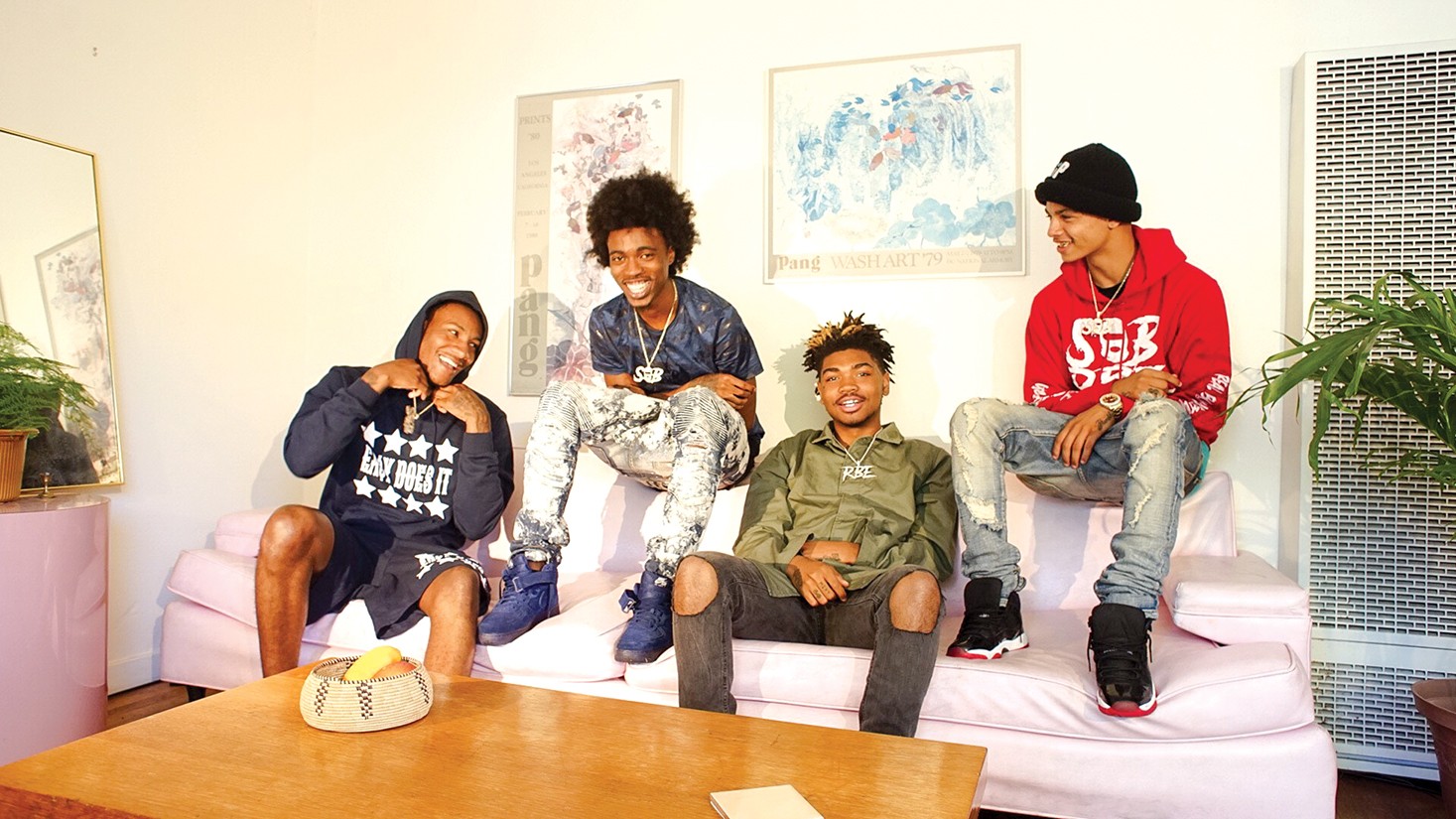 Slimmy B searches the internet for a photo of a "pomsky," a cross between a Siberian Husky and a Pomeranian. The resident dog lover of Bay Area hip-hop crew SOB x RBE, he's enthusiastic about bringing one of these expensive hybrid puppies home soon. Lul G, on the other hand, wants a monkey — a finger monkey, to be exact. He figures he'd have to keep the small, tropical creature in some sort of enclosure, preferably a clear tank. "A tank monkey!" he enthuses. Da Boii and Yhung TO, who have been eavesdropping on this pet dream, chime in. They're not sure the monkey can be kept in a tank, and argue that it would inevitably break out, given its strength and smarts. But Lul G doesn't buy this. Besides, he says, how else would he keep track of his tiny monkey? He pauses to consider alternatives before exclaiming, "I'm going to lose that monkey!"
This genuine debate on designer pets speaks to SOB x RBE's newfound success. With a burgeoning music career already taking care of their basic needs, the four very young men behind the Bay Area's most exciting and infectious rap music can dream bigger.
SOB x RBE's ascendancy was sudden. In late May, the Vallejo quartet unexpectedly sold out three back-to-back shows at San Francisco's Social Hall — and, due to high demand, their third date was moved to the larger, 1,000-plus capacity Regency Ballroom next door. It was the weekend residency of seasoned touring musicians' dreams. But for SOB x RBE, these were their first shows ever in San Francisco.
"When it sold out the first time, I thought it was an error with the tickets, because we sold out in 15 minutes," Slimmy remembered. "And then it did it again. We sold out again."
The group's success is fueled by a legion of younger hip-hop fans: When the all-ages crowd flooded out from the Regency on the night of the third show — after being treated to surprise guests, including Nef the Pharaoh and Show Banga, and openers Lil Sheik, Lil Tutu, and OMB Peezy — there were as many parents to pick up their kids as Uber and Lyft cars.
Unsigned to a label, their popularity is a product of the internet. Specifically, their fan base is centralized on YouTube, but throughout the country, enough to support SOB x RBE on its current, and first, headlining national tour. Their formula is an anomaly, amid a landscape of Soundcloud rappers (where SOB x RBE's presence is unofficial) and mixtapes (often clandestinely produced by major labels). But it's worked exceptionally well for them.
[pullquote-3]"That's how we bubble. Got the same recipe from day one. Ain't nothing change from when we had no fans to now, when we got a lot of fans. Same recipe," explained Slimmy, who pushed the idea to release songs as videos on YouTube.
The group's self-assured and independent nature is reflected in their tracks' clever, perfectly tweetable bars. And while not all SOB x RBE songs feature each member, even solo releases come out under the band's umbrella — a collective decision by the boys to rise and eat together as a family. "Older people probably look at it like a gang or something," Lul G admitted. "Some other people may just look at it like as a group or something.
"But we're actually brothers."
A Crew Explodes
SOB x RBE is a fusion of two crews that united as one band of brothers. SOB, which actually stands for "Strictly Only Brothers," is a clique formed in middle school by childhood friends Da Boii (age 19), Slimmy B (21), and Lul G (18). Originally, SOB stood for "Shoes Over Bitches," because they "used to take shoes serious," Da Boii admitted.
Lul G knew Slimmy from the Boys and Girls Club in Vallejo, and would record songs with him and Da Boii at friends' houses. At that time, TO, 19, rapped and produced under the team name RBE, or Real Boi Entertainment. Lul G and Slimmy knew about him, but Da Boii was closer with TO, who says he would collaborate with him occasionally "on some cat shit." As they developed chemistry, he brought Slimmy and G along. SOB x RBE was born in 2015.
The next year, in June, Slimmy and TO recorded and dropped a YouTube video for "Cautious," a song that would go on to mark the alliance's debut. Currently, "Cautious" stands at just under 150,000 views on YouTube, an impressive number for any local rap act, particularly for a first effort.
In the SOB x RBE catalog, though — which mostly consists of video releases of singles — it seriously trails "Different" (released in July of last year), which boasts more than 11 million views, and their most popular track, "Anti," with 12.5 million (released last September).
[embed-1]
SOB x RBE's YouTube channel itself, the main platform to access their music, currently boasts 100,000-plus subscribers and more than 61 million views, spread over just 25 videos.
These numbers — especially considering the pace at which they were achieved and a lack of record-label support, are locally unheard of and universally enviable.
The crew is intentional about dropping videos for most all their singles and, so far, that strategy has worked. "It's more of an impact when you drop visuals with your music than just a song. People want to see stuff more than hear it nowadays," Slimmy explained.
The comment space below each SOB x RBE video functions as a de facto fan forum, and with a high level of engagement. Early adopters brag about their good taste, there are hometown shout outs (including a lot of love from Detroit, home to musical kin of SOB's sound), and flirtatious exchanges of Snapchat usernames among their young fans.
Aside from providing a platform to share and promote music, YouTube has also served as the group's primary resource for beats. "I found [the "Lane Changing"] beat on YouTube," Da Boi recounted. "[Lul G] kept telling me, 'I want a beat that was old school, like how you did 'Calvin Cambridge.' I pulled that up, he was like, 'OK, this goes crazy.'"
"Lane Changing," an update of Chaka Khan and Rufus' "Ain't Nobody," with some light percussions to top, features all four members. In a recent interview with online Bay Area rap hub Thizzler, TO claimed that SOB x RBE popularized the newest wave hip-hop motif of "talking that gangsta shit" over old school beats.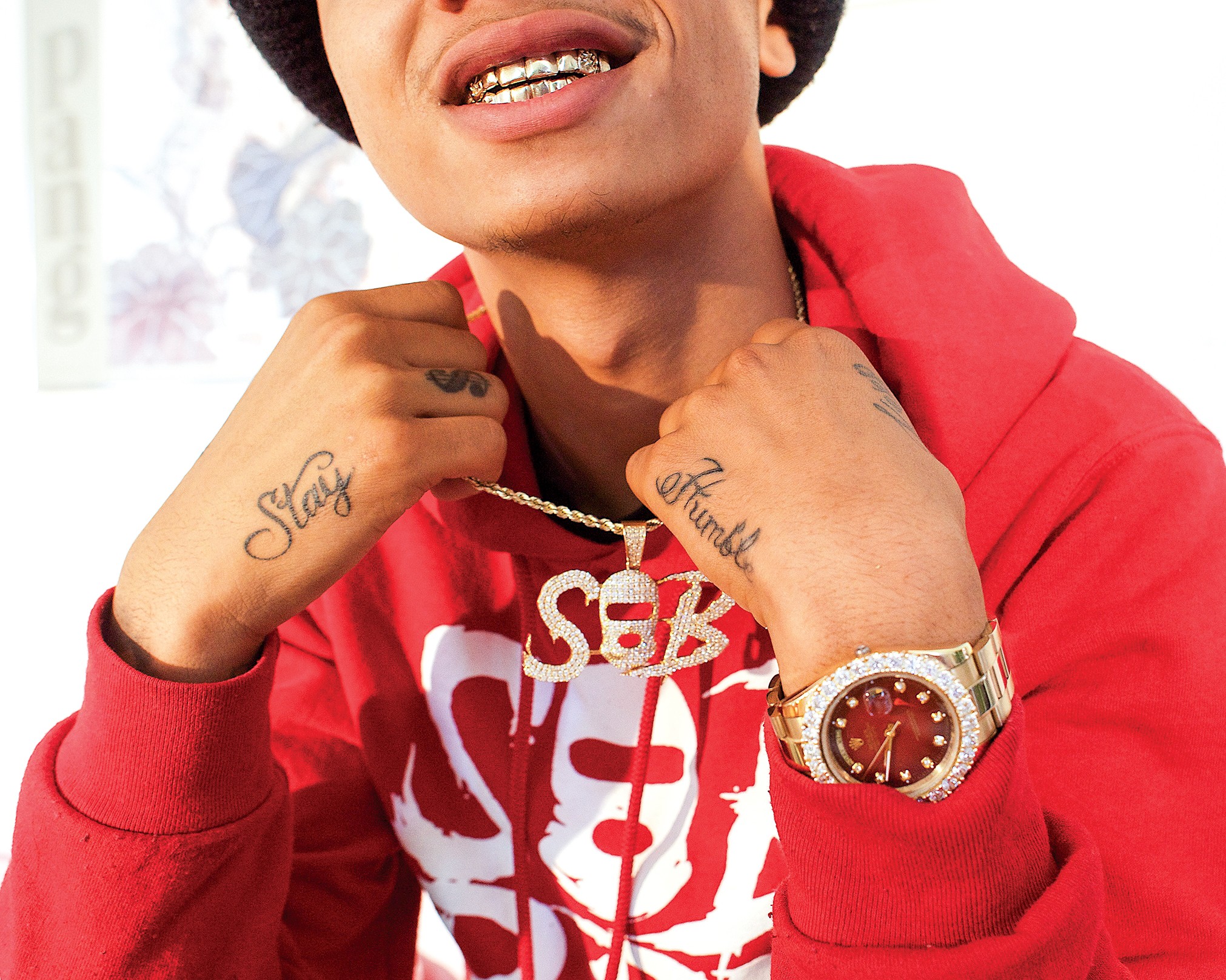 At only 19 years of age, TO is the master of melodic hooks on the gang's songs and the music veteran of the crew. He grew up in his grandmother's North Vallejo home, which housed a studio where one of his uncles rapped and another produced music. "My older uncle taught me how to make beats on [Reason and Fruity Loops]," he recalled. "And I was rapping myself." He remembers that his uncle would help him format tracks and structure verses. "He'd tell me, 'You gotta take that little word out, take that word out,' to flow it on beat."
The aspiring TO ended up on Ozcat Radio, a North Bay public-radio station, even appearing on stage at their youth showcase when he was just eight years old. "When I first got on the stage, I was hella nervous. But when it was time to perform, I just went up there and did it, like it was just normal. I really didn't need too much coaching."
The rest of the SOB x RBE crew cites recording with TO as the definitive turning point in their relationship with music. Nearly a decade of exposure and practice gave TO the skills to produce and mix songs, which he and the rest of the gang would record in his grandma's garage studio.
Having a producer who knew what he was doing, and a surplus of talent in the room, created a competitive-collaborative atmosphere that pushed each member to bring his best. "We ain't nothing without each other, 'cause we the most-realest when it comes to the music," Da Boii explained of the crew's candid approach to songwriting. "We're the only ones that's going to tell each other if something's weak."
He says everyone else will just tell them "'Oh yeah, this shit's cool.'" But that the four of them don't hold back. "We really let a motherfucker know, like 'That's not him,'" Da Boii added.
[pullquote-2]Earlier this year, buzzing off their YouTube drops, the boys joined local hitmaker Sage the Gemini on a West Coast tour, which kicked off in Seattle and traveled across the Pacific Northwest all the way to Southern California. Sage is a member of the East Bay's HBK Gang, a crew of rappers, singers, and producers who managed to turn local buzz into some national success. There's an imperfect comparison to be made between HBK and SOB x RBE — both are high-energy groups with distinctive sounds trying to find collective success. But besides that, the crews don't share much else in common; their styles are worlds apart, and SOB x RBE is finding success in an entirely different music landscape.
In fact, the relationship between SOB x RBE and HBK — and to a lesser extent, Berkeley's four-man crew The Pack — might be that each crew represents a new chapter in the evolution of Bay Area hip-hop.
The prolific hyphy era that stretched from the late Nineties to the early 2000s left a certain impression of how the Bay Area sounds on the nation: frenetic and at times goofy with its unique vernacular and dance. Since, local rappers have been negotiating their relationship with hyphy. Some recreate it, with loyalty, and others simply nod to its success. HBK embraced hyphy's fun, sans the drugs, and veered more sincere than goofy. And though SOB x RBE boys grew up in the same city as Mac Dre, their style leans more toward mob music, the Bay Area's pre-hyphy, heartfelt, and soulful gangster rap popularized by the Mob Figaz and J Stalin, among others.
Perhaps another Vallejo rising star, Nef the Pharaoh, 22, who is closer in age and alliance to SOB x RBE, is a true contemporary. Da Boii remembers when Nef dropped "Say Dat" in 2016, in which his playful inflections are reminiscent of Mac Dre's easygoing demeanor. "He was like '
I touched twenty bands when I was nineteen
.' And I was only eighteen when I heard that, and I ended up touching twenty bands when I'm nineteen. That shit's crazy. That's motivation for real," Da Boii said.
Nef, an unabashed fan and supporter SOB x RBE, has collaborated with the crew, even setting up the boys' first live show in Petaluma last year.
SOB x RBE's live performance has the energy and jubilance of an end-of-the-year high school rally. At the Regency show this past May, perhaps it was borne out of relief, that the four young men had pulled off their largest headlining show yet — an exuberance unleashed by the promise of summer just around the corner.
Outgrowing Cities and Dreams
There's something about the diverse waterfront city of Vallejo that seems to produce musical talent. A bridge removed from Richmond and Oakland, the former site of the Pacific's first naval shipyard now counts a Six Flags Discovery Kingdom park as its top attraction. "Once you live out here, Six Flags is some bullshit," TO dismissed. "It's like going down the street to McDonald's or something. If you go a million times, it's the same thing — ain't nothing change. It gets boring after a while."
To address the issue of boredom, a young person in Vallejo is offered the choice between hobbies or vices. This is in part because the city was broke: After making significant cuts to municipal payrolls, museums, and libraries, Vallejo filed for Chapter 9 bankruptcy protection in 2008. And the line items that the city couldn't negotiate, ones that took up nearly three quarters of its budget, were the above-average salaries and pensions for police officers and firefighters — which fostered resentment in the neighborhoods.
The city was released from bankruptcy in 2011, but Vallejo police have managed to stay in the news. This March, the department came under fire after video surfaced of a cop repeatedly striking an unarmed Black man in the face with his fists and a flashlight outside a gas station in Country Club Crest. Vallejo Police Chief Andrew Bidou released a statement following the incident, explaining that the use of force is under investigation by the department's internal affairs division. But the community was rattled.
The subject of police comes up in SOB x RBE's music. In "Calvin Cambridge," a gutsy banger that borrows a beat (and a heavy dose of irreverence) from N.W.A., Da Boii raps, "
Middle fingers to the feds they lockin' all my niggas up / Strip a officer for his badge, make him give it up / Nah I'm playin, keep ya badge we don't give a fuck.
"
With increased visibility and fame, and despite no incidents of violence at any shows, TO said the city's police department targets SOB x RBE's performances, even though the audience is mostly folks younger than he and his bandmates — a trend that impacts rap shows throughout the bay's live music landscape.
"On top of that, before the fame, before our name, there was always police harassment when you're a youngin' and you're Black. They're just going to do that automatically," TO explained.
[pullquote-1]During several interviews with SOB x RBE, the guys expressed a strong desire to be secluded and "out the way" from these everyday stresses — and new ones that have come courtesy of fame. "Out the way mean like you're tucked off. Telly, loft, Airbnb, stress free. Smoking weed. Can't nobody pull up on you none of that," Da Boii said.
The group's longer term vision involves leaving Vallejo sooner that later, even though they share a strong hometown pride.
"Me and TO, we talked about everything. We talked about all our dreams in his garage. We started living all them dreams. We talked about doing shows. We talked about our own tours. We talked about hitting a hundred-thousand views. When we hit our first hundred thousands, we talked about hitting a mil," said Da Boii, describing the benchmarks of their rise to fame.
YouTube and the internet has, of course, accelerated their success, perhaps unlike any other local hip-hop artist. "You see Bay Area rappers blow up, but they'll be known in the Bay for hecka long before they even get outside of the Bay. Just for us to get outside of the Bay, that shit was hella crazy," Lul G said.
So, what's next for a crew that's achieved so much in so little time? TO lists off a number of goals: selling out shows outside of California, appearances on talk shows like
Sway's Universe
and
The Breakfast Club
, charting on Billboard. "Just become a household name in the music industry," he summed up.
A label backing could bolster their success, but the group isn't exactly in a rush. "Numbers gotta be right for us to just sign a deal, because if the numbers ain't right, we could really do what the label's doing by ourselves and own everything ourselves," Slimmy said of their reluctance to indulge major-label courtship.
[embed-2]
Label or not, the group belies complacency. TO recently released
On My Mama
, a solo project, but one that of course features his brothers. The title track is vulnerable, honest, and one of his best efforts to date. Da Boii will be next to release a solo project, followed by Lul G and Slimmy in the coming months.
In the meantime, Slimmy doesn't want to lose sight of this moment.
"Sometimes you just sit back and think, like 'Damn, I'm really here.' I didn't know I'd be doing this. I don't know what I thought I'd be doing. I could be anywhere. In the streets, probably dead. Somewhere working at a horrible job.
"But I'm with my brothers. I just be happy. Too happy. Yup."
SOB x RBE will headline their largest East Bay concert yet this Tuesday, August 1, at The UC Theatre (2036 University Ave, Berkeley, 7pm, $30, all-ages, TheUCTheatre.org) The crew will also perform at KMEL's Summer Jam on Sunday, August 6, at Oracle Arena (7:30pm, $45-174)


Editor's note: The print issue and previous online version of this story incorrectly state that all four members of SOBxRBE grew up in the Country Club Crest neighborhood of Vallejo.