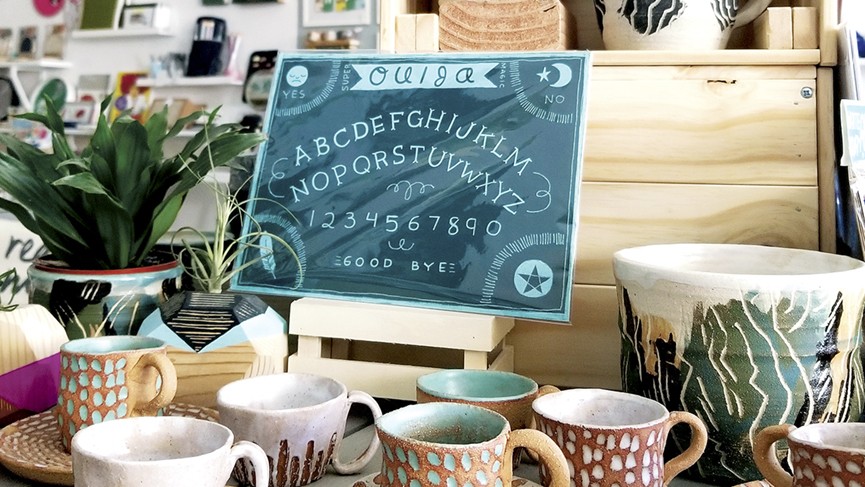 Tis the shopping season once again, and it seems as if the wish lists are getting longer as the days grow shorter. Trying to navigate the influx of holiday mania can quickly become overwhelming — especially online. Fortunately, the East Bay is home to many establishments offering a mixture of clothing, accessories, and other home décor, so it's easy to opt out of online ordering and explore a more hands-on holiday shopping experience. If you're looking to keep it local but don't know where to start, grab your list and check out these five shops.

Mischief
Nestled in the Laurel district, Mischief offers a supreme combination of supporting local art with great gifting ideas. Owners Laura and Julian Shields sell the works of 90 artists, offering a large variety of stationary, personal care products, children's apparel, jewelry, and other mediums of art, including their own. Bring $25 and you can purchase a handcrafted drip tumbler by Margaux B. Pottery or a "Choose Weird" graphic tee from Lionel's Place, a Bay Area-based company with a bully prevention mission. Shopping here is an opportune way to make a gift feel more personal while investing back into the community.
Unlike other gift shops, Mischief also offers a selection of classes and other free events during the holidays to get you into the gift-giving spirit. Starting in December, you can sign up for DIY gift wrapping and DIY gift toppers, or stop by for days like the annual Ugly Sweater Cookie Party, where you can decorate a sweater-shaped cookie for free in a festive setting.
3908 MacArthur Blvd., Oakland, 510-646-0453, ShopMischief.com
Indigo Vintage Co-op
What started as a regular booth at the Treasure Island flea market has turned into the East Bay's newest consignment shop, Indigo Vintage, which opened in May. It's a charmingly boho-styled boutique curated for the college kids of Berkeley, owned by 24-year-old Melissa Willis, who has worked her way through estate sales and other street markets to find great vintage women's wear, band tees, and local sports merchandise. The shop cycles through 10 to 15 vendors every month to ensure your shopping experience never feels old or redundant.
During the holidays, what will really catch the eye is Indigo's restored collection of classic denim — ideal for gifting as the weather cools down. There's a wide assortment of Wrangler, Blue Comet, Guess, and Gap jeans and jackets starting at $35. Unlike other consignment stores that stuff their racks, Indigo Vintage manages its apparel so it's easy to peruse through. Do a little digging and you can find a pre-owned Levi's Sherpa trucker jacket for a discounted $75. You can also catch great deals during the weekends, when Indigo arranges a $10 rack for seasonal goods and other apparel.
2505 Telegraph Ave., Berkeley, 510-280-5975, Instagram.com/indigovtg
McMullen Boutique
This year, owner Sherri McMullen opened her much-anticipated McMullen Boutique on the corner of Broadway and Grand Avenue, the first luxury store to open in the East Bay since I. Magnin in 1995. Just in time for the holidays, the store's handpicked list of more than 36 luxury designers like Ulla Johnson and Proenza Schouler provides optimal options for women who hold high value on individualism and style. Whether you're a daughter buying a gift for your mother or a husband splurging on your wife, you'll find that the pieces at McMullen rival other luxury boutiques in the Bay Area.
The store also features a wide array of jewelry and home décor that McMullen said acts as fitting hostess gifts when looking to spend under $100. (She suggested a pair of gold Laura Lombardi earrings, which start at $88.) The welcoming, knowledgeable staff creates an enjoyable and unintimidating shopping experience.
2257 Broadway, Oakland, 510-508-0773, ShopMcMullen.com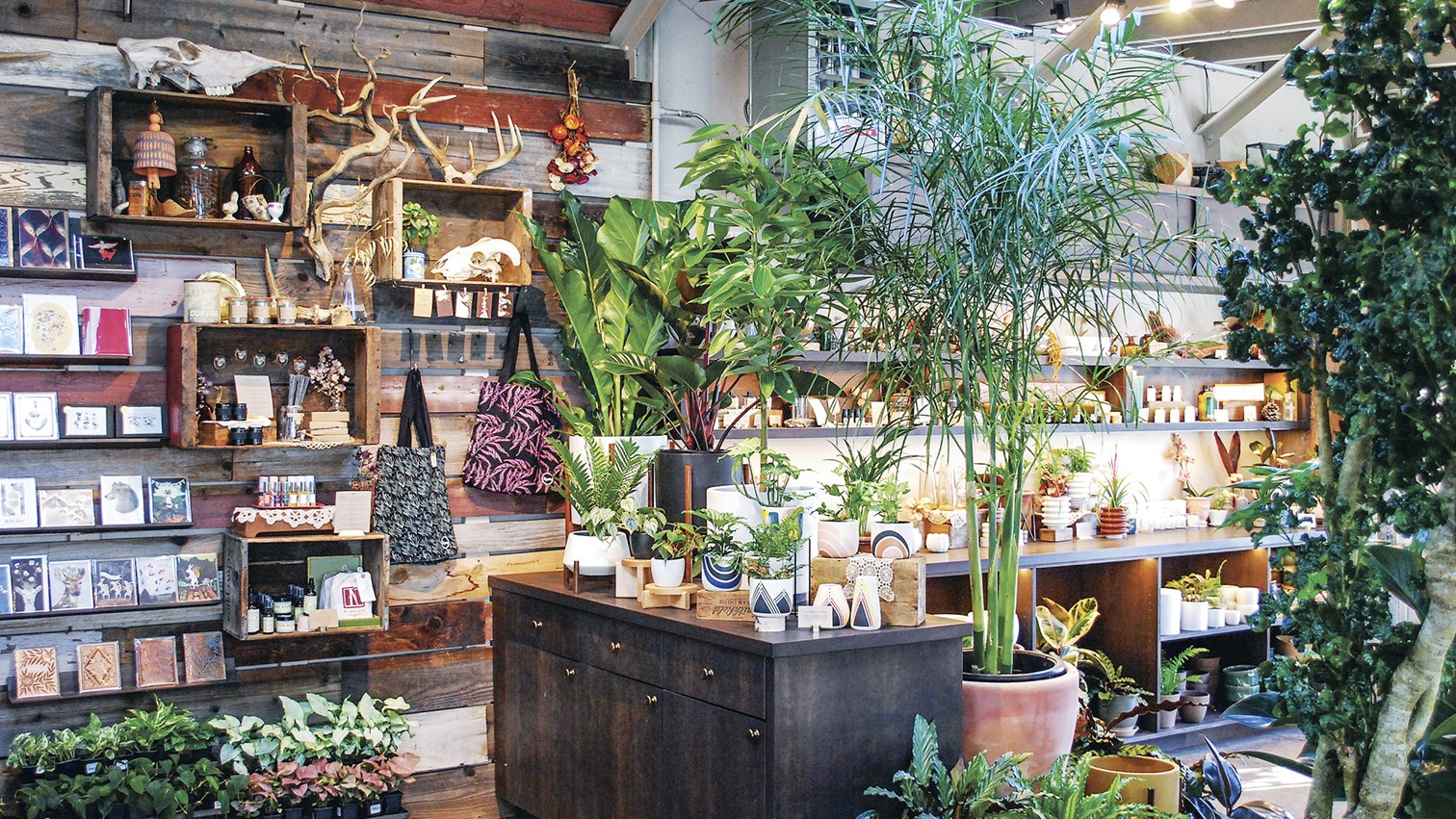 Crimson Horticultural Rarities
Over the past few years, succulents and other cacti have become increasingly popular due to their low maintenance upkeep. "Crimson Horticultural Rarities" might be a mouthful to say but it's a great little nursery to shop for friends embracing their green thumb. Owner Allison Futeral has designed an intimate space that specializes in unique plant choices and other gift items including fragrance, home décor, and hand crafted pottery — all guaranteed to liven up any home. While there are plenty of nursery options in the East Bay, Crimson offers a more hip and new-fashioned aesthetic. Situated on the urban-chic corner of Temescal Alley, Crimson incorporates pieces of taxidermy amongst a selection of planted terrariums and other potted rarities. Prices here can range from a $3 air plant to $300 painted planters.
On Sunday, Dec. 2, during Temescal's annual holiday fair, Crimson will be hosting a wreath event during which shoppers can come in and watch the wreath-making process in action. It'll be a little fun for the whole family — plus, you can bring your wreath home or gift it to your neighbor.
470A 49th St., 510-992-3359, CrimsonHort.com
510 Brand
If you're looking for something hella Oakland to send to people out of state or wear right here in the Town, 510 Brand champions local East Bay pride. A few doors down from the Grand Lake Theatre, this six-artist co-op specializes in screen-printed and embroidered Oakland-themed apparel with sizes ranging from small to 4x. The co-op also offers a variety of hats, accessories, and baby apparel as well as a small selection of obscure vinyl and painted art. Helping to sustain its creativity, 510 Brand makes sure to give 100 percent of the profits back to the artists, encouraging community growth. With a bare bones, grassroots feel, 510 Brand is a great place to buy gifts in bulk, with printed shirts at $16.35 each for a dozen.
For the holidays, 510 Brand will be promoting their customizable tote and tee gift basket for a discounted $30. You can also stop by and have your name — or your loved one's name — embroidered on a handmade stocking repurposed from their back stock of old T-shirts. The shop will also be releasing its newest design, "The Crane Deer," which jovially dresses Oakland's famous white cranes as festive reindeers. Print this on a crewneck or hoodie as a comfortable replacement to the kitschy Christmas sweater.
3224 Grand Ave., Oakland, 510-410-5390, 510Brand.com
Editor's Note: An earlier version of this story stated Crimson Horticultural Rarities would be hosting a custom wreath-making event on Dec. 2. In fact, the wreaths will be pre-designed.