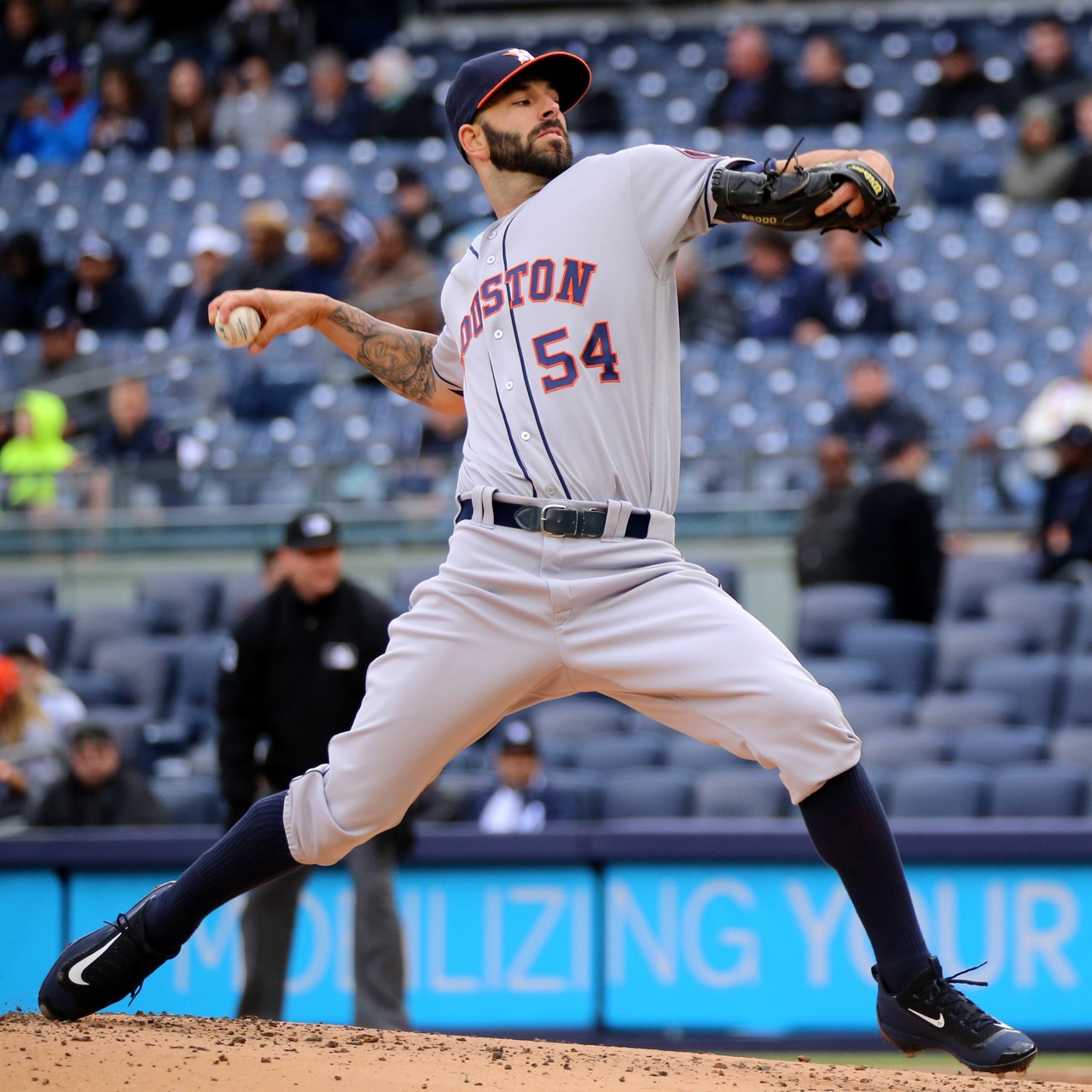 Did Mike Fiers just save the A's' 2019 season?
Until he took the hill and fired a no-hitter Tuesday night, the Oakland hurler had been one of the team's biggest disappointments amid its sluggish six-week-old campaign. But Fiers' 131-pitch gem over Cincinnati reminded everyone of his ample ability and injected life into a flailing A's squad.
We've seen this movie before.
Exactly one year and 16 days before Fiers' gem, Sean Manaea also pitched a no-hitter and added another piece of lore to the history-rich Oakland Coliseum. On the surface, Manaea's no-no against Boston improved the team's record at the time to an ordinary 10-11. In the bigger picture, though, the sizzling outing last year both announced to MLB that Oakland had talent and convinced a young A's clubhouse that they could beat anybody. That belief in spring bore fruit come summer and fall, as the A's hovered around .500 for a month before catching fire and making the postseason in a memorably fun 97-win season.
Fiers' artistry resembled Manaea's great game in another way. It shut up Oakland critics on the west side of the bridge and prevented them, however briefly, from enjoying a slice of schadenfreude at the Coliseum's expense. A year ago, those same detractors were trying to spoil the A's' celebration of playing 50 years in Oakland, discouraging fans from going to a free admission home game and printing stories suggesting that star third baseman Matt Chapman might soon leave the A's.
Likewise, Fiers' historical night also began under a dark cloud.
Malfunctioning stadium lights delayed Tuesday night's home contest by 98 minutes, unleashing the usual barrage of one-liners about the aging Coliseum — even though new ballparks often suffer similar snafus, too (Levi's Stadium, we're talking to you). Instead, a stellar A's performance took center stage, pushing the usual petty critics to the background and thrusting the victorious green and gold back into the spotlight.
Fiers' no-hitter, the second of his career, boosted the A's' record to a still-lackluster 16-21. But the buzz from such an exciting win might just propel the talented young team on a winning streak. As always with this team in the Bob Melvin era, stay tuned. …
Class and Grace
Steph Curry is an Oakland treasure. It's such an obvious thing to say, I'm almost embarrassed to write it. But I'll do it anyway because, put simply, Curry is a unicorn. I'm not sure he's even real. In fact, Curry is such a modern sports rarity — a good guy and superstar who mixes competitive zeal with the kind of laid-back, smart, quietly tough demeanor that East Bay fans especially love — that I'm not taking a single second of him for granted. Obvious as hell, I know. But Curry is so damn good at so many aspects of his job, and he does it all with such effortless class and grace, that I'm just going to enjoy the show for however long we have him in Oakland. And, yes, I do see a major distinction between the Warriors' home city this season and their new home city beginning in the fall. But that's a different column for a different time. …
The Two KDs
The near future of Curry's All-Star teammate, Kevin Durant, is less certain of course. While Durant is rumored to soon spurn the Dubs' new San Francisco arena for a team in New York or Los Angeles, the Bay Area's "other KD" — Khris Davis — is staying with the A's in Oakland at the aged, much-maligned Coliseum. Call it "The Tale of Two KDs." And the differing career routes of Durant and Davis tell you everything one should know about conventional wisdom in sports and why, in most cases, it should be fully rejected.
The irony from those two opposing narratives is thicker than a Bash Brother's bicep.
Durant is exactly the kind of blue-chip free agent Warriors owners Joe Lacob and Peter Guber said the Chase Center in San Francisco would help them attract. But that's not how it's worked out with Durant. Instead, he has joined the Warriors for their final three seasons in Oakland. And, if rumors are true, he'll bolt the Dubs and their pricy S.F. arena for another franchise this summer, meaning the first time he plays in Chase Center it might be as an opponent. In contrast to the team owners' rhetoric, Durant was happy to join the Warriors in Oakland and soon might be just as content to leave the Dubs in San Francisco. (Even comedian Adam Sandler, one of many long-suffering New York-bred Knicks fans, took a second on Saturday Night Live over the weekend to pine for Durant to join New York this fall.)
Meanwhile, the A's slugger has taken the opposite path. Davis, MLB's best home-run hitter since 2016, is firmly rooted in Oakland. He recently signed a contract extension that will keep him in Oakland through 2021. Yes, Davis chose to stay at the same venerable Oakland Coliseum that's quickly approaching AARP status. Davis' love for the city of Oakland appears to have played a part in his decision.
"There's something authentic about this city," he said in a social media post released by the A's. "It's a great place to build a championship team."
So much for needing world-class venues to attract world-class players.
The potentially different fates of the Bay Area's two "KDs" prove that the categories of "Newer" and "Nicer" are no way to predict the destination of a sought-after free agent. Who knew that the only "KD" to definitely stay in the bay at this juncture would be the one fully "Rooted in Oakland?" …
Bring Hoops Back to the Town
I'm rooting for the Dubs to win one more title in Oakland this spring. But as soon as the NBA playoffs end in June, and the Warriors start their official relocation to San Francisco, leaders in Oakland should take the necessary steps to get another NBA team. First, Oakland is the world's best basketball city and second place isn't even close. Second, if you thought the cross-bay rivalries were heated between the A's and Giants or Raiders and 49ers, imagine an NBA rivalry between Oakland and San Francisco. Let's start pushing for it, fellow Oakland fans. …
Doing it Right
Speaking of new Oakland franchises, the Oakland Roots are putting on a clinic on how to market a team and generate buzz. The new soccer squad's merchandise, produced and sold by Oaklandish, perfectly represents The Town. Also, the February video that introduced the Roots' first player, Devante Dubose, was first-rate and drew kudos from national soccer executives and media. Since then, the team has introduced more player signings and front office hires, doing an expert job of staying in the headlines. Next, the Oakland soccer team will hold open player tryouts around three Bay Area spots in June. Go to OaklandRootsSC.com for more information about dates and locations. …
Doing it Wrong
Mark Davis' football team, meanwhile, is still doing everything wrong — sometimes laughably so. In a Las Vegas Review-Journal article in late March, for example, Davis told a reporter he's "not celebrating yet" about the progress his club is making. Wait, what? Since Davis took over his father's franchise in late 2011, it has been the NFL's laughingstock except for one fluke season. The team's record during that seven-year tenure is a wretched 40-72. So, my questions for Davis are: What progress? And what is there to celebrate?
Mark Davis' football team remains a punchline, and it's an increasingly unfunny one.
Chris De Benedetti, a co-founding member of Baseball Oakland, writes a regular sports column for EastBayExpress.com.