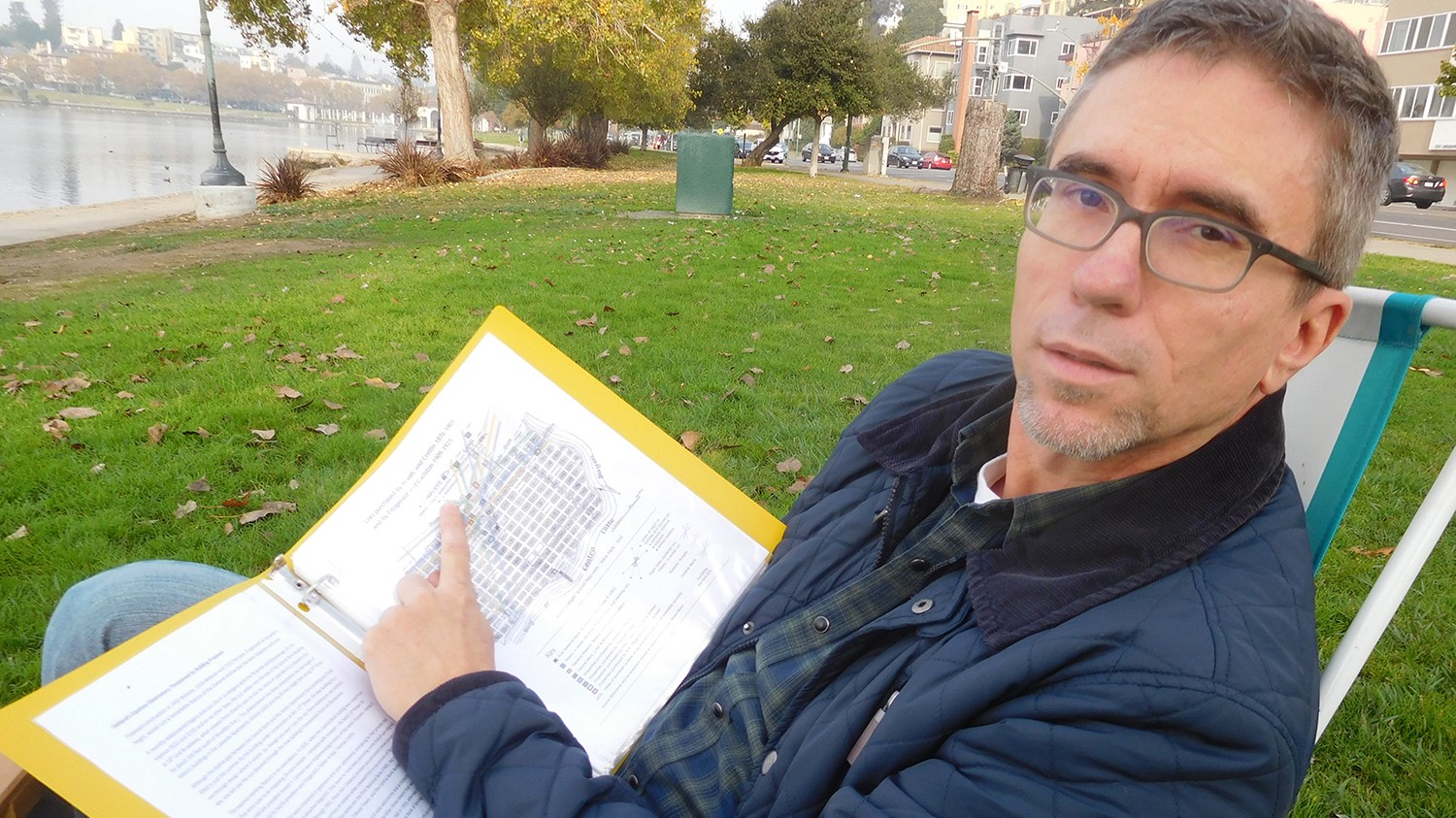 Mark Brustman has either uncovered a long lost and fascinating feature of Oakland history, or he's experiencing the equivalent of a historical hallucination.
According to Brustman, a local amateur historian, about 100 years ago, a small circle of prominent Oakland residents quietly assembled a strategic collection of downtown properties with the aim of creating clear lines of sight from the eastern shore of Lake Merritt, all so that they could prevent the construction of high-rise buildings that would block east-west views in a narrow line. This would allow a few insiders with knowledge of this esoteric skyline design to gaze across the lake's mirrored surface and precisely observe the sunset on two special days each year: the spring and fall equinox.
And according to Brustman, these clever men even built a mock temple atop a building in the middle of this "equinox observatory," and astoundingly, they hid all of this in plain sight and never put their true intentions in writing, at least not in any surviving record.
Whether this interpretation of architecture, urban design, and history is real or not would be nothing more than a theory for local history buffs to debate were it not for Oakland's current building boom.
Convinced about the existence of what he's named the "equinox observatory," Brustman has filed an appeal to prevent developer RAD Urban from breaking ground on 15-story, modular high-rise at 1433 Webster St. Brustman's goal, he insists, is to preserve a forgotten work of amazing creativity. He's not trying to block new development.
"When you think about the [Egyptian] pyramids or Stonehenge, these are places people go to, not because they're a pile of rocks in the field, but because they represent something about human aspirations," Brustman said.
Oakland's cross-lake view corridors were created by members of the Freemasons, Brustman thinks. In the early 1900s the Freemasons were a popular fraternal society to which many important men belonged, the kinds of men who owned big businesses and banks, and who served as mayors and police chiefs. The society was very popular in Oakland, and its East Bay members certainly had the money and power to do what Brustman is suggesting. And they did, in fact, have big ideas about building Athenian cities on the Pacific rim.
But did Oakland's masons actually build an equinox observatory?
Because they're famous for their secretive rituals and their appropriation of symbolism from Islam and the Middle Ages, the Freemasons have inspired a wild diversity of conspiracy theories (descendants of the Knights Templar bent on world domination, Nicholas Cage's outlandish adventures as a cryptographer in Disney's National Treasure movies, etc.), all of which gives Brustman's theory a taint of fantasy.
The Masons of California did not respond to a request for comment for this report.
It seems highly unlikely that a small group of masons managed to turn Oakland's skyline into a giant sundial all while keeping it a secret, but Brustman, who works as a translator and is studying at Berkeley's Graduate Theological Union, has assembled an impressive brief on the subject. The historical facts from which he tells the story are true. His cast of characters, the lands they purchased, the timeline — it's accurate. And the Freemasons who lived in Oakland in the early 1900s were indeed a strange brotherhood.
For example, the June 8, 1902 edition of The San Francisco Call included a story about a group of Oakland Freemasons depositing treasure into the cornerstone of the old post office located at 17th Street and Broadway. They included silver coins and the Three Great Lights of Masonry (the fraternity's rule book). Still, this a far cry from spending millions on real estate for a miles-long solar observatory.
The centerpiece of Brustman's theory is the Central Bank Building: the 16-story Beaux Arts skyscraper at 14th and Broadway, which was built in 1925 and served as the headquarters for Oakland's Central Bank.
According to Brustman, Thomas Crellin and Volney Moody, two patricians of old Oakland who were masons, picked out the plot of land at 14th and Broadway to serve as the axis for their equinox observatory. Proceeding outward and away from this center point, these two men, along with other masons, bought up properties that created perfect views aligned with the position in the sky where sun would fall on the Summer and Winter solstices as well as the March 20-21 and Sept. 22-23 equinoxes.
Brustman claims that Crellin and Moody, and later attorney Robert Fitzgerald, who married Crellin's daughter, Laura, and served as the Central Bank's vice president (but was himself not a mason), had what appears to be a temple designed as the topping of the Central Bank Building.
Brustman also believes that Crellin, Moody, Fitzgerald, and others intended for people to view the equinoxes from 2122 Lakeshore Ave., so F.F. Porter, another mason, bought that property. From this vantage point, the sun falls directly into the Central Bank Building on the equinox.
"I could tell just by the design they had something like that in mind," said Brustman in an interview. "It seemed natural to me that the masons were doing something with architecture."
"To me, it seems possible, but not that probable," Gene Anderson, an expert on Oakland's history wrote in an email to the Express about Brustman's theory. Anderson has never come across any overt mention of an intent to build a solar observatory in Oakland's landscape. "That [buildings] supposedly line up from a point along the lake doesn't mean it was intentional," he said.
Anderson is skeptical for a reason Brustman readily admits: In his meticulously researched appeal to the Oakland Planning Commission against RAD Urban's proposed Webster Street tower Brustman wrote, "though Moody and Crellin left no written explanation of what they were doing, their property holdings tell a clear story." And he adds, "The evidence for it exists only in the physical traces — design elements in the bank building and in the building at 2122 Lake[s]hore, the history of property purchases[.]"
In other words, while Brustman might see a "clear story," others see nothing more than a map of scattered properties and fanciful architectural styles that were commonplace in the 1920s.
But the fact that Oakland was designed with several intentional view corridors across the lake is undisputed.
"If you stand at the 18th Street Pier, you can see City Hall," said Naomi Schiff of the Oakland Heritage Alliance. "It's all on an axis from the beaux arts period. They never contemplated tall buildings blocking city hall."
Similar lines of sight exist in other Bay Area cities. Most famous is the axis of UC Berkeley's campus which points east from the base of the Campanile straight out into the bay and through the Golden Gate toward Asia. Berkeley historical preservationists have tried to ban high-rise development in this path.
Still, asked whether Brustman's theory could be true, Schiff said, "I have no idea."
In 2010, members of the Oakland Planning Commission actually conducted a study on view corridors. Lines of sight they marked as having some degree of importance included the view from the 18th Street Pier to City Hall and the Tribune Tower and from the 2000 block of Lakeshore Avenue, about one block away from where Brustman believes the Freemasons set up the viewpoint for their equinox observatory.
The commission never forwarded recommendations to the city council about preserving these view corridors into the downtown, however. And in the intervening period, Oakland's housing crisis exploded, leading many to advocate for new housing and density and to dismiss the concerns of people like Brustman as irrelevant, or even obstructionist.
Brustman isn't against development, however. He said that if buildings are kept under 11 stories in the narrow path he believes is the equinox observatory, then the giant sundial can live on.
In September, he organized a viewing party for the Fall equinox. About 20 people showed up on Lakeshore Avenue, and as the sun dropped toward the western horizon and flamed orange, it neatly passed into the Central Bank, which cast a long shadow across the lake.
"They thought Oakland was destined to be the great metropolis of the West Coast, and they were planning for that," Brustman said about the men behind the building.
But without proof — some kind of document unequivocally showing the intent of Crellin, Moody, Fitzgerald, and others — it's just a theory.