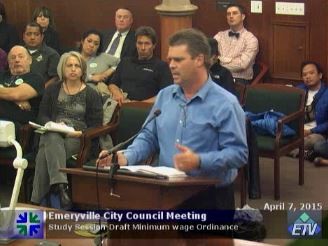 Earlier this week dozens of business owners and workers showed up to
a special meeting
of the Emeryville City Council to discuss increasing the city's minimum wage. Among those who spoke to the Council was William Woods, a regional manager of Denny's. One of the giants of the restaurant industry, Denny's has 1,596 US locations, including a restaurant at 1776 Powell Street in Emeryville. Woods' message to the City Council was that if Emeryville increases the minimum wage, it will draw a "crime element" into the city and reduce the quality of life for everyone. He pointed to a previous minimum wage increase in the Los Angeles area as evidence. (Woods' comments begin at
1:50:38 in this archived video
of the meeting.)
"In the west part of Los Angeles, near the Los Angeles Airport, that particular annexed part of Los Angeles decided to do a minimum wage increase," said Woods during public comment. "When they did the minimum wage increase, it increased crime by 15 percent in the first three months due to the nature of where they're at."
[jump] Kent Wong, director of the UCLA Labor Center, told the
Express
that there was no west Los Angeles minimum wage increase. On the contrary, Woods appears to have been talking about the $15.37 an hour minimum wage for employees of big Los Angeles hotels
approved last September
. But according to Wong, that minimum wage measure boosted wages for employees across Los Angeles in the downtown, Hollywood, around LAX and in many parts of the city.
There was also a racial subtext to Woods' claim. According to Woods, crime went up in the areas with the new minimum wage because a "crime element" from Black and Latino areas moved in to prey on the enriched workers.
"West parts of Los Angeles are surrounded by the cities of Inglewood, Compton, Watts, Laguna and parts of the East LA area," said Woods. "This brought the people from that portion of the city over to the area to be what they call the gallopers on top of the people who are making the wage."
Each of the cities and neighborhoods referred to by Woods as sources of crime are majority Black and Latino.
I asked Woods outside the council chambers to explain his theory further. "More money in workers pockets draws in the crime element from surrounding areas," he said. He drew a diagram on a piece of paper, with arrows converging on a circle. The arrows are criminals moving in on the city with a higher minimum wage.
UCLA's Wong said there is no research indicating anything Woods said is true, and that if anything, studies show that when you lift people out of poverty, as minimum wage increases do, crime actually drops.
Calls to Denny's media relations office seeking the company's official policy regarding local minimum wages, and seeking clarification regarding Woods' comments about crime, were not returned.
I reached Woods by phone earlier today and asked why he identified Inglewood, Compton, Watts, and East LA as sources of a "crime element."
"It has nothing to do with race," said Woods. "Those are just cities that are near [west LA]." Woods added that it is not Denny's corporate policy to oppose local minimum wage laws.
It should be noted that Compton, Watts, and East LA are nowhere near West LA.
In 1994 Denny's paid $54 million to settle
a sweeping series of lawsuits
brought by Black customers alleging racism. In more recent years Denny's has paid millions to settle lawsuits alleging
disability discrimination
, and claims of
sexual harassment
against female employees in its restaurants.
According to the Denny's 2014 annual report, a substantial number of Denny's employees are paid the minimum wage. Denny's has approximately 7,900 restaurant workers, most of them at locations in the US. Denny's CEO John C. Miller was paid a $750,000 salary last year, and granted stock and other compensation worth a total of $2,271,740.