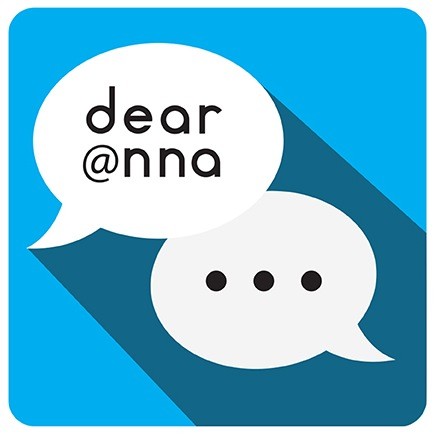 Got a digital dilemma of your own? If you have a question involving technology, the internet, or online etiquette, shoot it to [email protected] with the subject "Dear Anna." 

See Also:
Dear @nna: How Do I Remember My Passwords?
Facebook Doesn't Have to Be Depressing: The Right Way to Do Social Media
Dear Anna,

I'm in an open relationship, and a gal recently "favorited" (or "liked' or "starred" or whatever the OkCupid parlance is) my profile. I checked her out and recognized her as my girlfriend's drug dealer. I've met her a few times, but don't think she recognized me on the dating site. What's the etiquette here? Do I tell her we know each other? Would that be weird? — Up in Smoke
[jump] Dear UIS,
Weird? No. Unnecessary? Probably. Unless you do, in fact, want to date your girlfriend's drug dealer. Do you? If so, then there's your first message. Shazzam. No love dreams gone to pot! But if not, there's no need to write to her and be like, "Oh hey, hiiii, you totes sell my gf special brownies! I don't wanna date you, but do keep me posted about that unpublished zine you told me about once during a three-minute chat. It was on the restorative powers of chia seeds." The same rule applies to any other OkCupiders you might have accidentally stumbled across but know IRL. No hapless dating person wants to receive a message that Joel from Accounting now knows that "the first thing people notice about me is that I'm riding this crazy star called life!" That person just wants to continue to ignore Joel from Accounting, like she does in real life. Don't shatter the illusion.
If someone posts an unflattering picture of you on social media, what is the best way to ask them to take it down? What if they do not take it down after you ask? — Not My Best Selfie
Dear NMBS,
"Even well-meaning friends sometimes tag you in unflattering photos or mention you in stories you'd rather not share," notes Facebook's somber
Help
page. Depending on how bad the offending photo is, you could opt to simply untag yourself. Here's how to do that, if you need a refresher: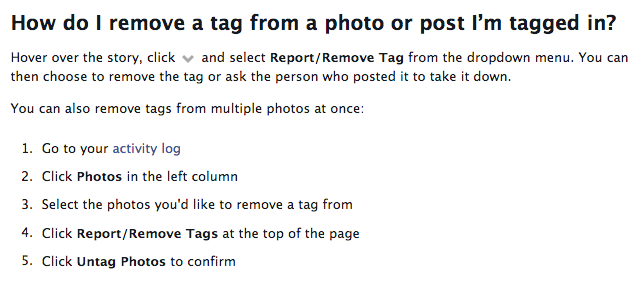 Untagging yourself, of course, doesn't remove the photo from Facebook — only the person who posted it has that power. Most decent people are more than willing to remove unflattering photos if you ask, however, because their intent was not malicious. If you need a better reason than "I look stoned and cross-eyed," you could always play the privacy card, or the "My profession dictates that I limit the number of online photos of me doing mescaline" card. But the general rule of thumb is to be polite yet brief.
If you wanna be even more hardcore about it, Facebook has an option for making tagged photos visible only to you. Play-by-play instructions
here
, but the brief summary is:
To make tagged photos invisible, open Account -> Privacy Settings. Under the privacy settings, click on Customize Settings.
Then, scroll down to "Things others share" settings. Find the option "Photos and videos I'm tagged in." In the drop down list, select Customize.
In that pop-up, Select "Only Me," which will ensure that tagged photos become invisible to everyone except you.
If the person who posted the photo turns out to be a doucheferret who refuses to take it down, you CAN get Facebook involved, but they (and by "they" I mean Facebook's director of engineering Arturo Bejar in his advice column "
Ask Arturo #1
") prefer that you try to reason with the person via phone or in person. Also, if the photo in question doesn't violate Facebook's
Community Standards
(e.g. it doesn't involve nipples, spam, hate crimes, bullying, Gary Busey's face, etc.), then FB won't take the photo down. Not even if it appears you have three chins!
And as a general rule of thumb: It's always a good idea to ask friends BEFORE you post photos of them, regardless of whether you think they look like a bouquet of beatific delights. And remember that it's not personal. No one is questioning your Instagram filter skills (though I am silently judging your use of the radial blur). Some people just feel squicky knowing certain photos are hovering around the internet for the next forever, and that they have no control over how and when those photos are distributed. Don't be offended if a friend asks you to take a pic down. It's not you, it's me looking like a homeless lumberjack.
Follow @annapulley on Twitter. She's not a lunatic. Probably.