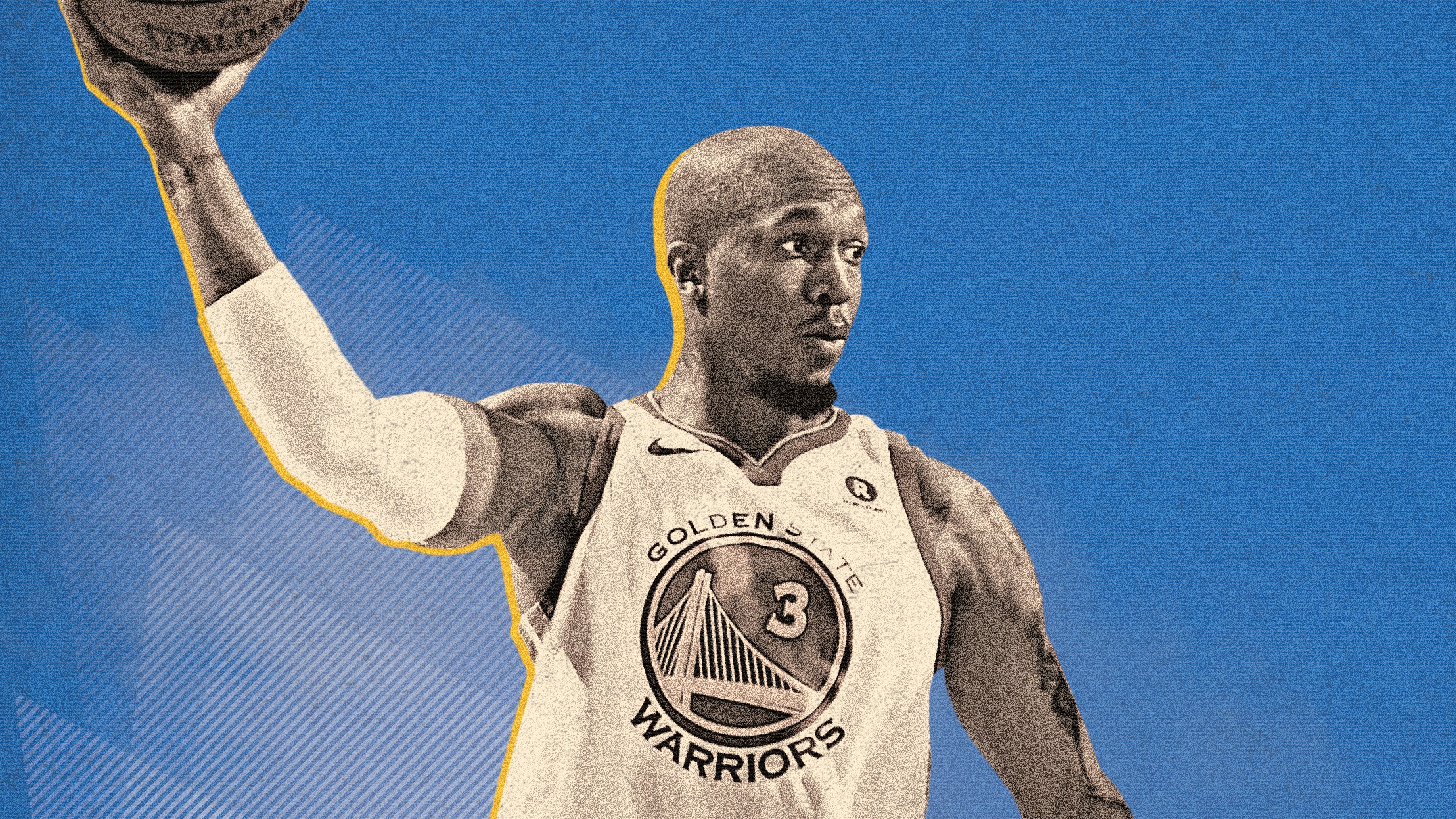 The second quarter of Game 5 of the 2017 NBA Finals — played a year ago in Oakland — was especially tense. The Cleveland Cavaliers, facing elimination by the Golden State Warriors, were playing with a desperate frenzy. They were trying to erode the Dubs' lead with the type of physical play they'd successfully used in 2016, when the Cavs had pushed the Warriors around and swiped the NBA championship from them.
During a crucial play, the Warriors' David West — a respected NBA veteran — cradled a rebound from a miss by Cavs guard Kyrie Irving, who immediately tried to steal the ball by jerking West's arm.
Suddenly, all hell broke loose inside Oracle Arena.
West pushed Irving away, and Cavs teammates J.R. Smith and Tristan Thompson then shoved West. Bad idea. As a Dubs player restrained Smith, West stood grill-to-grill with Thompson, pushing his face into Thompson's over and over until referees, teammates, and coaches broke up the scuffle. All the players involved, including West, received technical fouls. And the game, for a moment, seemed ready to join the Oakland crowd in coming unglued.
But the Warriors calmed down and staved off the Cavs' comeback, winning the game and the 2017 NBA Finals. West played just 11 minutes in Game 5 but was among team leaders in plus-minus differential, meaning the team surged and outscored the Cavs by large margins whenever he stepped on the court. That included the moment when West confronted Thompson and staked a physical and psychological edge the Dubs had ceded to the Cavs 12 months earlier.
"They were trying to turn the table, in terms of physicality," West told the Express in a recent interview. "It was a crucial energy moment in the game, and I thought it sustained us and helped us close it out."
West paused and ruminated over the year-old memory. Then he flashed a smile and leaned in: "It's just in my nature to step to the line."
Indeed, over his long and successful career, West has used his intelligence and keen instincts to recognize a problem just before anyone else seems to and then act quickly to solve it. He's done it for years as a locker room leader, calling meetings to clear the air or stopping teammates' feuds before they escalated. And he's done it on the court, applying his trademark toughness and rugged athleticism to shift momentum and win games with big plays.
Now with their third championship win in four seasons this year, the Warriors have established themselves as this era's best NBA team — and perhaps the greatest team in Bay Area sports history. But while Steph Curry, Kevin Durant, Klay Thompson, and Draymond Green may get all the adoration, veteran player David West is almost just as pivotal. In his younger years, the former All-Star was one of basketball's top players. And at 37, West continues to be an outspoken leader both on and off the court. Most notably, he's transformed his experience of growing up Black in America into social activism fueled by his unquenchable thirst for political history and social justice.
At a time when Black pro athletes are using their positions to speak out against racial injustice — and facing backlash from the president — West's outspokenness has proven that he's the perfect modern Oakland athlete.
---
West bristles against the idea of limiting athletes by telling them to "just stick to sports," as he's considered a deep thinker and avid reader of philosophy and Black history.
He's a husband and father of two children, and an unselfish team player who often advises teammates on social issues and life in the NBA. He frequently visits with Bay Area nonprofit groups, as he and his wife Lesley are well-known for their charity work. He's developed a reputation as a strong business mind with a history of successful money management. And while the backup Warriors big man plays for one of sports' most vocally anti-Trump franchises, whose head coach and best player often criticize the president, West provides plenty of his own thoughtful political gestures and commentary, even if they frequently fly under the radar.
All of which explains why he's one of pro sports' most respected athletes, said Joseph Marshall, host of the Street Soldiers radio show and co-founder of a San Francisco violence-prevention program called Alive & Free.
"David is an astounding human being," Marshall said. "He refuses to live in a bubble, unlike some pro athletes. I'm so impressed with his high level of social consciousness and the depth of his charity work."
West is adept at identifying society's problems, as well as working to help solve them, much in the same way he anticipates opponents' moves on the court better than some defenders. As he grew up near New York City in the 1980s and '90s, he caught glimpses of the nation's most glaring ills: inadequate health care, housing discrimination, the failed War on Drugs, and police violence.
As an inquisitive child, West asked countless questions about these and other nagging social issues, and then searched for answers to them in books and periodicals.
He's still searching.
He has been since at least 1990, when a violent act in West's hometown of Teaneck, New Jersey, began fueling his social conscience.
One April day that year, when West was 9 years old, a police officer shot and killed Phillip Pannell, a Black 15-year-old from West's neighborhood. Witnesses said Pannell had his back turned and was unarmed, while Teaneck police presented a very different version of the story.
Protests, inflamed racial tension, and heated calls for police reform followed Pannell's death, similar to many communities' reactions recently to the alarming incidences of fatal police shootings across the nation.
After two tumultuous years in Teaneck, the officer charged in the Pannell shooting was acquitted. As the town tried to move on, West was just getting started. He was 11, and his view of the world had been irreparably changed. It jumpstarted his lifelong fascination with politics and Black history, as well as an insatiable thirst for knowledge about social justice and race relations.
"It wasn't until that moment that the light turns on for you as a kid," West said to Marshall in a recent video interview posted on the Alive & Free website. "My mom started having those conversations with us in terms of what to do, how to behave [with police officers]."
He added: "It wasn't until Phillip was murdered that they began to influence me. When I heard my mom and dad and grandparents talking about race, it started to shape me. I became a sponge to history."
West points to an African proverb to explain his passion for learning: "The hunt will always glorify the hunter until the lion tells its tale."
So, West began searching "to learn the victim's side" in historical narratives so he could compare lessons learned in school with what he could find in libraries and bookstores.
"I don't claim to be an expert," West said. "I just feel like it's important to know who you are culturally."
---
West channeled his childhood yearning into knowledge and, later, action. After his All-American career at Xavier University, he was drafted by New Orleans in 2003, the same year he married his wife Lesley. The young couple experienced NBA life in the Big Easy before and after Hurricane Katrina. In the aftermath of Katrina's destruction, Lesley West started Dressed by West, a charity drive that gives thousands of free prom dresses to low-income teens. She has continued the annual program in each city her husband has played in, including the past two years in Oakland.
As West's NBA career flourished, he watched some of the nation's problems worsen. He witnessed racial inequality fester, with discrimination against African Americans and other people of color continuing in criminal justice, housing, health care, and many other categories.
He continued to read as much as he could, ranging widely from Nietzsche to James Baldwin. And he began to use his voice and engage in subtle but meaningful social protest, believing that exercising free speech was one of the ways to help the country's actions match its best ideals.
Earlier this year, for example, West rebutted Trump's labeling of developing nations as "shitholes" by posting on Twitter excerpts from a Spanish historian that explain how European explorers exploited Caribbean countries and left them badly damaged for generations.
West also has publicly defended Colin Kaepernick's right to take a knee during "The Star-Spangled Banner" to protest police brutality and racial inequality. In fact, West for years has performed his own protest by standing two steps behind teammates during the national anthem at every game. He continued the subtle demonstration after joining the Warriors in the fall of 2016, saying he uses it to remind himself to step outside the NBA's bubble of wealth and fame and stay connected to the real world.
"I just decided that during the national anthem, based on my understanding of what's going on in this country, how my cultural family or the cultural soup that I was scooped from, how we're treated, I never want to forget that," he said in the Alive & Free interview. "I just decided that taking a step back always would reiterate this concept [to myself] that there's a greater purpose, there's a greater focus outside of this game you're getting ready to play. And I always felt like it gave me a better appreciation for the world and the life I get to live."
Like many of his Warrior teammates and coaches, West has been critical of the president.
"All the tactics [Trump] used to get elected are the very things that someone like me, who works with youth on a consistent basis, tries to talk our young folks out of being," West said in early 2017. "We try to talk our young people out of being bullies. We try to talk our young men out of disrespecting women. We try to talk our young people into being accepting of other people's opinions and other people's walks of life."
[pullquote-2]
The Express interviewed West in Oakland last month, two months after the police killing of unarmed Stephon Clark in Sacramento and a day after yet another fatal school shooting, this time in Santa Fe, Texas. Those types of incidents and their frequency weigh on West's mind.
"There has to be this recognition of what we value above all else. Do we really value human life?" he said. "Do we value allowing people to wake up and be who they want to be? Does everyone have the right to literally breathe?"
Voicing these critiques is one part of West's nearly 30-year search for answers to this country's most vexing social questions — the same issues that claimed the life of Phillip Pannell in Teaneck and countless others like him.
West said he was moved by Ta-Nehisi Coates' prize-winning book, Between the World and Me, in which the author shares his grief over the police killing of his unarmed college friend. The 2015 best-seller includes, among other things, Coates' exploration of law enforcement's historical mistreatment of Black Americans.
"You realize the book is a conversation the author is having with his son," West said. "My son was 6 at the time I read it, so it helped me grow and got me thinking about when I should start having this conversation with my own son."
Identifying problems is one thing but working to solve them is another. To that end, West has been focusing on grassroots action to aid communities in need, including those in the Bay Area — his home for the past two years.
As part of his goal to help what he calls "the human family," he continues to appear at charities and organizations dedicated to assisting low-income youth. He has spoken with kids at Marshall's Alive & Free program, and at Berkeley High School, aiming to inspire the campus' African-American students.
He sits on the corporate advisory board of at least one tech company, developing a strong business acumen that has allowed him to enhance his NBA income and dream of life after basketball.
And every summer, he holds a basketball camp in Africa, where he met last year with the president of Ghana and other leaders to discuss improving living conditions in developing nations.
"I have always used basketball as a tool to reach and educate young people," West said last fall in an article he wrote for Money magazine. "Now I wanted to use the game to educate and bring awareness about the lack of access to energy and clean water in Africa and other countries around the world."
[pullquote-1]
With these actions, West refuses to submit to the demands of those political pundits who tell basketball players to "shut up and dribble."
"I'm not going to allow these minimalist ideas to affect what I can be," West told the Express. "We [as athletes] still have to carve out a unique way to be, a way to live that gives us a better, clearer version of ourselves."
West often advises younger teammates, helping them deal with the media, temptations of the road, and the pressures of celebrity. Perhaps it's not surprising that West was honored last year by his peers, who voted him the Players Voice Teammate of the Year Award in his first season with the Dubs.
West is the "perfect veteran," Warriors superstar Kevin Durant said last December, according to NBC Sports Bay Area.
He's "one of the best teammates I've ever had," Dubs forward Draymond Green told Sports Illustrated last year.
Jarron Collins, a Warriors assistant coach, called West "a pro's pro" who provides the strong leadership and locker room presence required for teams to win.
Jim Barnett, the Warriors' longtime TV announcer, is a former NBA role player and his eyes lit up when asked to describe West's contributions to the team.
"I feel much more confident [about the team] when he's out there on the court," Barnett said at the Dubs' facility in Oakland. "He knows exactly what he's doing."
---
Ah, yes, basketball.
Turns out, West can still play it — effectively and efficiently.
He joined Golden State in the summer of 2016, taking a major pay cut while in pursuit of the one professional goal that had eluded him: a championship ring.
West finally won that title with the Dubs a year ago and it was essentially an exorcism, releasing demons that had separately haunted him and the franchise. The Warriors found redemption in beating the Cavs a year after their crushing loss in the 2016 Finals, in which they squandered a 3-1 series lead. And West, by taking less money and fewer minutes, took the road less traveled to become a champion. He had finally reached the NBA mountaintop.
"When they won the championship last year, David was so excited he was almost hyperventilating," Barnett said.
This season, West actually improved on last year's performance, averaging nearly 7 points per game while shooting over 66 percent from the field in a reserve role. The six-foot-nine big man also continued to play strong defense, often against taller centers.
And during this year's playoffs, he showed his teammates how to be an unselfish role player. The 15-year veteran did not publicly complain when his playing time shrunk against the smaller, faster Houston Rockets in the Western Conference Finals. Instead, he kept himself ready for when his number would be called in the NBA Finals (it was), when he could help the Dubs beat the Cavs for their second consecutive title (he did).
After being denied an NBA ring time and again during his long career, West now has won two of them with the Warriors. The only remaining question is if he'll return to Oakland this fall for a third.
Perhaps the only regret some locals might find in West's storied career is that he didn't spend more of it in the East Bay. His reputation for toughness and athletic excellence, mixed with his near-obsession with social justice and racial equality, perfectly mirrors the self-image of Oakland — the blue-collar city of sports and rebellion that has been home to Bill Russell and Bobby Seale, to Steph Curry and Gertrude Stein, to Ken Stabler and Elaine Brown, to Rickey Henderson and Angela Davis.
If West returns to the Dubs, we all can look forward to one of this era's most socially conscious athletes contributing to the NBA's best team in the nation's most progressive region.
If he rides off into the sunset, he can look back on a stellar basketball career and begin his next one.
"It's definitely going to be in writing," West said of his future plans. "In the last three or four years, writing has been an outlet for me and I'm learning constantly how to get my points across in a clearer, more succinct fashion. I'm working toward this clarity, and the clearer picture you have of the world, the better [version of] you that you can present to the world. That's the gist of how I approach every single day."
---
Playoff excitement and a large media scrum envelop the team's downtown Oakland practice facility one recent Saturday, as the Dubs are marching toward what will be their third NBA title in four years. On one side of the huge gym, Klay Thompson mixes 25-footers with hard drives to the rim. Steph Curry, meanwhile, launches three-pointers while playing a laughter-filled game of kickball with assistant coaches and their kids, just before he sits down for an ESPN interview. It's a fun, carefree scene.
Except for one group.
David West, the Warriors backup big man, is on the middle court working nonstop on his offensive game with assistant coach Ron Adams and other teammates. Moments after they finish, one of the little boys from the kickball game suddenly dribbles over with a basketball almost as big as him. The kid hoists the ball with all his strength and makes an unlikely bucket, drawing lighthearted applause from a few onlookers. West also claps for him until, uh-oh, he realizes there might be a problem.
"Come over here, please," West gently calls out to the child, followed by a smile. "C'mere, I think you're in their way."
The tiny kid turns and, indeed, he's right behind Curry and the ESPN cameras. He's also not far from other Dubs players milling about. West smiles more widely to put the child at ease and waves him over again. The kid pauses and then putters his little feet as fast as they can take him to West, who lets out a sigh and pats him on the back.
Minor crisis averted.
Part of West's concern was about helping Curry, but another part unmistakably was tied to the little boy's safety. The kid was surrounded by seven-footers still working on their game, as well as some grumpy media scribes. And when the Warriors big man saw the child might be in danger, he quickly ushered him to a safer place. A problem had appeared on a basketball court and, once again, David West solved it.
He seemed to be the only one who saw it coming.
Chris De Benedetti writes about sports for the Express.