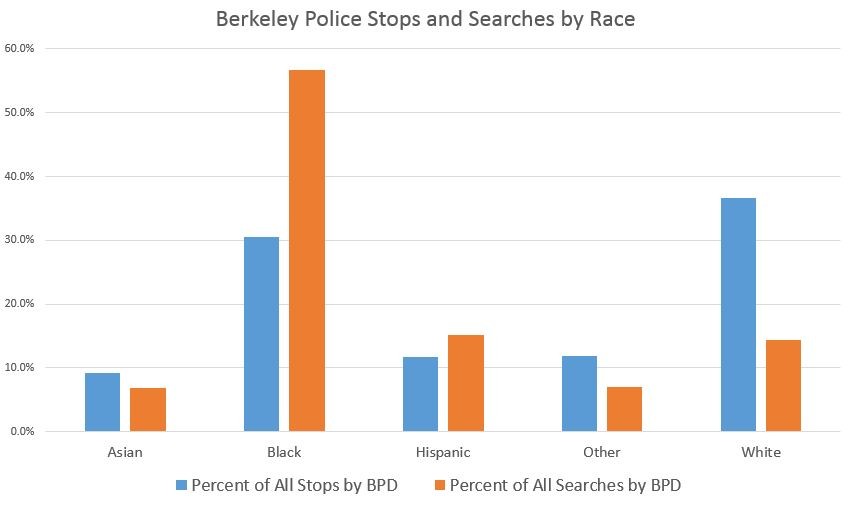 Recently obtained data tracking Berkeley police stops and searches appears to show racial bias among officers. A coalition of groups including the Berkeley NAACP; UC Berkeley Black Student Union; Berkeley Copwatch; the ACLU of Berkeley; and the National Lawyers Guild, San Francisco Bay Area Chapter obtained the data set through a public records request. They shared the data set with the
Express
.
See also:
OPD Still Appears to Be Targeting Blacks
See also:
Oakland's 'Unacceptable' Stop Data, By the Numbers
"We have long suspected that there was racial profiling happening," said Anrdrea Prichett, a founding member of Berkeley Copwatch who wrote the records request. "We've tried to get some data that would verify that, but for the longest time BPD said they didn't collect this kind of information."
Last year, the city began requiring its police to collect stop data including the race, gender, and age of each person stopped, whether a search was conducted, and if the stop resulted in an arrest, citation, or a warning.
The Berkeley police stop data set tracks 4,659 traffic stops conducted by Berkeley police officers between January 24, 2015 and August 12, 2015. While Blacks only account for 8.4 percent of Berkeley's total population, they represented 30.5 percent of all stops by Berkeley police officers. White people, on the other hand, who account for 56 percent of Berkeley's total population, were only 36.7 percent of those stopped by the police.
[jump]
Searches were conducted in similarly disproportionate numbers. About 1 in every 5 Black people stopped by the Berkeley police were searched, whereas less than 1 in every 20 white people stopped was searched.
Civil rights attorney Jim Chanin said the data shows classic signs of racial profiling. Chanin pointed specifically to the rate at which stops of each racial group resulted in a citation or arrest, or releasing the person with only a warning.
According to the data set, even though Blacks are much more likely than whites to be stopped and searched by Berkeley cops, they are actually no more likely to be arrested, and much less likely to be cited for any kind of infraction. In other words, Berkeley cops appear to be stopping and searching Black people at higher rates than other racial groups, but they are finding no reasons to justify the stops.
"The African American percentage released without arrest or citation should be same as whites if there no profiling," said Chanin. Chanin said the lower "hit rate" at which a stop and search of a Black person led to an arrestable or cite-able offense shows that some Berkeley cops are pulling people over simply for being Black or Latino.
The coalition of groups that obtained the data are holding a press conference tomorrow at 11 am in the Berkeley City Administration Building where they will release more information.
The Berkeley Police Department did not respond to a phone call seeking comment.