In response to President Donald Trump's decision to expedite construction of the Dakota Access Pipeline, opponents of the controversial project are redoubling their efforts to block it. One strategy is to defund it.
Today in Sacramento, more than one hundred people crowded into the board meeting of the nation's largest public pension fund calling for divestment from the companies building the DAPL.
The California Public Employees Retirement System, or CalPERS, has $309 billion in investments, including stocks and bonds of oil and gas companies that are worth hundreds of millions.
CalPERS owns bonds issued by Energy Transfer Partners
, the company building the DAPL, worth about $57 million.
The CalPERS board is considering whether to support or oppose
AB 20
, legislation introduced in December that would require both CalPERS, and the state teachers' pension system CalSTRS, to liquidate all investments involved in building or financing the Dakota Access Pipeline.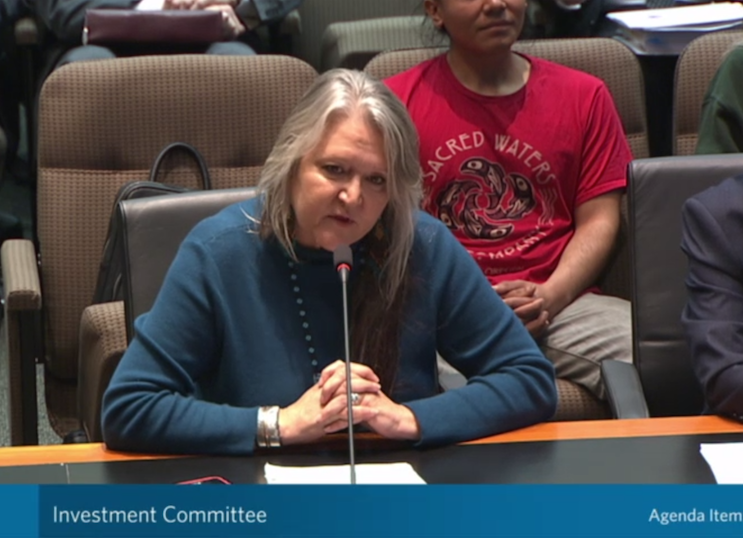 "This is the money of the public workers of California, including the 3,000 Oakland workers who stand proudly with Standing Rock," Oakland Councilmember Rebecca Kaplan told a group of protesters outside the board meeting this morning. "We can take our money out and say 'not in our name.'"
Francisco Dominguez, a Sacramento resident and member of the Tarahumara tribe, said during the rally that the decision to route the pipeline through the Standing Rock Sioux's historic lands was an example of ongoing racism against native people.
"If we don't fight we will have no clean water," he said. "We will have no clean air."
As a policy, CalPERS rarely divests from companies. The pension fund divested from the tobacco industry in 2000 due to the health impacts of cigarettes and the industry's campaign of disinformation. Recently CalPERS' leaders reaffirmed their decision to remain out of tobacco stocks, despite a recommendation by staff that they reinvest to benefit from rising stock prices. CalPERS also sold off its holdings several companies with business operations in Iran and Sudan following state laws requiring divestment from these nations.
In 2015, the legislature approved a bill requiring CalPERS to eventually divest itself from companies that mine and burn coal for energy by July of this year.
But when it comes to oil and gas, CalPERS staff say they prefer a policy of remaining invested and "engaging" to make companies more sustainable and socially responsible. The pension's board and staff also argue that divestment will harm returns which could leave the system under-funded, making it more difficult to pay out retirement benefits and potentially exposing taxpayers to losses.
In 2014, CalPERS issued a statement saying simply "Divestment from fossil fuels is not the solution."
About fifty people signed up to speak during the board's public comment period today. Many of them, retirees who get their pensions and medical benefits from CalPERS, told the board that respecting treaties, human rights, and protecting the environment should be priorities.
"This filthy energy," said CalPERS member Anne Luna-Gordinier. "It's violent and oppressive and it's not going to lead us to where we need to be today.
"It's time to choose whether we're going to stand up for our children, our great grandchildren's future, not only in indian country, but in California, the U.S. and around the world," Pennie Opal Plant, a member of Idle No More Bay Area who is of Yaqui, Choctaw and Cherokee descent, told the board.
CalPERS' board decided not to take a position regarding the divestment legislation yet because the bill's author Ash Kalra (San Jose) is redrafting it.
But during the committee meeting this morning CalPERS board member Theresa Taylor said she opposes the pipeline.
"Personally I think the DAPL is highly problematic and represents a failed vision for meeting our society's needs for suitability, energy and health," said Taylor. "It's poorly thought out and first nations have stated clearly that it violates their sovereign treaty rights, and it could threaten the primary water source of water for millions of Midwesterners."