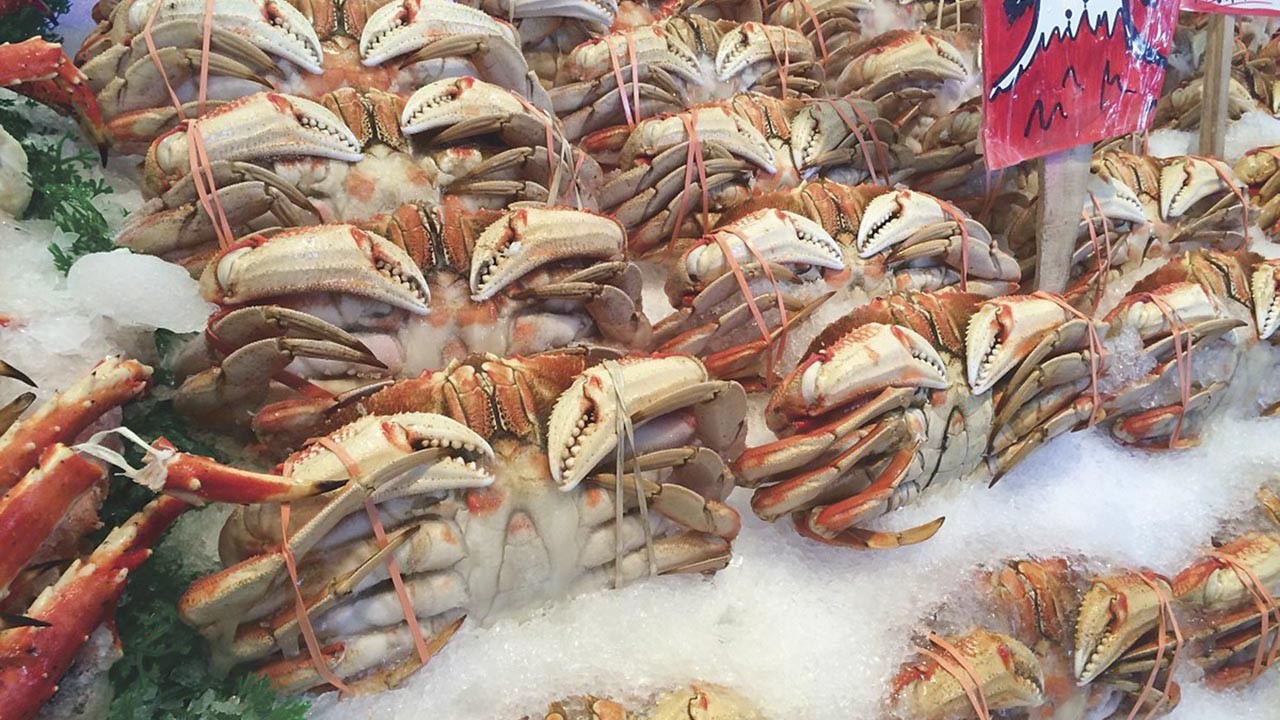 A shift in the migration patterns of endangered gray whales, caused by changing ocean conditions, is about to transform California's commercial Dungeness crab fishery, a $68 million industry that has entangled scores of marine mammals since 2014.
In the fallout of a lawsuit that the Center for Biological Diversity filed against the state in 2017 and which came to a settlement last week, the roughly 550 fishermen in California's crab fleet will be facing a shortened season each year. This will mean no more crab fishing in the historically lucrative spring months, when humpback whales migrate into California waters in high numbers. In recent seasons, the marine mammals have been venturing unusually close to shore to pursue wayward schools of anchovies, and that has caused a high rate of entanglements. The fleet also is studying options for modifying its equipment, possibly by using novel crab traps that are dropped to the seafloor with no ropes attached — what those in the fishing industry describe as a prohibitively expensive solution.
"Ropeless gear is being held up by some environmental organizations as a panacea for this fishery, but I don't feel it's ready for prime time," said Noah Oppenheim, executive director of the Pacific Coast Federation of Fishermen's Associations, which represents West Coast commercial fishermen.
While conventional commercial crab traps cost about $250 each, he said, the ropeless versions, which involve remotely activated flotation systems, could run several thousand dollars per trap.
"There is absolutely no way with the profit margins in the fishery now that this equipment would be affordable — not even close," Oppenheim said. "It would be like requiring every single schoolchild to buy a laptop out of pocket — something that sounds nice but just isn't affordable."
But Kristen Monsell, an attorney with the Center for Biological Diversity, sees the proposed gear as a solution.
"This could be the future of fishing — it could essentially eliminate entanglements with marine mammals and sea turtles," Monsell said. In Oct. 2017, her organization sued the California Department of Fish and Wildlife, which manages the crab fishery, for allowing activity that caused harm to endangered species, including humpback and blue whales. The Pacific Coast Federation of Fishermen's Associations intervened in the lawsuit as a defendant.
In 2015, the ropes tethered to Dungeness crab traps in California accidentally snagged at least nine humpbacks, a gray whale, and an orca. The next season, 19 humpbacks, two blue whales and an orca got snared in the same gear. So did a leatherback sea turtle. In 2017, crab fishermen's ropes snagged seven humpbacks.
The terms of a court settlement reached last week will shut down the 2019 commercial crab season on April 15 — about 10 weeks earlier than the historical season end of June 30. Next year, the fishery will close on April 1 from the Sonoma-Mendocino county line south, unless, Oppenheim said, the risk of whale entanglement is determined to be low.
The settlement stipulates that fishermen wishing to fish for Dungeness in April, May, and June of future years must use rope-less gear.
Dick Ogg, a commercial crab fisherman based in Bodega Bay, has helped field test two ropeless systems currently in development. One of them — called a field buoy — involves a buoy tightly wrapped with rope, like line on a fishing reel, secured to the top of the crab trap. A signal from a remote control releases the line, which unravels and allows the buoy to float to the surface, where it can be immediately collected. The other model — from a company called Desert Star — involves a sack fixed to the trap and into which the buoy and line are stuffed. The bag is opened via an electronic signal, allowing the rope to float upward.
Ogg said these systems aren't ready.
"When I went out, the Desert Star didn't deploy, and I lost a pot," he said.
Ogg explained that under ordinary circumstances, fishermen already lose traps on a routine basis — an expense they build into their budgets — and these ropeless systems would exacerbate this challenge.
"You're coupling this new risk of losing gear onto the natural losses that are already occurring," he said.
The spike in whale entanglements has been described as an indirect result of global warming: In 2015, unusually warm surface waters caused blooms of algae that produce domoic acid. This toxin, dangerous for humans at high concentrations, traveled through the food chain and became concentrated in the flesh of Dungeness crabs, as revealed by routine testing by state officials. Due to this public health threat, the November season opener was delayed indefinitely. The moratorium was lifted in March of 2016, when testing showed domoic acid levels had diminished to safe levels. A stampede of crab boats — typical of the first weeks of each crab season — rushed to the fishing grounds. As it happened, unusually warm waters offshore had driven vast shoals of anchovies closer to the coast. Humpback whales, which feed on the fish, followed. As a result, unusually high numbers of both fishermen and whales found themselves sharing the same waters that spring, and entanglements spiked.
The settlement of the Center for Biological Diversity's lawsuit requires the California Department of Fish and Wildlife, which manages the crab fishery, to obtain an incidental take permit from the U.S. National Marine Fisheries Service. Take is defined by the federal Endangered Species Act as disturbing, harming or killing a protected animal.
But the permit isn't what it sounds like — that is, a license to kill endangered whales and sea turtles, which also have been entangled in crab gear. Rather, the permit essentially amounts to a formal plan to minimize and mitigate impacts to those species. This may include full season closures when whales are known to be near the fishing grounds.
Oppenheim said he sees "closures in the future as a drastic action — there is a whole spectrum of other actions to take" in order to avoid harming whales."
Monsell said she is happy with all terms of the settlement but is "disappointed we didn't get here sooner because" that would have prevented other entanglements. According to the National Marine Fisheries Service, Dungeness crab gear entangled five humpback whales in 2018 off California's coast.
Oppenheim noted that voluntary actions by crab fishermen to change where, when and how they fish have already significantly reduced such interactions with whales.
According to Oppenheim, the agreement, by cutting off the final months of the season, will deliver a "significant revenue hit" for the crab fleet. He said the later months of the crab season are often the most profitable for crabbers. The season begins most years in November, when typically large numbers of crab draw prices down. Later, as the year's crab become scarcer, the prices increase, making April, May, and June potentially quite lucrative for crab fishermen.
He said he feels the terms of the settlement were necessary to help the fishery adapt to changing ocean conditions and, ultimately, to provide crab for Californians without impacting whale populations.
Still, he said, "Some fishermen will lose it all because of this."