In this week's cover story, I explore the troubling trend of large corporations ripping off independent artists by stealing designs for their own products and profits. Often, third-party wholesalers manufacture cheap knockoffs for retail companies without the permission of the original artists — and without offering any compensation. The piece was inspired by the case of local street artist Eddie Colla, who found one of his works on Walmart.com last year.
In reporting the story, I collected evidence of this theft from artists and attorneys across the country.
To get a better sense of this kind of copyright infringement, which impacts a diverse range of creators and can be quite blatant, I've compiled a sampling of examples from the artists below.
[jump]
Paul Richmond: This Columbus, Ohio painter, who specializes in male figures, discovered in 2010 that a retailer from China was selling identical knockoffs of his paintings through eBay. You can read about his experience on his blog.
Here's his original painting, "Size Matters, Starring Jack Mackenroth":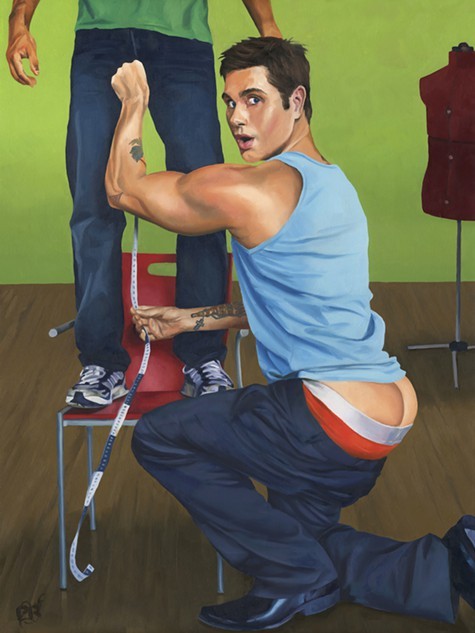 Courtesy of Paul Richmond
And here's a photo of the knockoff by Chinese retailer Cai Jiang Xun, who called the work "GAY ART NAKED MALE NUDE" on eBay. Richmond's signature is carefully removed:

Mimi Kirchner: This Boston artist allegedly had several of her original doll designs ripped off in the holiday ornaments of Cody Foster, a Nevada-based wholesale company.
Here are Kirchner's original lumberjack dolls:

And here are the ornaments from Cody Foster's holiday catalog:

Cassandra Smith: This Milwaukee artist was another alleged victim of Cody Foster. Smith sells hand-painted deer antlers.
Here is a side-by-side of Cody Foster's products and her original works (click for larger version):

And another:

Eddie Colla: The Oakland street artist's popular piece "Asking for Permission," first created in 2009, made it to Walmart.com through a partner company, Wayfair.com, back in November.
Here's a version of his original work:

And a screenshot of the (now removed) Walmart advertisement:

Jamie Spinello: The jewelry designer and former Oakland resident who now lives in Austin, said that, since October of 2013, she has had about eight of her designs ripped off by four corporations, including Nasty Gal, Charlotte Russe, and Fashion Destination, which sells products on Amazon.com.
Her original:

The Charlotte Russe knockoff:

Another Spinello original:

And the Nasty Gal knockoff (which, as of press time, is still live on the site despite inquiries from her attorney and from me):

Closeup of the Nasty Gal knockoff:

Rae Dunn: The Berkeley potter said that two large American companies have ripped off her plate designs. Below are side-by-side photos she sent me with her originals on the left and the alleged knockoffs on the right:
Whitney Smith: The Oakland potter said she found a knockoff of one of her unique vases in a gift store in San Luis Obispo. On the bottom it said "Made in China."
Here's her original:

And the apparent knockoff:

Check out the full feature, "When Corporations Want Profits, They Don't Ask for Permission" online here and in print this week.