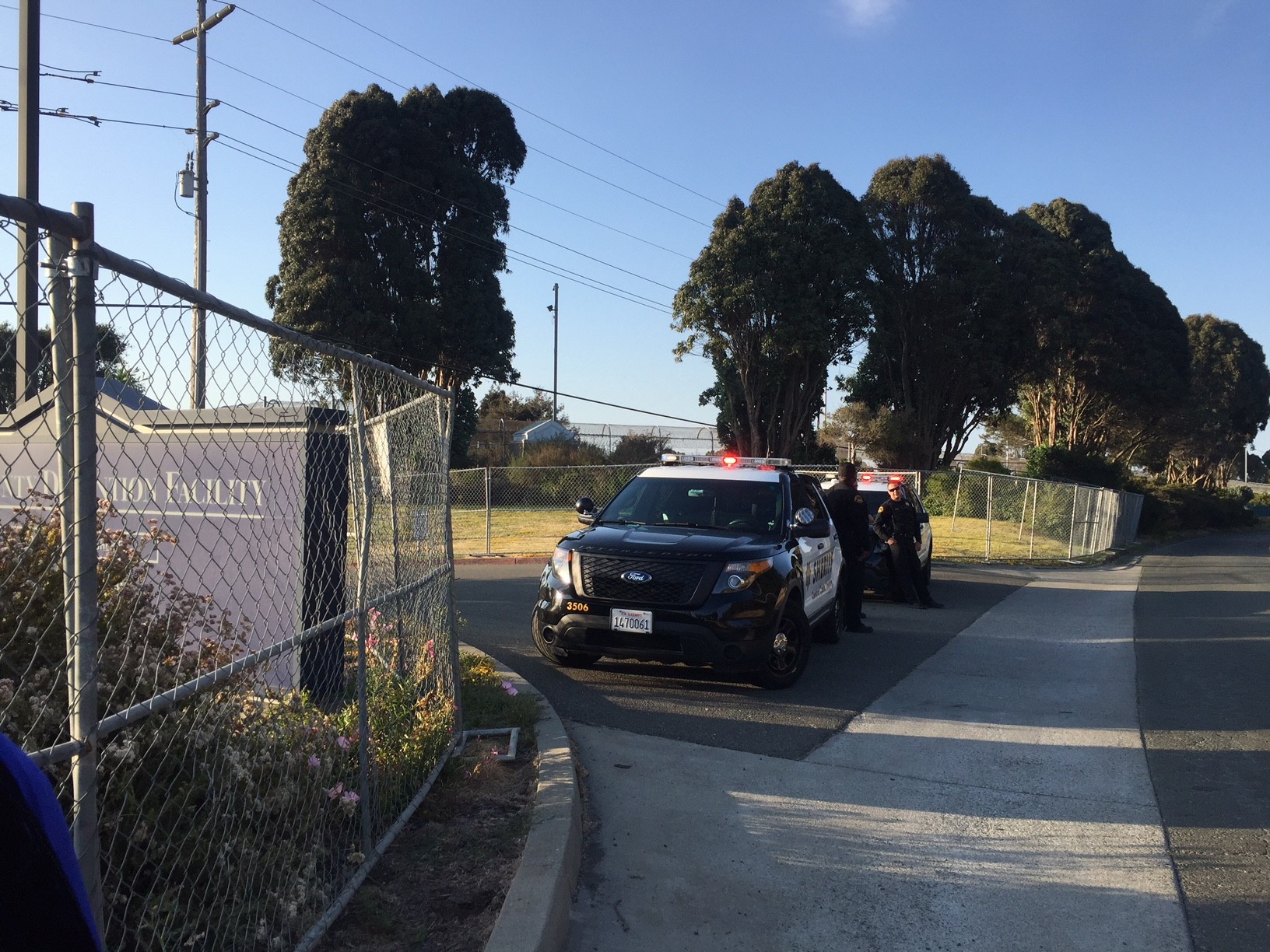 The Contra Costa Sheriff's Office has banned all future demonstrations from the grounds of the West County Detention Facility in Richmond, an action that local activists say will limit transparency as the department starts the process of ending its contract with Immigration and Customs Enforcement.
[Read related: "
Sheriff's Termination of ICE Jail Contract Not a Win for Many Immigrant Families
"]
In a statement released to the
Express
, Assistant Sheriff Matt Schuler, who oversees custody services for the department, said that protests against the facility's cooperation with ICE "have placed overwhelming demands on Sheriff's Office resources," disrupted jail operations, and impacted inmates and their families.
"Moving forward, if protestors want to protest at WCDF they will need to do it from near Giant Highway and not on the jail grounds," he said.
But some, like Juan Prieto, an organizer with the California Immigrant Youth Justice Alliance, see the ban as little more than a new tactic in a long line of efforts by the sheriff's office to impede the efforts of local immigrants' rights activists.
"It's retaliation against those who have assembled, protested, and placed pressure against Sheriff Livingston and the West County Detention Facility's contract with ICE," he said. "It provides less opportunity to hold him accountable."
The sheriff's office receives $6 million a year to hold roughly 200 immigrants facing deportation by ICE. Allegations of unsanitary conditions, inappropriate medical treatment, and questionable conduct by deputies have been raised by both men and women formerly held at the facility.
These issues, in combination with a growing national movement to "abolish ICE," has caused the number of demonstrators at WCDF to steadily grow. On June 30, thousands of protestors arrived at the Richmond jail to challenge the immigration policies of the Trump administration, criticize the sheriff's cooperation with ICE, and express solidarity with the detained immigrants inside.
[Read related: "
Thousands Rally for Immigrant Rights at the Contra Costa Sheriff's Jail in Richmond
"]
A little over a week later, on July 10, Livingston announced that his office would be terminating its contract with ICE after the mandatory 120-day waiting period. The protests at the facility were one of the five reasons he listed as contributing to the decision.
Last Friday, the sheriff's office contacted members of the Oakland-based Kehilla Community Synagogue and informed them that a new policy meant the synagogue's planned Saturday observance of Tisha B'Av  a Jewish day of fasting and communal mourning  at WCDF could no longer be held on the jail grounds.
Rabbi Dev Noily, a senior rabbi with Kehilla, said they spoke with Captain Jose R. Beltran of the Contra Costa Sheriff's Department, who told them that the parking lot would be restricted to employees and official visitors, and said the observance could be held in a field south of the facility, outside of WCDF grounds.
Roughly 100 people arrived at WCDF on Saturday evening only to find a new chain-link fence around the facility, bright-orange barricades, and sheriff's department vehicles in front of the parking lot entrances.
Volunteers helped redirect traffic to the field farther down the road, but Noily said that the change in location was challenging for some participants who had mobility issues.
In its statement, the Contra Costa Sheriff's Office said that it is working with the Richmond Police Department to figure out public access on Giant Highway. A spokesperson for RPD could not be reached for comment.