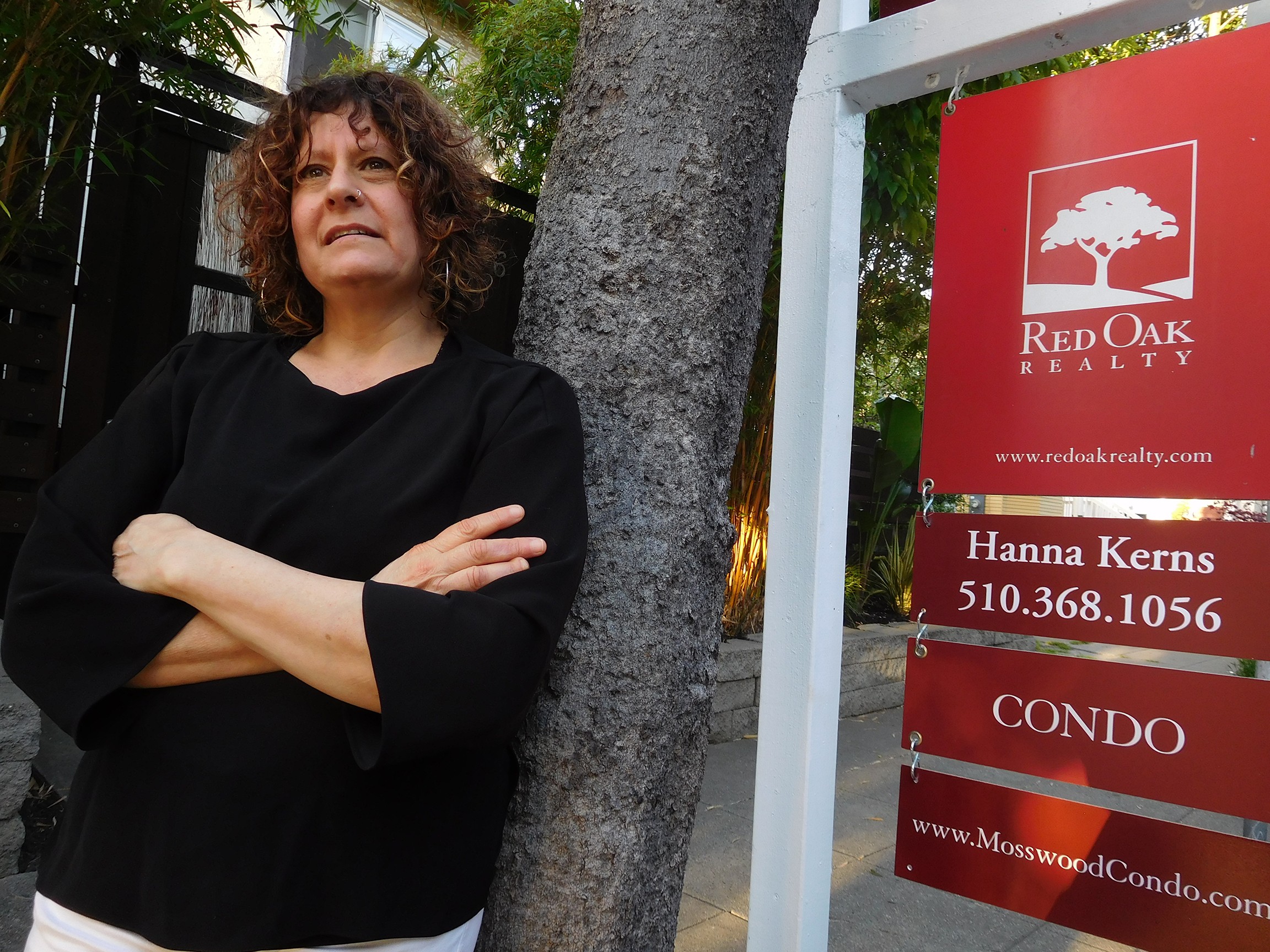 When Karen Dick signed her lease in 2012, she thought she was moving into an affordable, rent-controlled apartment. But last year, her landlord delivered surprising news: Her modest one-bedroom had been turned into a condominium while she was living in it.
Now she will either have to pay as much as $450,000 to buy the condo, or move out when someone else purchases it.
Dick says her options are all bad. She doesn't have enough money to buy, and doesn't think the converted condo is worth the price. She'll have to find a new apartment.
But rents have shot dramatically upward since 2012, so there won't be anything available for the roughly $1,200 a month she was paying, thanks to Oakland's rent control. Living on a social worker's salary, and having spent 32 years in the East Bay, she fears she'll be displaced.
"If I had been told they purchased in 2007 and started to convert it to a condo, I never would have been stupid enough to sign a lease," Dick told the
Express
.
Oakland law requires landlords to notify tenants when they convert their apartments into condos. But in Dick's case, she didn't move in until five years after the conversion began in 2007. Her landlord, Mosswood Builders, paused the conversion during the recession and only completed it last year. Dick said she sought answers from city officials about the legality of the conversion without notification, and her rights, but according to emails she shared with the
Express
, various city officials didn't respond.
Her apartment-turned-condo was one of 53 rental units affected by condominium conversion in 2016, according to Oakland's department of planning and building. Another 46 apartments were converted to condos in 2015. Far more were converted in the early 1980s and again in the mid-2000s. Many worry conversions will spike again, and Oakland's laws won't protect tenants.
Housing-policy experts say the steady drip of conversions is eliminating affordable rental housing in Oakland. Most affected units are subject to rent control — but once they become condos they're no longer covered, per the state's Costa-Hawkins Rental Housing Act. The new owners can rent them out at whatever prices they want, or move into them. Either way, cheap apartments permanently disappear.
"The city does need to take this up soon, since we need every tool possible to preserve the dwindling amount of relatively affordable rental housing still remaining in Oakland," said Gloria Bruce, the executive director of East Bay Housing Organizations.
For years, Oakland officials have said they want to amend the city's Condominium Conversion Ordinance, which was originally passed in 1981 in response to a spike in conversions that led to hundreds of residents losing their homes.
But in 2006, several councilmembers, with urging from the real estate industry, proposed easing conversion rules in the name of expanding homeownership opportunities. Others pointed out that the average Oakland renter simply can't afford a mortgage. The proposed changes were scrapped.
Most recently, Mayor Libby Schaaf's 2016 housing policy report, called "Oakland at Home," proposed amending the condo-conversion ordinance to protect rental housing. And Councilmember Dan Kalb has reportedly been working on amendments to the law for several years now.
But it's unclear when updates will be brought to a vote. Schaaf didn't respond to questions from the
Express
and Kalb would only say, in an email message, that he's hoping to bring amendments to the council in several months. He didn't state specifically what his legislation would change, however.
Jeffrey Levin of East Bay Housing Organizations said there are major loopholes in the existing condo-conversion law. For instance, there's a lack of concrete benefits for displaced tenants required under the law. And two-to-four unit buildings in most of the city are exempt from the law's requirement that converted apartments be replaced with new rentals, a provision that's designed to prevent a net loss of rental-housing stock.
"Many of the conversions in the past were in these smaller buildings," Levin wrote in an email. "There are thousands of units that are potentially at risk."
Oakland also doesn't have a cap on the total number of apartments that can be converted in a given year in the entire city. Berkeley and San Francisco both have caps to prevent the sudden loss of apartments.
Another problem is that the city's "conversion credit" system, which was designed as a market-based mechanism that replaces converted apartments with new rental units, has been criticized as a shell game.
Specifically, the existing law states landlords who convert apartments into condos, in what are called the "primary" and "secondary" impact areas — neighborhoods around Lake Merritt and Rockridge where higher property values make conversions more likely — have to either build an equivalent number of new rental-housing units, or buy conversion credits. For five-unit and larger buildings throughout the rest of the city, the same replacement requirement is in effect.
But landlords who convert their apartment buildings into condos rarely build new rental housing to fulfill these requirements. Most of the time, they purchase conversion credits.
The credits are generated by other landlords who build or preserve rental housing. Each credit therefore supposedly represents a new replacement rental unit, so that, in theory, there's no net loss of rental housing.
But the current law allows developers who build condos to also sell conversion credits, so long as they operate their condos as rentals for seven years. After seven years, they can sell the units, leading to a loss of affordable apartments.
In a report issued last year, several Berkeley researchers with the Urban Displacement Project characterized this as a way to "get around" the intent of the regulations, resulting in "no permanent replacement housing."
Another problem is that many of the landlords selling credits haven't actually built new rental housing.
For example, in the case of Dick's apartment, Mosswood Builders opted to purchase condo conversion credits. But the credits weren't from a developer who recently built new rental housing. Rather, the seller was a landlord who owned a house that was built in 1915. The house was transformed into a seven-unit apartment building before 1967, according to city records.
In other words, the condo-conversion credits — which Mosswood Builders purchased for $30,000 — didn't actually represent new rentals.
Dick also said Mosswood Builders ran some of the neighboring apartments in her building as Airbnb pads for several years, instead of putting them on the market for permanent residents. The building felt at times more like a hotel than her home, she said, with strangers constantly coming and going.
Josh Whitkin of Mosswood Builders didn't respond to an interview request for this story.
Today, Dick is the last tenant in her building. The assistance plan written by her landlord and approved by the city in 2007 states that she has the right to purchase her apartment before it's marketed to the general public. It also states that, if she voluntarily elects to vacate her apartment, she may qualify for $2,000 in relocation assistance, and that her landlord will provide a list of similar rentals nearby.
But for Dick, this amount of assistance doesn't help.
After contacting her councilmember, Kalb, as well as Councilmember Lynette Gibson McElhaney, Schaaf, the Oakland housing-assistance office, and numerous pro bono housing attorneys, she says no one has stepped forward to help her understand the law or advocate for her rights as a tenant.
"I could have saved myself a lot of problem from the start," Dick said. "I should have never signed a lease."