Point Richmond neighbors are up in arms over piles of contaminated dirt being stored next to their homes and an elementary school.
The dirt was trucked to an empty lot on Canal Boulevard near the Port of Richmond and covered with plastic tarps about a week ago by Wareham Development, a real-estate company that owns the nearby Point Richmond Tech Center.
Signs warning of PCBs, a toxic chemical that can cause cancer and other health problems, were posted around the mounds.
Neighbors say no one warned them in advance. "About a week ago, my husband started noticing these trucks, and then they started putting fences," said Edie Alderette-Sellers, who lives nearby.
[pullquote-1] She posted questions to her neighborhood's Nextdoor group to see if anyone knew where the dirt was coming from, but no one could tell her. When her husband returned a few days later with photos of signs warning of PCBs in the dirt she became alarmed.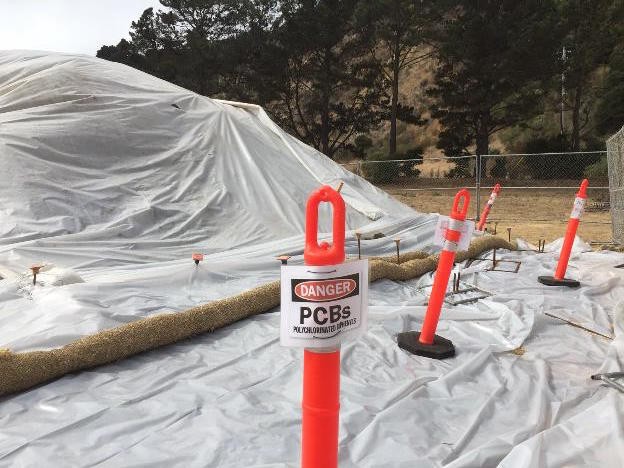 "I have a background in science. I knew this was bad," Alderette-Sellers said.
Richmond Mayor Tom Butt also lives nearby. Yesterday, he sent out an email newsletter calling the dirt piles a form of toxic dumping.
Butt told the
Express
 that Wareham did not get the necessary grading permits from the city to truck in the dirt and dump it, and that no one in the city, including the planning department, was told about the dirt until it already arrived.
Butt added that state toxic substances authorities also did not notify Richmond about the dirt.
"We've got a big problem in Richmond," the mayor said. "We're seen as a place where you don't need a permit to do anything. You just do it."
Andrew Neilly, a spokesman for Wareham Development, admitted the company didn't get the necessary city permits. He said it was a mistake, and that Wareham thought they didn't need city approval.
"They only found out about the permit requirement yesterday," Neilly told the
Express
. "As soon as [Wareham] found out, they sent one of their partners to City of Richmond and explained what happened and applied for the permit."
According to Neilly, the dirt was excavated from a Wareham construction site in Emeryville that used to be a Westinghouse factory. The soil under the factory was heavily contaminated with PCBs and other chemicals, but it underwent an environmental clean up in 2002. The old Westinghouse location is now being redeveloped into
an office, tech, and retail center.
A 2009 environmental planning document
for the Emeryville construction site states that any excavated soils removed for permanent disposal still have to be sent to "appropriately permitted" landfills because of remaining PCB contamination.
[pullquote-2] However, Neilly said the dirt isn't contaminated, and that Wareham eventually intends to truck it back to the construction site in Emeryville, where it was excavated from.
"It's clean commercial fill," he said, adding that it was tested twice, and that any levels of toxins in the soil fall below "actionable levels" considered dangerous by government authorities.
Russ Edmondson, a spokesman for the California Department of Toxic Substances Control, said that DTSC visited the site today and is looking into the situation. The agency has yet to say if the materials pose any kind of danger.
But Maureen Decombe, another neighbor who lives blocks away from the lot, said she's worried about toxic contaminants that might leak or blow out of the piles.
"It's on a spot where people walk their dogs a lot," said Decombe. "It's one of the last wild places around where you can let a dog run. People call it Frog Town, because it fills up with water in the winter and you can hear the frogs."
The land
was once supposed to be developed
into an expanded part of the existing Tech Center owned by Wareham. In 1998, the City of Richmond approved the Tech Center expansion
on the condition that Wareham also rehabilitate wetlands
on adjacent land owned by the city, but the deal fell through.
Pixar, which used to be headquartered in the Tech Center, then moved to Emeryville. The undeveloped land and nearby wetlands instead became an informal park used by locals to walk their dogs.
Decombe said that many Richmond residents feel like their community is perceived by companies as a dumping ground, not a place to build tech offices or beautiful parks. She pointed to the coal port nearby, and the oil trains that park in the rail yard as examples.
"Emeryville took Pixar out of Richmond and literally shipped back to us toxic soil," said Alderette-Sellers. "That's how it feels. It's a real kick in the teeth."
Editor's note: this story has been updated with a comment from the California Department of Toxic Substances Control.