The District Attorney of Contra Costa County recently sent a pretty intimidating letter to the Richmond City Council reminding them they could technically be charged with a federal (and possibly state) crime for facilitating permits for the town's four, regulated medical cannabis dispensaries. In a letter to Richmond July 25, DA Mark Peterson said marijuana is a federally illegal drug and no city officials who facilitate its distribution should feel immune.
[jump]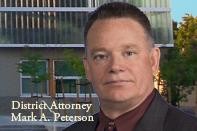 In his letter, Peterson pointed to a previous warning issued by US Attorney Melinda Haag, who has helped lead a crackdown on medical pot in California: "Potential civil and criminal actions can be initiated against not only licensees … but also against those who facilitate the actions of the above individuals, to wit: individuals under the color of authority issue the licenses and allow the issuance of license that permit the violation of federal law." (Peterson's bold)
The CoCo DA's office didn't return a request for comment, but the letter fits a pattern used by foes of California's Prop 215, and other medical pot laws to try and slow regulated access to the life-saving pain and nausea drug.
Most of the letter is copied. DA Peterson said he was echoing the threats made by Alameda County DA Nancy O'Malley to Oakland Mayor Jean Quan in 2010 regarding pot shops. Haag made the same threats to the City of Oakland when it attempted to regulate the local medical marijuana supply chain.
But Peterson added that he thinks medical cannabis dispensaries are illegal under state law.
"The Contra Costa County District Attorney's Office will uphold and enforce the laws of this state. … alleged violations will be reviewed on a case-by-case basis," he wrote.
It should be noted that neither US Attorneys nor local DAs have never imprisoned a California city official for carrying out the will of California voters with regard to medical marijuana. Scores of jurisdictions have medical marijuana distribution points, despite federal sword-waving, but law enforcement intimidation prevents safe access to the drug outside of the Bay Area and Los Angeles.
On August 21, Napa city officials cowered behind Uncle Sam's pant legs when scuttling plans for one dispensary in Napa, reports show.
"It is not the compassionate act of a city to stand between patients and their doctors," said Lowell Downey, noting that two of his friends who were dying used medical marijuana in their last days to ease their pain.

Ryan Voss, who is in a wheelchair from a broken neck, said marijuana is the only thing that can stop his body from spasms or that lets him sleep.

"Thank you, Napa, for being accessible (to handicapped people)," Voss said. "Let's make Napa accessible for people who have cancer, or cystic fibrosis or multiple sclerosis."
Medical Marijuana Dispensaries in Contra Costa County by Amber Hinton