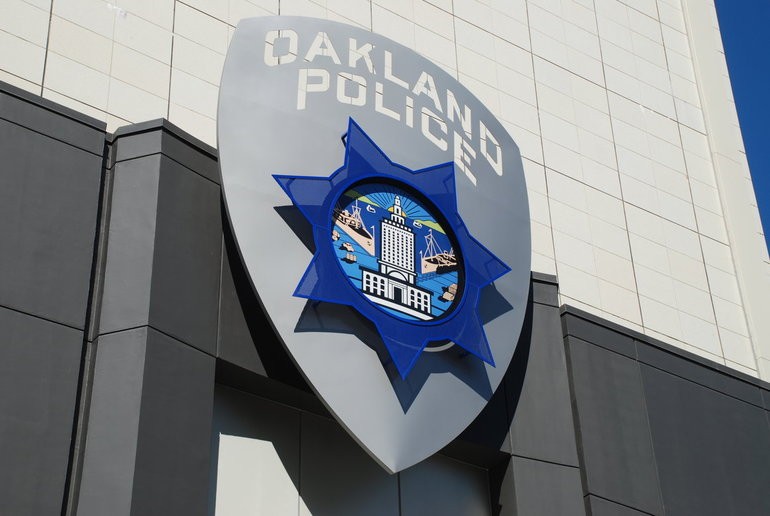 The Oakland City Council is set to approve
a $12 million
payment to a man who was run over by a police officer while riding his motorcycle downtown last year.
The settlement is one of the costliest in the city's recent history. Attorneys for Elliott Van Fleet claimed in court papers that the police officer who caused the accident was in violation of police policy when he ran a red light.
Elliott Van Fleet was cruising through a green light at 19th Street and Broadway on the morning of March 25, 2017, when an Oakland police officer driving a Ford SUV police vehicle entered the intersection against a red light and collided with him.
Van Fleet was thrown from his motorcycle and sustained massive injuries. His lower left leg was amputated at the hospital and his pelvis and vertebrae were fractured, among other serious wounds.
In a lawsuit Van Fleet filed against the city last year, his attorneys wrote that he has been unable to work since the accident and has sustained medical bills that "greatly exceed" $500,000, and that future medical costs and lost wages would amount to even more.
Van Fleet alleged that the police officer who caused the accident ran the red light without stopping, in violation of the Oakland Police Department's vehicle pursuit policy.
Van Fleet's attorneys declined to comment until after his lawsuit against the city is settled.
It's unclear if the officer involved in the accident was disciplined or re-trained, or whether the city found that the officer violated policy.
The Oakland Police Department declined to comment as to whether they investigated the incident or if the police officer violated any city policies. OPD referred questions to the Oakland City Attorney's Office.
Alex Katz, spokesperson for Oakland City Attorney Barbara Parker, wrote in an email to the
Express
that "we can't discuss personnel matters involving individual officers."
The $12 million settlement is easily one of the largest in Oakland's history.
Since 2015, Oakland has paid out at least $26,478,638 to settle approximately 117 lawsuits, according to an analysis of city council agendas.
But cops aren't to blame for most of the litigation. The largest number of lawsuits against the city were filed by people who were injured or sustained property damage due to the city's public works department. Most of these 72 cases involved so-called "trip-fall" incidents, where a person was hurt due to broken sidewalks and streets. Most of these cases were settled for low amounts, generally under $20,000.
In total, public works paid out $4.9 million to settle litigation since 2015.
Cases involving police officers are the most expensive for the city. Since 2015, at least 31 lawsuits against the police department have been settled for a total of $19.3 million.
Besides Van Fleet's injury claim, other costly police-related lawsuits settled by the city council in the past three and half years included wrongful arrest, shootings, and sexual exploitation.
But auto accidents involving Oakland police officers are common, too.
For example, Bien Cam Tran was walking across E. 12th Street near 3rd Avenue on August 30, 2014 when an Oakland police SUV hit him. Tran died of his injuries. His family alleged that the officers were driving "recklessly" and the city ultimately settled for $2.75 million in 2016, according to city records.
In total, the council settled 18 lawsuits brought against the Oakland police for auto accidents since 2015 for a total of $15 million. Excluding Van Fleet and Tran's cases, the other 16 lawsuits were settled for between $6,000 and $45,000 and mainly involved damage to vehicles.
Van Fleet's lawsuit is expected to directly cost the city $3 million, while the other $9 million will be paid by Oakland's insurance carrier, the California State Association of Counties-Excess Insurance Authority (CSAC-EIA), which is a joint powers authority formed by multiple local governments.
But the city nearly found itself on the hook for $10 million of the total $12 million in claims, according to confidential city records obtained by the
Express
.
According to a May 15 memo prepared by the city attorney, Oakland's lawyers mistakenly negotiated with Van Fleet's attorneys under the assumption that CSAC-EIA had agreed to pay up to $12.5 million to resolve the case. In fact, CSAC-EIA hadn't approved this; CSAC-EIA only approved a settlement of up to $5 million and designated that this be split, with the city paying $3 million and CSAC-EIA paying a maximum of $2 million.
If this settlement had been agreed upon, it would have meant that Oakland would pay $10 million of the $12 million total.
But according to the city attorney's office, this conflict between Oakland and its insurance carrier was somehow resolved, and CSAC-EIA has now agreed to pay $9 million of the $12 million settlement.
CSAC-EIA didn't return calls from the
Express
seeking comment about the disagreement.
Looming over this dispute between Oakland and CSAC-EIA, of course, is the Ghost Ship case. The city could be on the hook for many millions of dollars due to the deaths of 36 people in a building that was known to city police and fire personnel to be a hazard.
It's unclear how Oakland will pay for any Ghost Ship-related settlement or how CSAC-EIA will assist.