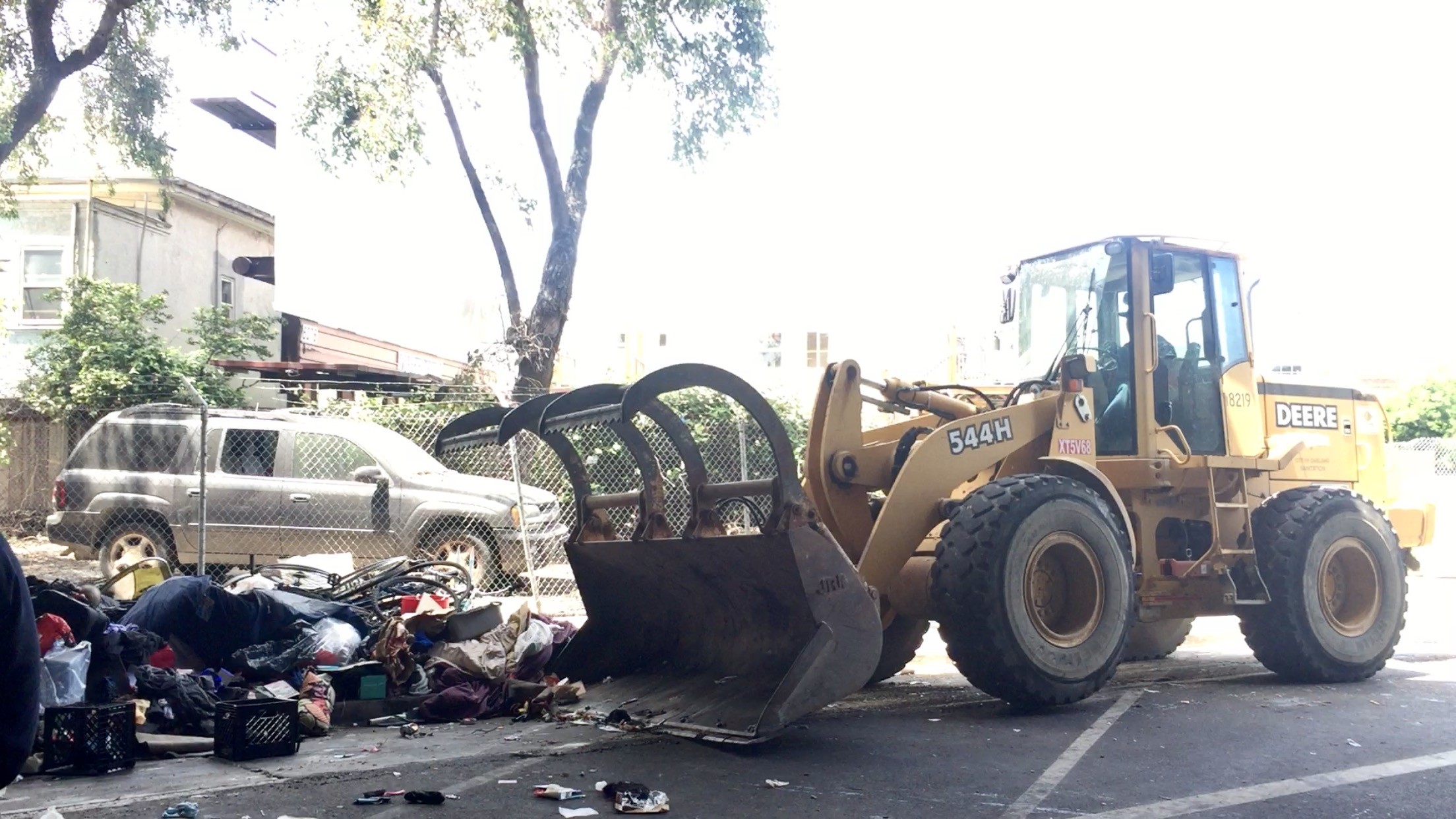 Daryll Barker has lived for more than a year under a freeway overpass at 35th and Magnolia streets in West Oakland. Drugs, crime, pollution, extreme weather — it's a rough life. But while asleep in his tent on the morning of May 5 shortly after 10 a.m., Barker says something happened that left him "scared as hell."
Suddenly, Barker said he "was being dragged and pulled, the whole tent itself, everything in it. Just snatched and grabbed." The 51-year-old told the
Express
last week that he was thrown from his tent, after which he rolled across the asphalt for several feet.
When he looked up, Barker realized that he'd been hit by "a bulldozer."
In recent weeks, the City of Oakland began using what is called a wheeled loader — a large, heavy-equipment bulldozer-like vehicle typically seen at construction sites — to help remove what officials say is an unprecedented amount of garbage and trash accumulating at several local homeless encampments.
"We want to clean up the garbage," explained Joe DeVries, an assistant city administrator with the City of Oakland. "There's so much debris, we want to get the stuff that people care about out of the way, so that we can" pick up the trash.
DeVries said he witnessed the incident on May 5, when he says a "Dingo" tractor ran into Barker's tent. "I don't know how he was in that tent," DeVries said. "I was scared for him."
But many homeless residents called the bulldozer "overkill," saying that they were stunned when the "aggressive" and "dangerous" vehicle showed up at the camps.
Before Barker was hit by the bulldozer on May 5, workers with Operation Dignity, a nonprofit that does homeless outreach as part of a contract with the city, allegedly told residents at the 35th and Magnolia site that Barker's tent and others people's belongings would be out of harms way, and that the wouldn't need to move, according to Jeff Wozniak, an attorney representing Barker. "He was told his tent was safe where it was," he explained.
"Then, he was woken up by a bulldozer literally crashing into his tent."
Wozniak says his client was lucky. "Had that bulldozer approached his tent from the other side, it would have bulldozed his head. … There's no question that this bulldozer could have killed him."
After the incident, Barker says he was bleeding and in severe pain, so he was ambulanced to Highland Hospital, where he says he received X-rays and was treated for nearly 10 hours. Two weeks later, he says he's still limping and sore.
Now, Barker is living with a neighbor, sharing a tent, near the encampment, which was formerly the site of Councilmember Lynette Gibson McElhaney's "Compassionate Communities" tent-city pilot program, which housed at least thirty people earlier this year.
Barker said his tent was completely destroyed, and that he lost all of his clothing, his phone — pretty much everything he owns. "I'm just happy to be alive," he said this past Saturday.
Wozniak hasn't filed a claim or lawsuit on behalf of Barker yet. However, he is asking that the City of Oakland and Operation Dignity compensate Barker for his pain, suffering, medical expenses, and losses. "Darryl's tent is not trash. It is personal property. And they should not be using a bulldozer anywhere near these tents, or these homes," he said.
Representatives with Operation Dignity were not immediately available to discuss the specific incident.
In the past two weeks, other homeless campers have told the
Express
that, despite the city's efforts, they too have lost valuables during these city clean-ups, including family photos, laptops, bikes, and DVD players.
On May 25, the city's "bulldozer" also made an appearance at one of Oakland's largest homeless encampments, on Northgate Avenue.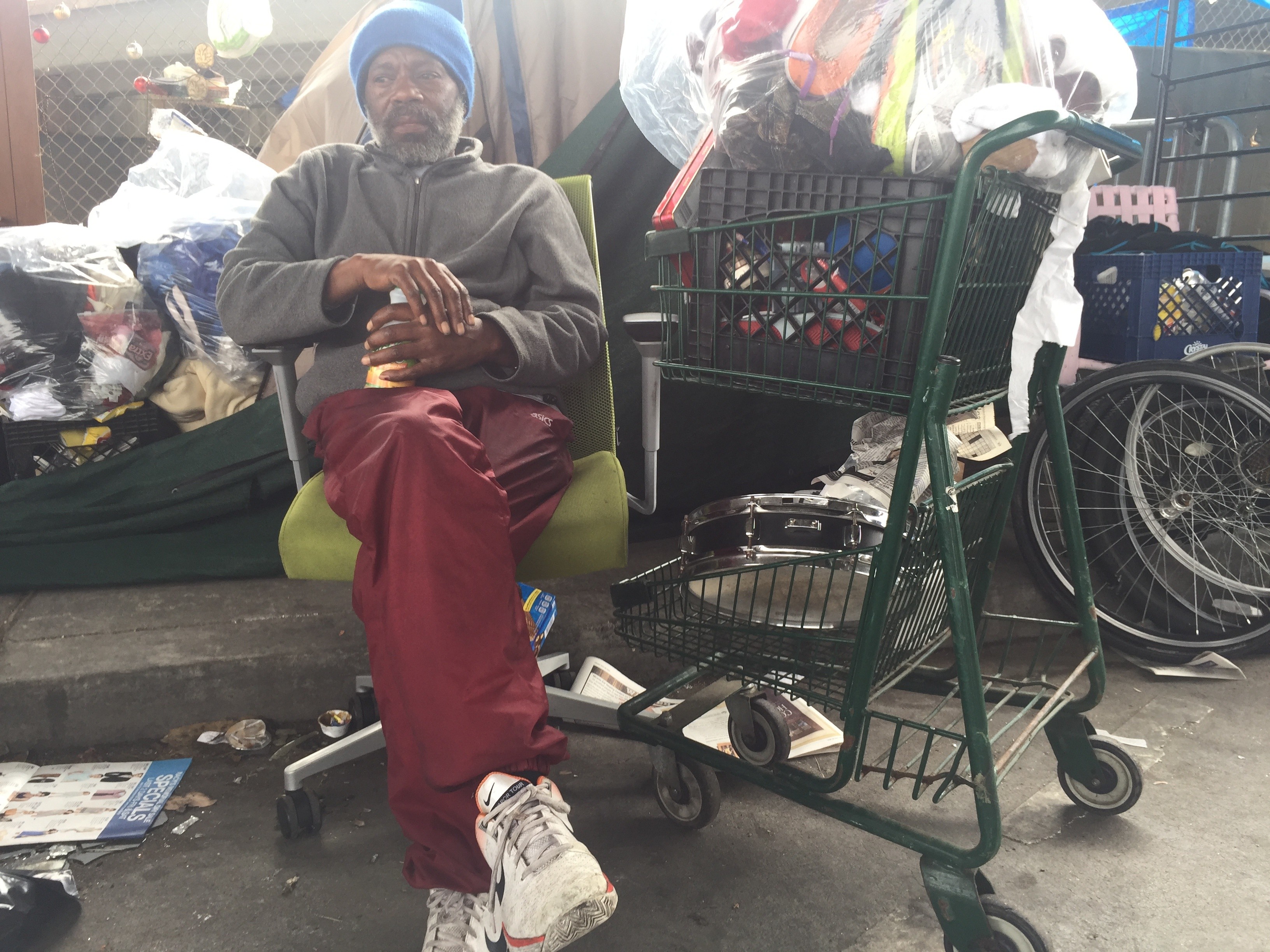 Marcus Emery said he has been living at the Northgate site for nine months, after he was displaced from a nearby apartment, where the landlord raised the rent to $2,100 a month. On that Thursday morning, the 53-year-old said he "woke up hearing a bulldozer": Oakland police and public-works department employees had shown up to remove debris and trash.
The city had given notice that they planned to clean the site, posting fliers along Northgate. But some of those fliers were removed, Emery and others claimed. And none of them were expecting the bulldozer.
City workers told Emery to move his tent and belongings from the western sidewalk and to the other side of the road, so that trash could be removed. The city also said it would be cleaning the sidewalk and gutters. But the day after the clean-up, Emery complained that he'd "lost all kinds of stuff," because he couldn't move his tent and valuables out of the way fast enough.
Specifically, he said he lost family photos, a DVD player, old coins, clothes — "stuff that you can't replace."
After sharing his story, Emery lifted up his shirt to reveal stitches, from a knife wound he'd suffered while sleeping in his tent on the same street earlier in May. "I just got stabbed the other day," he told the
Express
. "I can't be moving this heavy stuff."
Also at the Northgate encampment, Tonnell Williams says he too was startled by the "big ass tractor thing" when it arrived that Thursday morning. He says he tried to move most of his stuff, but that he lost a tent full of his clothes, plus his girlfriend's clothes, bike frames, and more, when the bulldozer snagged and dumped it in the trash.
"They let us move some" of his belongings, he said. "But they didn't let us move all of it."
When the
Express
spoke with DeVries the day of the Northgate clean-up, he insisted that the City of Oakland's mission was to not harass or hurt homeless people, or displace them from these encampments. "We weren't bulldozing tents," he said, referring to a video of a wheeled loader picking up trash at the Northgate site (see video, below).
[embed-1]DeVries also said that, during a recent camp cleanup, the city removed some 160 cubic yards of debris and garbage.  "We don't want to criminalize the homeless," he said.
"We've been painstakingly careful to be compassionate."
On Tuesday, Oakland city council voted in favor of spending nearly half-a-million dollars for a "safe haven" transitional camp for homeless residents. The sanctioned camps would offer 40 small sheds for individuals to live in, and also would provide security, water, toilets and more for residents. There is also a motion to provide sanitation to 10 encampments, and also to keep the door open for additional funding for homelessness programs.
A recent "point in time" count of Oakland's homeless residents tallied
2,761 homeless individuals in the city, nearly 70 percent unsheltered — a roughly 26 percent increase over the count from 2015
.
The
Express
reported last week that
Oakland spent some $210,638 in 2016 and during the first few weeks of 2017 on cleaning and dismantling homeless encampments
. Records indicate that there were 279 cleanings in 2016, and 33 from January 1 to February 14 this year.
As the
Express
wrote: "The city's data shows that 1,475 yards of trash — but possibly also tents, clothing, and other possessions — were thrown away during this period." DeVries says he's seen an unprecedented amount of trash and garbage at homeless camps in the past months.
The abatement of homeless encampments has been controversial. In December of last year,
civil-rights activists filed a class-action lawsuit in state court alleging that Caltrans violates the Constitutional rights of homeless people
during encampment sweeps in Oakland, Emeryville, and Berkeley,
where homeless residents regularly lost valuables and property
. That suit is ongoing.
Shawn Moses, who's lived at Northgate camp for three years, conceded that a significant amount of garbage and debris had piled up at the location, he said in part due to a public works strike against cleaning at the sites, which lasted several months, but also because of illegal dumping.
Moses said that he thought most camp residents didn't lose any belongings on May 25, and he observed city workers "bag and tag" items from one man's tent and space, because the owner was in jail and unable to move his tent.
But Moses also says that he lost some "junk that he didn't really want" during the clean-up, and that city workers weren't terribly careful not to throw away belongings. "We just worked really fast" to get things out of the bulldozer's way, he explained.
He added that he and his fellow residents had to sweep the sidewalk underneath their tents themselves, and that the city didn't even wash the concrete.
Moses said the clean-up on May 25 was the first time the city had came to clear the site in a year and a half. And, like others, Moses argued that the use of the bulldozer was harassment and overkill.
"Everybody was shocked by that bulldozer," he said. "It was horrible, just ridiculous."