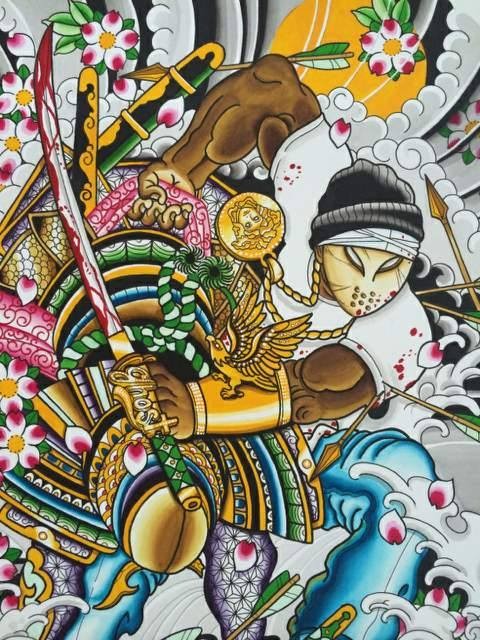 Wu-Tang fans are cultic, die-hard, and some of the best in the world. From
food art
to
Christmas sweaters
, the Killer Bee aesthetic is always respected. Fans have even tried to crowd-fund the millions of dollars needed to purchase their
secret album
,
The Wu- Once Upon a Time in Shaolin
, of which only one copy in the world exists. If you're not a fan of Wu-Tang Clan, there's a strong chance you are in the minority.
Enter the Wu-Tang-inspired art for the newest exhibition at
LeQuiVive Gallery
on Webster St. Titled
Champagne Tigers
, the show, not to be confused with mere fan art, will take over starting on September 26th.
[jump] The group show features Bay Area talent such as
John Felix Arnold III
, whose fantastic pen illustrations on mixed wood panels have landed him a solo show at Fecal Face Gallery in San Francisco next month. His styles parallel the conviction and delivery of the kung-fu theatrics that make up the signature Wu-Tang attitude.
Other artists include Ken Davis, Mark Pricks,
Sean Gillespie
, Dana James, and Hunter de La Ghetto, who has previously created work that ties together the worlds of art and hip-hop.
Fans can make it a true Wu-Tang weekend and head over to
The Warfield
in San Francisco on Saturday for the group's tour.