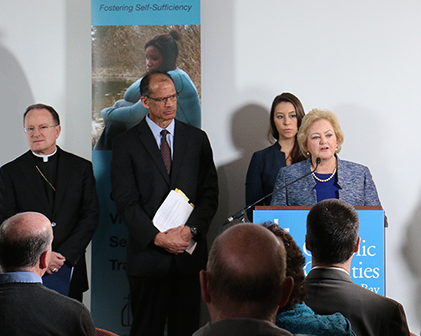 Alameda County District Attorney Nancy O'Malley announced a new initiative on Tuesday to create housing for child victims of trafficking and sexual exploitation. Her office is partnering with Catholic Charities of the East Bay to open up multiple local safe houses that will provide a range of services to youth who have been victimized. Catholic Charities, a local nonprofit, aims to open a first safe house, which would have capacity for twenty youth, by the end of 2016, according to O'Malley spokesperson Teresa Drenick.
The announcement comes as O'Malley's office and elected officials in Oakland have increasingly received criticism for promoting anti-trafficking measures that critics say do little to help child victims and instead further criminalize adult sex workers — a topic I covered in a
recent news story
. Sex worker advocates have long argued that police, prosecutors, and city officials conflate child trafficking with consensual adult sex work through overly broad enforcement efforts that result in increased arrests and police harassment of adult women and their clients. O'Malley's office in particular has faced pushback for its partnership with Demand Abolition, a nonprofit that advocates for the eradication of all sex work. As I outlined in my recent story, state data further shows that Alameda County has also continued the questionable tactic of arresting minors for "prostitution" even though all youth involved in sex trade are legally considered trafficking victims. 
[jump] The new housing initiative would seem to at least partially address the complaint from advocates that government officials should be more focused on providing services to vulnerable youth instead of devoting resources to arresting kids or consenting sex workers. The district attorney's office has defended the practice of arresting minors as a last resort to help get youth off the street and away from dangerous predators. Critics say social service agencies should be leading efforts to provide housing and other services to kids — with efforts that don't involve arrests or jail time. Drenick told me that the new safe houses will do outreach through a wide range of partners that interact with child victims of exploitation, including law enforcement, social service agencies, nonprofit groups, and medical providers.
See Also:
'There is No Such Thing As a Child Prostitute'  
Oakland's Threat to Sex Workers
The plan is to open four safe houses over the next five years. Catholic Charities is in the process of securing the first house, though once it does, the location will remain confidential to protect the safety of residents. "What's unique about this is it's not just a shelter and a bed. They will be really intensive in the services they provide," Drenick said, noting that the safe houses would provide medical care, case management, therapy, educational support, and other services. 
Catholic Charities is currently raising funds the for the safe houses, and although the district attorney is partnering in the effort, the prosecutor's office will not be allocating funds for the program, Drenick said. Victims of all religious affiliations will be accepted. 
O'Malley announced the initiative at a press conference this morning alongside Bishop Michael Barber of the Oakland Diocese and Chuck Fernandez, chief executive officer of Catholic Charities of the East Bay. "I am certain these efforts will become a model for all communities to work together to combat human trafficking," O'Malley said in a statement. "To effectively put an end to this criminal enterprise, we must provide safe places for the young victims to live while they heal, recover and rebuild their lives, while regaining their sense of dignity and security. These homes will set a path for their future to be as bright as we hope for all of our children."