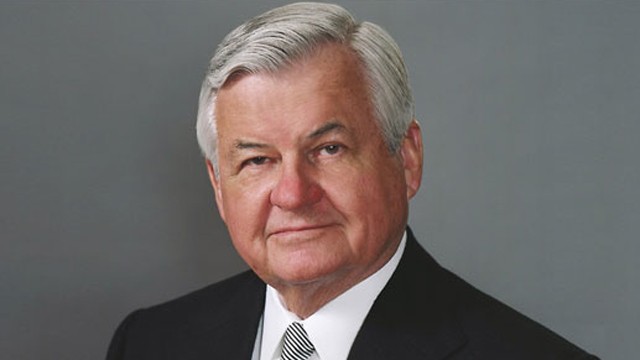 The scandal involving
Carolina Panthers owner Jerry Richardson has placed a Donald Sterling-like problem in the NFL's hands. And if league officials are smart, they will allow the NFL's first African-American ownership group to buy the Panthers.
It all started Sunday, when
Sports Illustrated
reported that Richardson has made confidential high-priced payouts
to at least four team employees to settle allegations of sexual harassment and for directing a racial slur at an African-American scout. Just hours after the story went online, Richardson announced he was putting the Panthers up for sale.
The announcement drew immediate interest from prospective buyers, including hip-hop mogul Sean "P Diddy" Combs, Stephen Curry, and Colin Kaepernick, who traded tweets about working together to buy the team.
That it took less than a day of public shaming to spur the 81-year-old owner to give up his multibillion-dollar franchise might indicate there are many more skeletons in Richardson's closet. What we know from the Sports Illustrated article is already quite damning. Richardson's fast-food corporation, Flagstar, years ago was the subject of multiple racial bias lawsuits brought by the U.S. Justice Department. Flagstar also paid more than $54 million in 1994 to settle discrimination lawsuits filed by thousands of black customers, according to
Sports Illustrated
. And
Fortune
magazine, not exactly a left-wing publication, once called the company "a shameful example of entrenched prejudice."
Richardson was one of 32 NFL owners who've blackballed Kaepernick for merely protesting the type of chronic racial discrimination for which Richardson has been sued. In other words, the job just got more difficult for the NFL lawyers fighting Kaepernick's claim that the league has colluded against him. For this reason (and many others), the NFL would be smart to steer the Panthers' imminent sale to the league's first African-American ownership group.
Former 49er and Raider Ronnie Lott worked very hard last year to keep the Oakland Raiders in town and, according to some media reports, was very interested in buying a stake in the team. If I were Commissioner Roger Goodell, I'd have telephoned Lott the minute the Richardson news broke Sunday. Then again, these are the guys who blackballed Kaepernick and allowed the Raiders and Chargers to betray their home cities and fans, so maybe logic and intelligence won't rule the day …
The Oakland Raiders
have always played under a bad moon, having long been involved in the NFL's strangest, most controversial games. And Sunday night's head-scratcher against the Cowboys was no different, as referee Gene Steratore used an index card to measure whether Dallas had converted a crucial 4th-down play. The oddly derived ruling changed the complexion of the game faster than you can say, "I've never seen that before!" (I haven't, either.)
No other NFL franchise has featured so many memorably tense and weird finishes, resulting in colorful monikers such as The Heidi Bowl, The Immaculate Reception, Sea of Hands, The Holy Roller, Ghost to the Post and, of course, The Snow Job — also known as the Tuck Rule game. Now, we have the latest entry in Raiders weirdness, which forevermore shall be dubbed, "The Longest Card."
Adding to the controversy were postgame comments from Raiders wide receiver Michael Crabtree, who claimed the officiating crew ordered him off the field during the Raiders' final drive so he could undergo tests for a concussion, an ailment he said he hadn't suffered. I have never heard of that happening before, either. Very strange. Almost as weird as using an index card to decide a football game.
Sunday night's unforgettable finish wasn't even the most controversial at the Coliseum this season. That proud distinction belongs to the Chiefs-Raiders Oct. 19 barn-burner, which ended with penalties called on consecutive plays with no time on the clock, until a Raiders touchdown on the final play sent Oakland fans home happy with a dramatic 31-30 victory. Creative Oakland fans with a strong sense of Silver-and-Black history gave that nail-biter its own nickname: Sea of Flags.
Now imagine all that innate Raider controversy in Las Vegas, the nation's gambling capital, where accusations of fixed games will surely follow. Has the NFL thought through how that will hurt perceptions of the game's integrity? Does the NFL think through anything? …
As a longtime A's fan
who would love to see the Green and Gold stay in Oakland, I've been impressed with team President Dave Kaval and Taj Tashombe, A's vice president of external affairs. They've been working hard to remove the residue left over from 21 years of past A's owners badmouthing the Coliseum and Oakland. In that light, give Tashombe credit for reaffirming the team's commitment to building a new ballpark in Oakland, as part of a public statement he made last Thursday. Tashombe's comments — first reported by the
San Francisco Business Times
 — went a long way toward reassuring die-hard A's fans who've grown weary of the stadium debate. It also was a smart move because relocation threats have never moved the needle in the Bay Area, no matter which franchise or ballpark site is being considered. …
Speaking of A's-related news
that raised an eyebrow … Over the weekend, Warriors owner Joe Lacob appeared on "The TK Show" — Tim Kawakami's podcast on The Athletic website — and
reiterated his interest in buying the Oakland A's
. Lacob, not especially known for diplomacy, went out of his way to say he supports the efforts of A's owner John Fisher in building a new Oakland ballpark. At other moments, too, Lacob returned to his hard-charging M.O.
"If (the A's) were for sale, we would be interested certainly in discussing it and considering it," he said. "I think we have the organization to make it successful."
Lacob also reiterated his preference for the Howard Terminal ballpark site, despite its list of challenges, because of "its waterfront location and the fact that there's nobody living around there; (it doesn't have) the constituencies to maybe oppose it."
When Kawakami asked if the A's could flourish in Oakland, Lacob answered without hesitation.
"The A's? Absolutely," he said. "The East Bay is a big market. There's a great history with that franchise. Look, it's obvious. The Warriors are moving to San Francisco, which is not far away, but is on the other side of the bay, at a minimum. And the Raiders certainly seem to be moving to Las Vegas. So, the A's have an opportunity …"
…
Lastly, it's become a yuletide tradition
for East Bay journalists to mention journalist Al Martinez's vintage column, which detailed a heart-tugging Christmas Eve he spent at the
Oakland Tribune
in the 1950s. Martinez's reporting assignment that holiday night was about a kid dying of leukemia whose final request is a delivery of fresh peaches. As Martinez prepares the article, he's peppered with questions by his hard-drinking but big-hearted Tribune editor, Al Reck.
When Reck learns about the dying child's request, he gives Martinez one order: "Get the kid his peaches."
The scramble to do just that, according to the Los Angeles Times column Martinez penned in 1986, involves late-night phone calls to grocers in Australia and the U.S. Secretary of Agriculture's Georgetown home for permission for the peaches to pass customs when they arrive. When Martinez asks for time to actually write his article, Reck delivers the moral of the column:
"I didn't say get the story. I said get the kid his peaches."
This nostalgic tale resonates with 21st-century journalists for many reasons. It recalls an era, for one, when print news' power was at its peak, when an Oakland newspaper honcho could easily get a powerful federal official on the phone anywhere and anytime, as well as persuade him or her to use their power to comfort the afflicted. It also underscores the meaning of Christmas and the value of putting humanity at the top of any priority list; a moral that rings especially true in 2017, when so much seems so wrong and headed further in that direction.
But the winter holidays allow us a sentimental time to slow down, mark time with family gatherings, and start the next year of our lives on January 1 with a clean slate and even, dare I say it, some optimism.
With that spirit in mind, I sincerely wish you all Happy Holidays and a very Happy New Year!
And no matter where you are or what you're doing, make sure you get the kid his peaches.
Chris De Benedetti, a co-founding member of Baseball Oakland, writes a regular sports column for the
Express.