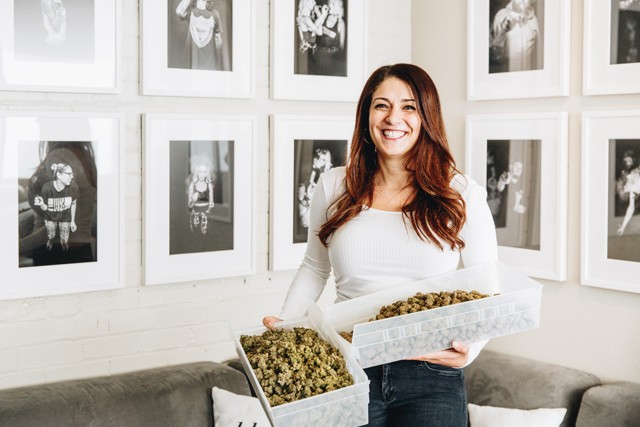 Salwa Ibrahim loves challenges, and she's ready for a new one. During the past seven years, the 33-year-old and her partners co-founded Oakland's path-breaking Blüm cannabis dispensary, merged the company into the United State's first publicly traded cannabis corporation, and positioned the combined entity to be a statewide player in what this year became the nation's largest legal cannabis market.
Now, as the marijuana industry is quickly evolving into just another big business, Ibrahim is looking to the future, dreaming of making and selling previously unimaginable products tailored for a recreational market. Think stress relief for moms and tonics to enhance athletic workouts.
"We are working with strategic partners on consolidating manufacturing and production. My partners and I are working with key industry players," Ibrahim said, displaying the kind of can-do attitude that enabled her to become a successful marijuana entrepreneur without ever graduating from college. "It's totally doable," she said.
Ibrahim also may develop "cannabis gardens" for public events, similar to beer gardens at concerts. The idea has been percolating since last year when she and her husband bought the sponsorship rights to Another Planet Entertainment's annual Outside Lands concerts.
She is not providing details about her potential production venture, but the Port of Oakland gave her approval last March for a permit to establish a marijuana growing and light manufacturing facility at 7700 Edgewater Drive near the Oakland Airport.
The building is owned by a partnership that includes Phil Tagami, an Oakland developer who employed Ibrahim at the start of her career. Tagami has been in the news recently because of a high-profile legal dispute he has with the city of Oakland over his company's plan to establish a massive coal export operation on city land.
Ibrahim got her start in her mid-20s on Tagami's staff working to rehabilitate the long-shuttered Fox Theater, a former movie palace that is now a successful music venue and a linchpin of the dramatic, ongoing revitalization of Uptown Oakland. "We're all very proud of Salwa," said Tagami in an interview. "We quickly determined that whatever she decided to do, she could do. She has not only proven that's true, but she's done so in a very gracious manner. She's a very good leader. She's very thoughtful."
A graduate of Oakland's Skyline High School, Ibrahim took classes at several community colleges in Contra Costa County and Santa Barbara and the Fashion Institute of Design and Merchandising in San Francisco. "And then my parents are like, 'You should get a job.' I happen to thrive in the work environment," Ibrahim said.
The Fox project turned out to be a huge undertaking, however, with long workdays that bled into weekends, and after a stretch, Ibrahim found herself wanting a change. In 2008, she made the fateful decision to take a job with Richard Lee, founder of Oaksterdam University, the nation's first institution of higher learning devoted to marijuana.
Ibrahim had been a "sporadic" pot user, and "always loved" it, she said. "For me, it was stress relief."
Her love for the emerging industry only grew. "Cannabis is wonderful. It is beautiful. It is a healing plant," she said. "It makes so many people's lives better."
In 2010, Ibrahim worked with Lee on an unsuccessful statewide ballot initiative effort to legalize marijuana, and then when Oakland decided to make four permits available for medical pot dispensaries, Lee encouraged Ibrahim to apply for one given her relationships with city officials and knowledge of the industry. Lo and behold, Ibrahim got it.
"In my mind I'm like, 'I'm going to get one of these permits. How hard could it be?' " Ibrahim said. "I think if I looked back on it now and somebody told me it was going to be X amount of effort, I would have been, 'No way, there's no way, I can't do that,' you know?"
In 2012, even as Oaksterdam was raided and shut down by federal authorities, Ibrahim teamed up with Derek Peterson, an Orange County veteran of the securities and banking worlds, to found Blüm, which was to become Oakland's first vertically integrated medical marijuana production and distribution operation. Her other co-founder was Martin Kaufman, a marijuana entrepreneur to whom Ibrahim is now married. The couple live in Oakland and have an 18-month-old daughter, and among other things, Kaufman is also CEO of Grasshopper Kiosks, an Oakland company that makes cannabis dispensing machines.
Establishing Blüm proved extremely challenging in terms of gaining regulatory compliance and managing a cash-based, quasi-legal operation that still cannot even use traditional banks because of federal laws. "It certainly has taken years off my life," Ibrahim said. "It wasn't, by any stretch of the imagination, easy or something I would ever do again – just the stress, the uncertainties of the marketplace. No one's done this before."
In 2016, despite the uncertainties, Blüm's partners made a bold decision to merge Blüm into Terra Tech, a publicly traded Irvine-based company run by Peterson that began by selling hydroponically grown produce to grocery stores.
Blüm was a $14 million annual operation at the time, serving about 1,000 patients a day, according to Terra Tech. For accounting purposes, the deal was valued at more than $51 million, according to an SEC filing.
Now, in addition to Blüm, Terra Tech has four licensed Nevada dispensaries and cultivation projects in various stages, and last year it acquired a dispensary in Santa Ana. Terra Tech has never shown a profit and had an accumulated deficit of $91.2 million as of Sept. 30. For the third quarter, the company reported $10.12 million of revenue, compared to $6.95 million for the same period in 2016, an increase largely attributed to last year's state legalization of pot in Nevada.
Terra Tech made significant investments upgrading Blüm's Oakland headquarters in anticipation of legalization, in particular by adding even more security features. With high-definition video cameras all over the building and security guards patrolling 24-7, crime in the immediate area has dropped 50 percent since 2012, a company official reported recently.
Ibrahim said she is proud that Terra Tech was able to give its roughly 200 employees, including the 67 based in Oakland, perks like stock options, bonuses, and health benefits. Ibrahim said that, growing up in a modest household with a contractor father and an architect mother, she feels "uncomfortable" with her financial success, emphasizing it's been great to support nonprofits, particularly East Oakland's Lighthouse Community Charter School.
Terra Tech, meanwhile, is continuing to expand, building a new 13,000-square-foot cannabis growing plant off Hegenberger Road near Oakland Airport and in early February easily getting zoning board approval for a similarly sized medical cannabis dispensary and manufacturing plant in San Leandro.
Out of 15 applicants in San Leandro, Blüm was selected for one of three permits, said Deputy City Manager Eric Engelbart, who dealt primarily with Ibrahim on the project. "It's been a positive and productive working relationship with her," he said. "They've been proactive in addressing any of the city's concerns and have been a good partner with the city."
Even though the threat of federal intervention remains, Ibrahim is hopeful that such pleasant interactions will become increasingly normal, with the rules of the road becoming clearer for all involved now that cannabis is legal in California.
"I am happy with the transition. I think that this is honestly the happiest I have ever been. I feel a major shift coming, and it's nice not to feel like you're in purgatory," she said. "From there, you can strategize and make partnerships and scale and grow. That's what I am most excited about."
Standing inside Blüm's reinforced steel walled inventory vault, Ibrahim marveled at the rapidly diversifying array of cannabis products coming on the market, ranging from Cannadips lip pouches to veterinary treatments for pets.
A student of marketing and branding, Ibrahim is eager to introduce some new products of her own, and a new vision seems to be calling Ibrahim, who said she is naturally oriented to starting and completing projects and then moving on to something new.
"I need growth and I like project cycles. I like to have a start date and an end date," Ibrahim said. "The first 45 percent of a project is where I thrive. Putting the pieces together, being able to creatively think, start something brand new, go through uncharted territory, problem solving – that's my favorite. And I get to do that again."
This report was originally published by our sister publication,
Oakland Magazine.