Hundreds of thousands of Californians may lose their rights to grow some pot with a doctor's note this year, as the legality of banning such activity faces a potential state Supreme Court review.
On Friday, leading medical cannabis lawyer in California, Joe Elford, backed by CA NORML, filed an appeal in the case of James Maral, a 42 year-old Live Oak resident with a painful, life-threatening condition caused by insufficient blood supply to muscles and nerves. The former heavy equipment driver also has damaged discs in his back. For the past fifteen years, his family has lived in the city of Live Oak, which banned the cultivation of medical pot in 2011. Maral also is a caretaker for his mother Donneda Maral, who has severe diverticulitis and Crohn's disease, for which she is frequently hospitalized.
[jump]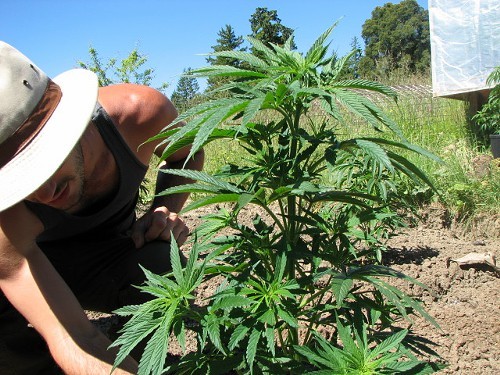 Californians with a doctor's note for pot can grow up twelve immature plants, but cities have begun banning the activity.
Cannabis is a proven treatment for various forms of pain, as well as diverticulitis, and Crohn's, and growing it is a cheap way to treat pain without the side effects of pharmaceuticals.
In 1996, Californians created medical defenses against prosecution for marijuana possession, and cultivation, and these rights were further ratified in 2003 with SB 420, the Medical Marijuana Program Act. Californians can grow as many pot plants as their doctor says they need, though state guidelines call for a personal cap of six mature plants or twelve immature ones.
But small towns are starting to ban all medical pot growing, setting up another court showdown like last year's fight over dispensary bans.
The Northern California city of Live Oak banned all medical marijuana cultivation in 2011, and Maral sued and lost in local and then state appellate court, which ruled that state law does not grant Californians a right to grow medical pot.
There is no "unfettered right to cultivate marijuana for medical purposes," the appeals court said. Live Oak and a handful of other cities have bans, and many more are sure to follow in 2014.
Elford appealed to the state Supreme Court Friday to review the appellate court decision, arguing, "The City's Ordinance conflicts with and is, therefore, preempted by California law, which expressly authorizes qualified medical marijuana patients to cultivate marijuana for their personal medical use."
It could be a while before the California Supreme Court decides if it wants to review the ban, and even longer before it would even hear the case.
In the mean time, Fresno is moving to close off all access to medical marijuana by banning both dispensaries and all home cultivation at a meeting on Tuesday. The heated public hearing is scheduled to start at 2 p.m. in Room 301 of the Hall of Records Building, at 2281 Tulare Street, Fresno, CA 93721 – agenda item 33.
"The Fresno ordinance is in blatant conflict with the intent of the Compassionate Use Act to ensure access to medial marijuana for all patients in medical need," wrote Dale Gieringer head of CA NORML. "We must not let this attack go unchallenged!"