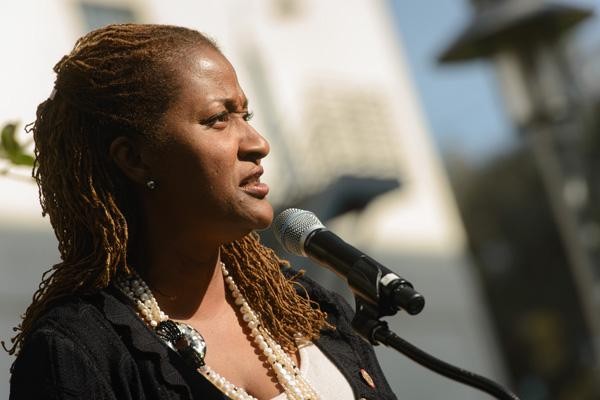 People with criminal records often face a steep uphill battle when trying to find employment after incarceration — a challenge which can trap them in poverty as they struggle to
rehabilitate
their lives. Securing stable, living-wage jobs can be particularly difficult for this population, which is why
civil rights advocates
are promoting legislation that would eliminate a key employment barrier in the healthcare industry. Senate Bill 1384, which passed the state Senate in June and will soon face a vote at the Assembly, would change the law so that people hoping to become certified nursing assistants (CNAs) would no longer face automatic license denials due to past convictions. 
It's a reform that would level the playing field and open up CNA job opportunities to otherwise qualified candidates. Why, then, is the California Department of Public Health opposing the measure? 
[jump] The state health department recently sent a letter to Mitchell stating its opposition to SB 1384, arguing that the bill would limit the government's ability to protect patients. This stance is a blow to advocates fighting to end policies that
discriminate against formerly incarcerated people
and unfairly punish them for past actions for which they've already served time. 
The legislation — introduced by Senator Holly Mitchell (D-Los Angeles) and sponsored by Equal Rights Advocates, a San Francisco-based civil rights organization — would remove the requirement that the state health department deny all CNA licenses from applicants that have certain convictions on their records. The current list of approximately seventy offenses that lead to automatic rejection includes some non-violent offenses (like petty theft) that may have happened many years prior.  Equal Rights Advocates, which is pushing the bill as part of its "Let Her Work" campaign, has
argued
 that the bill could be especially beneficial for women, who are the fastest growing population in US jails and prisons and who often struggle to provide for their families post-incarceration. 
"The blanket exclusion of women who apply for CNA jobs solely on the basis of their conviction history means that they are being punished once again after they have served their time," Mitchell said in an earlier
statement
. "These are women who … are rehabilitated, and who are trying to make a living wage to support their families."
Supporters of the bill have also
noted
that access to employment is key to reducing recidivism, and that past criminal convictions are poor predictors of how a prospective employee will perform. 
The state's recent opposition letter, signed by Monica Wagoner, a deputy director in the California Department of Public Health (CDPH), had the opposite message — that people with certain criminal records essentially pose too great of a risk to even be considered for CNA jobs: "SB 1384 would limit CDPH's ability to deny a CNA application … [and] removes CDPH's ability to adequately protect patients," the letter said.
Supporters of the bill, however, have noted that there are many other healthcare professions — including dentists, occupational therapists, psychologists, and more — where applicants aren't subject to automatic denials of licensing or certification due to a conviction.
And in a response letter to the state, Mitchell noted that SB 1384 allows the department to continue to deny individuals who are unsuitable for certification but simply removes the practice of automatic rejections. "By eliminating mandatory denial, SB 1384 gives people the chance to prove — through character and employment references, certificates of training and treatment, and other relevant evidence — that they have overcome the significant life obstacles that led to their convictions." 
You can read the state's
full opposition letter here
and
Mitchell's response here
.