Heard the one about the rapper who lost his pants but kept his head? The episode took place in April '04 at House of Blues in Los Angeles. It was the second-to-last night of a 27-city "Quannum World" tour, marking the first time since the artist-owned label's founding that almost its entire roster — Blackalicious, DJ Shadow, the Lifesavas, DJ D-Sharp, Latyrx, the Maroons, Lateef the Truthspeaker, and Lyrics Born — stalked the same stage.
Label staffer Lydia Popovich witnessed the incident from a second-floor VIP balcony. The Quannum crew had ordered basketball warm-ups — jerseys with each artist's name on the back, and breakaway pants with button-snaps running up the side — to give them a uniform look. During his solo set, Lyrics Born — aka Tom Shimura, the Asian-American East Bay icon who has become the label's biggest star — was performing "Do That There," which includes the line Huge pair of balls/Keep 'em cool under a parasol. Normally, Popovich says, "Lyrics Born does this huge grandiose move where he mimics having a huge pair of balls with his arms." This time, the rapper's thumb got caught, and he accidentally unsnapped the side buttons of his pants, which proceeded to slowly fall down. "He's prancing around trying to keep going," she recalls. "He makes another gesture, and his pants come completely off. He's standing there, still rapping, completely in his boxer underwear. We see him struggling to maintain composure — he's laughing and rapping at the same time."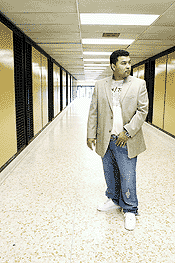 No one in the audience noticed anything amiss, as the performer kept his cool (and his professionalism) until the set was over. "It was quite hilarious, actually," Popovich continues, noting that Shimura was embarrassed about the incident not because of what his fans might think, but because he knew he'd hear shit about it from his Quannum homies.
To show he was a good sport, she adds, he re-created the scene the following night at the Warfield.
That Shimura was able to laugh at himself is just one indication of what sets him apart from your average dead-serious rapper. In fact, little about his appearance suggests "rap star." He favors basic jeans, nondescript button-down shirts, and generic sweatshirts, and his topics run similarly counterintuitive to the outlandish stereotype we're all accustomed to. He doesn't rhyme about guns, drugs, or money, or profess to be a killer, baller, or pimp. And Shimura is not afraid to be goofball — on a recent mixtape CD, he assumed the persona of a game-show announcer. Nor does he claim ghetto credentials. On the contrary, the 32-year-old resides in quiet, suburban El Cerrito, far removed from East Oakland sideshows or Hunters Point turf wars.
But none of this has stifled Shimura's career. His buoyant humor, wickedly clever wit, and remarkable work ethic have powered a thirteen-year stint that has taken him from humble underground beginnings to last year's "Callin' Out," a funky, upbeat tune that netted the rapper commercial radio spins, sold-out tours, and various plugs in TV ad campaigns and Hollywood blockbusters. Yet for all that, he has maintained normalcy — one night he's rockin' the Fillmore; the next he's standing in line, entourage nowhere in sight, at the El Cerrito Trader Joe's, one fan and fellow shopper reports.
To longtime hip-hop critic Todd Inoue of Metro, San Jose's alt-weekly, what makes Lyrics Born stand out among rappers is his distinctive voice. "He has a drawl that's hard to place," says Inoue, who pays close attention to the careers of Asian-American recording artists. "Is he from the South? New York? Oh, shit, he's from the Bay? Davis? How the hell does a Japanese-Italian-American cat from central Cali sound like that? It's rare that you see a curly-haired Japanese dude — Rocky Aoki is the other one — and to see one in the cipher getting his makes him more unique."
Ask the Quannum cats about Lyrics Born, and they'll describe a trickster who livens up tour buses. "Well, you know Tom is a comedian," says Lateef Daumont, Shimura's college buddy and coconspirator in the duo Latyrx. "He's an impressionist. You know that, right? Tom can do impressions extremely well. On any given tour, he'll do impressions of everybody on the tour. And they'll be really good. Like, he does a really good impression of Gab, he'll do a really good impression of X, he does a fair impression of Shadow, so I can only assume that he does a fair impression of me. It doesn't stop there, man. He does an impression of DJ D-Sharp that's ridiculously on point. He does an impression of our soundman/roadie Dean that is uncanny. That shit's hella funny. And he's a capmaster on tour too. When it's cap time, him and Gab be going at it. They're kinda neck and neck."
Blackalicious producer Xavier Moseley, who goes by Chief Xcel onstage, has a slightly different take. "I wouldn't call him the capmaster as much as I would call him the anecdote master," he says. "Tom, of all my friends, is probably the most detail-oriented. He notices every little detail and every little nuance of people and their situations."
That eye for details, however trivial or goofy, has proven a tremendous asset. Shimura's rhymes reveal not only his talent for lyrical flow, but that he has a lot on his mind. Over the years, he has sprinkled in everything from zany word association (Wee tots at kiosks and Koreans in Reeboks; Miss Japan, Canada, and Bananarama in the back of an Acura) to personal commentary (My life's a culmination of my past achievements/With a lot of heavy lifting, lotta deep breathing, a lot of courage, lotta doubts, lotta mixed feelings, a lot of love, a lot of luggage for a lot of reasons). And while he often is philosophical and self-deprecating (I think it's better to be depressed for a minute and get reoriented than be a bitter cynic), he has the heart of a fighter (Might not win at first, but definitely, eventually).
To complement his role as tour-bus comedian, Shimura has a thoughtful, meditative side. "The thing about Lyrics Born that a lot of people don't know is he's a very deep thinker," Daumont says. "He'll sit there and just think about what he wants to do for an hour or two. … Usually it's kinda like career-ish stuff, things he wants to do, or things he envisions, things like that."
So exactly what does Shimura envision? "I always wanted to exist within any genre," he says. Distinctions like mainstream or underground are irrelevant — what's more important to him is following his instincts: "I just want to do what I feel is natural."
---
Lyrics Born is coming to you live and direct from the cozy environs of Berkeley's Au Coquelet, between bites of a red leaf, romaine, and arugula salad — his usual order. Although the student-friendly cafe-restaurant hardly screams "hip-hop hangout," this is a place he feels at ease. Matter of fact, he wrote the majority of his breakthrough album, last year's Later That Day, at a quiet table in the back. The comfort factor is a high priority for Shimura, a private person who can be as standoffish to folks that don't know him as he is warm and gregarious with those who know him well. Although he loves his fans, there's talk that he can get testy sometimes, especially deep into a long tour, after fatigue and stress have set in. It's fair to say he doesn't suffer fools gladly.
When he isn't on tour, Lyrics Born also likes to visit Berkeley's Telegraph Avenue, where he can relieve the pressures of stardom and just be Tom Shimura. He has history here: It's the place he would always end up after a long day of riding bikes with his friends as a kid. And where he almost got arrested during his more delinquent days, during the riots that followed the 1992 Rodney King verdict. It's where he once scoured the used-vinyl bins at Rasputin Music and long-since-closed Leopold to feed his crate-digging jones with acetate grooves. And it's the place he returns to, again and again, after a particularly grueling road trip — not just to reconnect with his past, but to feel grounded.
"Telegraph used to be scary," Shimura muses, gazing at all the chain stores that've taken up residence since his formative years. "It's just changed. I still love it, but it's changed." He speculates that the recession, dot-com fallout, and a steady procession of affluent folks drawn to the Bay's mystique have contributed to these changes. "What was fucked up," he laments, was that "people couldn't afford to live in their hometown." He's speaking from experience: Priced out of the Berkeley real-estate market, he instead bought a fixer-upper in El Cerrito in 2001.
But on the Avenue, Shimura is still clearly in his element. Dressed casually in a green T-shirt, jeans, and white sneakers, nobody gives him a second look. He addresses a handcrafted-jewelry salesman by name, flirts with the cute salesclerks in Wicked, and laughs it up with the Jokeman, a Telegraph fixture who dispenses off-color humor for a small donation. Popping into Cafe Milano for a mocha, Shimura is still thinking about the mischief of his teenage years, which fell somewhere between harmless kid stuff and straight-up criminal-mindedness. "There was a turning point in Berkeley High when I could have gone either way," he says, adding that some of his classmates are now homeless, or in jail, or married with kids, or rich. He is none of the above — yet. "Luckily," he continues, "I had a mother that was on my ass."
His mom, Charlotte, raised her son alone from age two and instilled in him a dedicated work ethic. "There was never a time when I didn't have a job," Shimura says. At one time or another, he has been a pizza delivery guy, telemarketer, dishwasher, door-to-door stationery salesman, five-and-dime clerk, and freelance yard worker. He kept busy back then, and his increasingly successful career as a rapper and independent label co-owner now leaves him little room to slack off. When Shimura isn't on tour — he has done roughly two hundred shows since 2003, according to Quannum's label manager — he often spends eight to ten hours a day in the recording studio. On his rare days off, he busies himself with home-improvement projects or errands: "You just missed all the excitement; I picked up my dry cleaning," he jokes. "Shit was hot."
Continuing down Telegraph, he walks past a large poster by the entrance of Rasputin advertising his latest release, Same [email protected]#$ Different Day, which came out in April. "Watch this," he says. "I'm gonna do some market research." Making his way to the "L" section, he discovers his album is sold out. "That's both a good and a bad thing," he murmurs. He whips out his BlackBerry and text-messages Quannum HQ, telling his labelmates to make sure the store orders more CDs. "You can't be too cool for certain jobs," he explains. "When you're an independent artist, you've just gotta multitask." Just then, a customer comes up, looks in the Lyrics Born bin, and sees that it's empty. Disappointed, he seeks out a sales clerk, and asks if there are any more CDs in stock. He fails to notice that the artist in question is standing barely five feet away. Maybe it's because Shimura has recently shaved his trademark beard. ("It's hella easier. No more lining and shaping. I just use the Gillette Mach III and it's on.") Or maybe it's simply because the rapper keeps a low profile offstage.
But a block away at Amoeba Music, Shimura quickly transforms into Lyrics Born — a slightly more animated, slightly less curmudgeonly version of his normal self — as he's greeted by DJ Platurn, the store's lanky, Scandinavian hip-hop buyer and half of the successful DJ duo known as the Oakland Faders. They shake hands, and Platurn reports that Same [email protected]#$ Different Day is moving briskly. Anybody that's selling a copy a day months after an album's release is doing well, Platurn insists. "The consistency is what counts. That means you're winning new fans all the time." Lyrics Born is all smiles.
In fact, Shimura is winning new fans from unlikely arenas — his song "Callin' Out" recently became a huge hit on the primarily rock-centric San Francisco radio staple Live 105, and Lyrics Born was the only hip-hop artist to perform for a 16,000-strong crowd at the station's recent full-day Shoreline extravaganza. "I'm so used to being that guy [the token rapper]," he notes with a shrug. "Put me in front of any crowd. I'll make it work." Yet after touring for so many years, and playing everything from rural towns to major foreign capitals, he has become somewhat nonchalant about the minutiae of it all: "I've seen everything. At the end of the day, everything is just a different version of the same thing." Touring abroad, he says, has widened his perspective on American life. "I went to Brazil; that was a huge eye-opener for me," he says. "You start to realize the reason we have it so good is because other people have it so bad."
In a sense, Shimura's life has been one consciousness-raising experience after another. Born an only child in Japan in 1972 to an Italian-American mother and a Japanese father, Shimura moved to Salt Lake City with his mother at age two, following his parents' divorce. Growing up in a Mormon-dominated culture, he knows what it feels like to be "the only person of color in my whole school," and live in a community he estimates was 98 percent white.
When he moved to Berkeley around 1980, he recalls, "It was like the sun came out of the clouds." All of a sudden, he was surrounded by people of all sorts of ethnicities and social backgrounds, and enmeshed in liberal progressiveness and laid-back attitudes. Even the white people were "a different kind of white people than I was used to," he says. "Instantly, I felt like I was home."
For the first time, Shimura no longer felt like an outsider, and he reveled in the region's famed multicultural vibe. At school, he socialized with preppies, hippies, headbangers, jocks, rich kids, poor kids, nerds, and thugs (known as "stubbies" back then). "I hung out with the whole spectrum," he remembers.
Funk music was popular then, and young Shimura eagerly soaked up the sweaty throwdowns he heard on KSOL, the Bay's premier black station at the time. "It was all about Rick James, Teena Marie, 'Double Dutch Bus,'" he recalls. Shimura's first exposure to hip-hop came via the Sugarhill Gang's seminal "Rapper's Delight," which he heard, in true folkloric fashion, not on the radio but on the playground — kids from his school had memorized its endless rhyming verses, and would recite them during recess. "Right there, I was hooked," he says.
By the time Shimura reached junior high, he noticed there were a lot more rap albums coming out; also, "the beats became more layered." Having studied the works of old-school legends Melle Mel and Rakim as deeply as any of his textbooks, by age twelve he'd written his first rhyme, and in ninth grade he formed a rap crew with three other guys — Onion, Roeski, and Mac Mill. Shimura was the youngest — "I was the peewee," he says. Their affiliation amounted to little more than epic boasting and capping sessions and going to dance parties at Berkeley's Elks Club, although Mac Mill later went on to local fame as a pioneering Oakland indie rapper.
These were the early days of Bay Area hip-hop — "Before Too $hort had a deal," Shimura recalls — when the region's sound and the genre as a whole was still discovering itself. Shimura, whose microphone moniker at that time was Asia Born, was still finding himself, too. The music helped him craft a cultural identity, but he still had to develop a rap style. After toying with various lyrical approaches, including a horror-inspired technique he calls "insane style," he developed the verbose, melodic, lightning-quick flow that became his calling card.
"With hip-hop, what really counts is the vowels," Shimura explains. "Really doesn't matter, as long as the vowels rhyme. That was one thing I told myself I'm gonna focus on." As far as his style is concerned, he says, "I always wanted to be one of the most versatile in the game … I approach rap like it was a one-on-one conversation."
After graduating from Berkeley High, Shimura shuffled off to college at UC Davis. It was there he met five people who would become huge influences both on his music and on his personal life. They were Xavier Mosley and Tim Parker (later to become Chief Xcel and Gift of Gab of the duo Blackalicious), Jeff Chang (DJ Zen), Josh Davis (DJ Shadow), and Lateef Daumont (who teamed up with Shimura in Latyrx).
"I thought he was kinda funny," says Daumont, recalling his first impression of Shimura. "He always had off-center comments, like his opinions were almost never like anyone else's opinions. Even people that were like-minded, you know what I mean? He has a very unique vision of the world. The same thing could be said of his music."
Mosley recalls the first time he and Shimura shared a hip-hop moment: "We had an African-American studies class together — me, him, and Shadow — and we were walking back from class one day. I asked him if he had heard about this group called Main Source. He was like, 'Yeah, this group is hella dope.' That kinda sparked off a whole conversation about hip-hop. And from then, he told me about DJ Zen, Jeff Chang, who was doing a show down at KDVS. That's pretty much how our friendship started."
For Shimura and his new crew, KDVS served as a college within a college — a school of higher musical education. "It was like class was in session," Shimura says. The friends would sit for hours in listening booths, absorbing the campus radio station's vast and well-catalogued library, and discovering many of the obscure breakbeats that would later wind up as samples in their own songs. After researching the foundations of hip-hop — soul/funk artists like James Brown and Lyn Collins — Shimura realized that, "Suddenly, you're studying music in general. You learn about jazz, funk, and R&B. You trace the roots, and it leads you in so many different directions."
It was also at UC Davis that Shimura met the woman he would later marry: Joy Velarde, a classically trained opera singer turned hip-hop chanteuse whose stage name is Joyo Velarde. Daumont knew something was up the first time the couple had dinner together. "Know how I knew it was serious? Because I came over there, in the middle of their dinner, and I was like, 'Hey, man, I got this idea for a song.' At that time, we would pretty much stop the world for a song. We still do to a certain extent, but you know, we can hold on to the idea now. So I come in there and I talk to him and he's like, 'Yeah, yeah, you know what, man? I'm having dinner right now.' I was like, 'What? With who? So what?' And I looked in there and Joy was sitting there smiling at the table, and I was like, Okay … alright then, man.'"
Daumont also noticed that Shimura never discussed the intimate details of the relationship the way he had with his other conquests: "We would talk about chicks, but he never really did that with Joy. That was always like, their relationship. That's one of the reasons it was special. Locker-room talk, he never did that with her." He admires the couple because they've been together for so long, and have been there for each other through some rough times — their fathers died within six months of each other.
The future Mrs. Shimura first made her presence known with her Ooooh baby backing vocals on Lyrics Born's 1996 single "Balcony Beach," lending undeniable soul and sexiness to his sound. Shimura has clearly relished the chance to use Velarde as a muse: She has played Cher to his Sonny on several romantic duets, including "Love Me So Bad," "Over You," and "I Can't Wait for Your Love."
Joy inspires nothing but praise from Shimura himself: "She's smarter than me, she's harder than me, she's better than me … she's just raw," he says, paraphrasing his own lyrics. With her guidance, he says he has become "much more spiritual," and has learned the value of commitment. The fact that she accompanies him on the road is a big plus, he adds. "I know some musicians who go two, three months without seeing their families." It's atypical for a rapper to be not only married but enjoy a stable home life, yet somehow it's completely in character for Lyrics Born.
---
The most consistent thing about Shimura the rapper might be that he is constantly evolving. Lyrics Born's recent tune "I'm Just Raw" completes a cycle he began twelve years earlier on "Send Them," from the first single on Solesides, the collectively owned record label founded by the UC Davis crew that would later be reborn as Quannum. Both songs feature cocky battle-rap braggadocio and rat-a-tat syntax. The earlier song ridiculed the overly commercialized pop-rap of that time, while the new tune presents a stinging, wordy rebuke to today's overly macho MCs.
The parallels end there, however. The high-pitched triplet cadences of "Send Them" (I probably play my cards better than Kenny Rogers — wanna know why?) sound adolescent today, while "I'm Just Raw" demonstrates a confident microphone master at work, a voice at least an octave lower and superior breath control: Pack a duffel bag with all your wrinkled clothes and pedal home/Get a little Dictaphone and sit alone in the middle of the room and let it flow/Wouldn't it be better if you went and chose a new career path?/Like a shepherd or a flight attendant on an aircraft?/You're pitiful, a pollywog, tiny fishy in a small pond/Go play Barbie doll with leftover beads from the Mardi Gras/Acting hella hard but that's just poppycock/'Cause inside you're hella soft like a Jolly Rancher lollipop.
What happened between these two tunes? First, Shimura changed his handle from Asia Born to Lyrics Born, to downplay the anomaly of his status as an Asian rapper. Second, Solesides disintegrated in January 1998 over financial and management issues, and disagreements about artistic vision. The label lay dormant for a short time before re-forming as Quannum Projects, an arduous process that brought Latyrx — whose 1997 debut CD Latyrx: The Album was an oft-experimental journey into artsy boom-bap — to a screeching halt. When Solesides dissolved, the crew found itself beset by indecision and self-doubt. "It was almost like being homeless for a minute," Mosley recalls. "You didn't know what was gonna happen." Through the uncertainty, he says, "Tom was the anchor, the go-to guy." Adds Daumont: "Tom was running the label. Pretty much, it was almost like he was acting president of the label. So he had a lot of pressure on him."
The adversity, however, ultimately resulted in what Shimura identifies as his biggest creative leap, the cathartic 1999 single "I Changed My Mind." The original version (two remixes appear on Same [email protected]#$ Different Day) finds Lyrics Born doing more crooning than rapping, over a midtempo funk background courtesy of the German retro-soul/jazz band Poets of Rhythm. With its unconventionally emotional flow and smooth cadence, the song completely transcended the typical hip-hop boundaries: Well looking back now as a young man, girl, in hindsight I regret/I never listened to my better judgment so my blind side got the best of me/But we live and learn but you didn't tell me never ever settle for less/And what I deserve and once you've matured, girl, you'll always be second best.
"It made me look at myself in a new way, because I started to realize that I hadn't hit the wall," Shimura recalls. "I could still open doors and try new things." He also conceived the tune at what he calls a pivotal point in his life. During a chance meeting with legendary funk drummer JMB (of Underground Railroad fame) in Los Angeles, Shimura says, "We got into talking about music, and I said, 'I got this problem. I'm a hip-hop artist with a lot of influences. There's so many things I want to do, all kinds of records. I've got a lot of interests, and I want to pursue 'em all.' But I didn't know where to start. This guy, he'd been playing for like twenty, thirty years at that point as a musician. And he just looked at me and said, 'Do it all.' That was it. That changed my life."
Unfortunately, doing it all largely put the brakes on Latyrx, once a more popular entity than the soon-to-be-ascendant Blackalicious. Shimura, Daumont explains, "always felt like he needed to do things and say things and express things musically. Like he needed to have the space of the song to do himself, musicwise and lyricswise. That was never a secret for either of us, that there was that capacity for either of us."
After "I Changed My Mind," Daumont recalls, "I was kinda trying to encourage him at that time to put out another Latyrx record, but he really felt like he needed to work on his own record. And that record took a long time to finish."
It took a while to catch on, too.
---
Shimura estimates he did 90 percent of the writing and production on Later That Day, which didn't see daylight until 2003, almost six years after the project began. "Tom is very personally attached to his music," explains Popovich, who calls him a "perfectionist." Yet both she and label manager Isaac Bess insist the final product, which has sold about 100,000 units to date — a great showing for an indie label — was well worth the wait.
Frequently employing live musicians, Lyrics Born crafted a record that served as both a tribute and a postscript to the funk era: "I can't deny what I grew up listening to," Shimura says. As impressive musically as lyrically, LTD is that rare hip-hop album that actually stands up as an entire album. Its song cycle segues from collective unconsciousness-raising ("Dream Sequence") to cold-sweat-inducing paranoia ("Bad Dreams") to symphonic arrangements ("Rise & Shine") to giddy party-oriented material ("Do That There") to comedy-laden P-Funkish ruminations on telemarketers ("Cold Call") to loosey-goosey garage grooves ("Stop Complaining") to politically charged militancy ("Last Trumpet") to dancehall reggae nods ("One Session"). Meanwhile, several skits and interludes, including the hilarious "U Ass Bank," add humor and tie the album together thematically.
Technically, the record spawned only one hit single, but it was a monster. "Callin' Out" not only drew on all of Shimura's funk influences, but added saucy, compelling verbals and a catchy hook (Callin' out to all area crew/We gon' make this shit happen right here right now). The lyrics perched on top of a bouncy, funky Lyrics Born-produced track that resonated strongly with DJs and hip-hop heads, and also proved popular with people who don't normally listen to rap music. The song is so infectious, it's hard not to feel it and dance to it. As the title suggests, it carries a double meaning: The rapper was both reaching out to like-minded lyric lovers, and trumping lesser-talented fakers of funk.
"Callin' Out" was first aired on Live 105's mix show Subsonic, the station's laboratory to test new music; after generating crazy listener response across the board, it was quickly added to the station's daily rotation. Suddenly, Shimura says, "I went from no radio play to big radio play." As he recalls it, Live 105's jocks took a personal interest in the record, something that almost never happens at the corporate level: "Party Ben [Subsonic's host] brought it in, and Aaron Axelsen [Live 105's music director] bumped it up." Eventually, it ended up No. 1 on the alt-rock station's charts for eight weeks — a rare thing for an indie artist, and completely unprecedented for a rapper.
By the time the song made the Live 105 playlist, more than a year after LTD's release, "Callin' Out" had already won over clubgoers and ad executives — it had been licensed overseas to Motorola and domestically to Coca-Cola for TV commercials that popped up just as the tune began infiltrating the airwaves. A Tower Records spot soon followed suit. For Shimura — who had accepted his niche as an artistically innovative but resigned-to-the-underground rapper — there were major ramifications. Suddenly he was playing for thousands of people, and sharing a stage with alt-rock powerhouses such as Sleater-Kinney. "It changed the trajectory of my career," he says. "It made a huge statement."
Thanks to the single's success and his increased visibility, Lyrics Born has become easily the most prominent Asian-American rapper in America, but for some reason, he isn't a cultural icon in the Asian community the same way popular Filipino turntablist Q-Bert is. "I think LB represents for hip-hop more than he does for Asian Americans," says Metro's Inoue, who shares that ethnic identity. Sometimes, he notes, there's a backlash in certain quarters against mixed-heritage people who aren't "100 percent Asian." For Shimura's part, Inoue says, "I don't think he turned his back on his heritage — he just wanted to accurately reflect who he was."
Shimura claims the issue of him being an Asian MC "never came up until I started doing interviews," although he also admits he has toured places in the South and Midwest where "I was probably the only person of color in the entire town," and speaks openly about a lack of Asians on the pop-culture map, especially on television. That's important, he says, because TV is how kids from other countries learn English. From an early age, Shimura says, he detected "this huge void in American public life" where Asians are concerned, even though "we've been in this country for three hundred years."
That void made it a challenge for Shimura to grasp exactly what his cultural identity was supposed to be. "We had no validation in terms of role models — people we look to and be, like, 'Wow, I wanna be just like him,' he recalls. "Other than Bruce Lee, it's Arnold from Happy Days, it's Mr. Miyagi, it's Big Trouble in Little China. Fuck that bullshit. That's not who we are. That's where I was coming from."
Shimura changed his stage name from Asia Born to Lyrics Born after realizing it was "unfair" to expect him to represent all the diverse Asian cultures. "We aren't one simple group that can be lumped together," he says, a little indignantly. "I bump up against that quite often. I treat what I do with so much respect because I know that even though my stature within the mainstream is very small, I know for at least one person out there I do fill that void for them. Because, it's like, I know what that's like to be that kid."
Following our stroll down Telegraph Avenue, we return to Shimura's ride — his one luxury possession is a big-body Mercedes-Benz, which doesn't exactly jibe with his underdog image. Yet it's easy to forgive him this indulgence. For years, he drove from gig to gig in a beat-up Accord. Before that, he had a blue hatchback nicknamed "The Blue Turtle," whose back seat was a mountain of discarded candy and fast-food wrappers. He bought the Benz four years ago, and its interior remains immaculate besides the CDs crammed into the door pockets, which speak to his eclectic tastes: Along with Same [email protected]#$ Different Day, he has a rare Brazilian funk CD, a Sade album, some Frank Sinatra, and current albums by local hip-hoppers Co-Deez and Prozack Turner.
As he rolls through downtown Berkeley, a fan recognizes him and shouts out "LB!" Shimura just smiles, with the satisfaction of someone who has achieved fame entirely on his own terms.