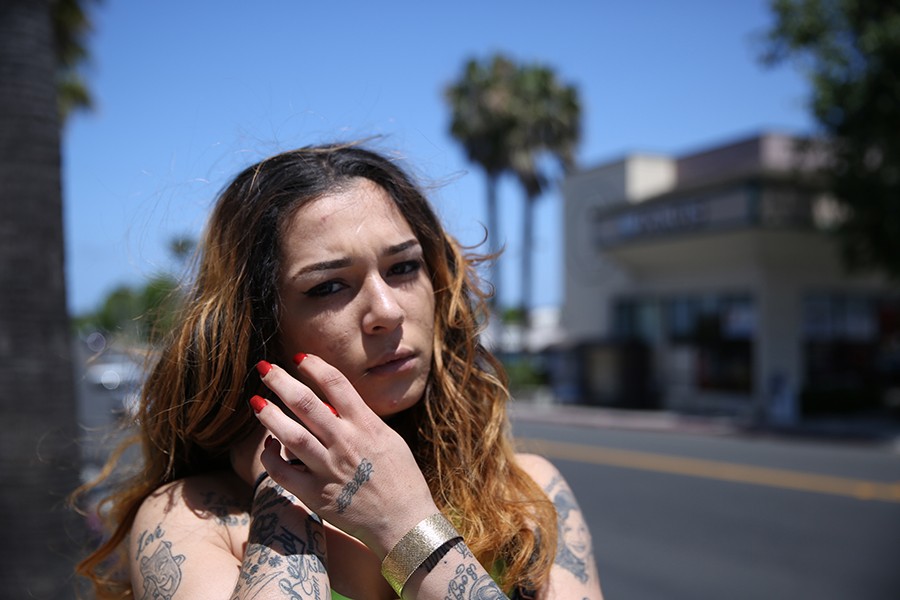 At first glance, Tiarra Wilson's Instagram page looks pretty ordinary. There's a picture of her 2-year-old daughter wearing a pink tank top. And there are selfies: one shows off her new braids and another her abs ("The gym be coming thru 4 me," she writes in the comments). But scroll down a little further and there's something that separates her from other Oakland residents: a video of her singing at Oracle Arena. Performing her local hit "On Me," Wilson gets so excited she yells the lyrics, 'Cause we know to get it popping/Get this party started — a far departure from her normally relaxed croon.
"It was amazing, it was a dream come true really," said Wilson, who performs under the name Boofrmda4, pronounced "Boo from da four," referring to 54th Street in North Oakland, where she grew up.
But underneath the video, which captures a young singer at the beginning of her career, lies a sobering comment: "#4Raymen," a reference to her best friend and musical inspiration, Raymen Justice, who was killed by gunfire in East Oakland in 2010.
"Once he died, I needed something to respect myself and the feelings of my situation," said Wilson, 23. She was in high school at the time of his death.
Since then, there have been traces of Raymen Justice in almost everything the singer has done. His death prompted her to rap, first recording demos with her friends at Youth Uprising in East Oakland and later performing at open mics around the Bay. Her lyrics were dark and her flow was aggressive, something her friends noticed. She started singing per the advice of a friend, who said she should "soften her delivery." "I was in a really mad part of my life," said Wilson in a phone interview.
It was when Wilson made the shift to singing that people really started to take notice. "It actually worked out a lot for me," said Wilson, who joked that she has pretty much forgotten how to rap.
"On Me," which has been viewed more than 170,000 times on YouTube since its release in 2016, has a breezy, G-funk-inspired beat by Oakland producer Feezydisabangha. Yet, when Wilson sings Coming from a gutta street in Oakland, California/where them youngins run up on you put those hammers on you, it seems to come from a place of strength rather than desperation. The fact that Raymen Justice's brother Rayven sings the hook makes the song even more powerful.
In her latest work, Wilson delves further into personal introspection. Her newest song, "Would They Still," turns a club track reminiscent of DJ Mustard into a confessional about the alienation that comes with success: Stop answering my phone when it need me/stop givin' out money so easy/focus on me and only me/would they still love me? Wilson's cleverness comes from her ability to juggle turmoil with pop and R&B tropes, making hip-hop bangers out of personal struggle.
While Wilson is happy with her recent success, she isn't dwelling on it. "That's checked off my list now, trying to figure out some new things," she said about her performance at Oracle Arena in May. These days, besides taking care of her daughter, Wilson said she's constantly in the studio working on new musical projects.
Within the next few weeks, she plans to release a song from her upcoming mixtape, It Was What It Was, which Wilson says will drop before the end of the year.
Editor's Note: This story mistakenly wrote that Boofrmda4 is from East Oakland. This story has been updated.