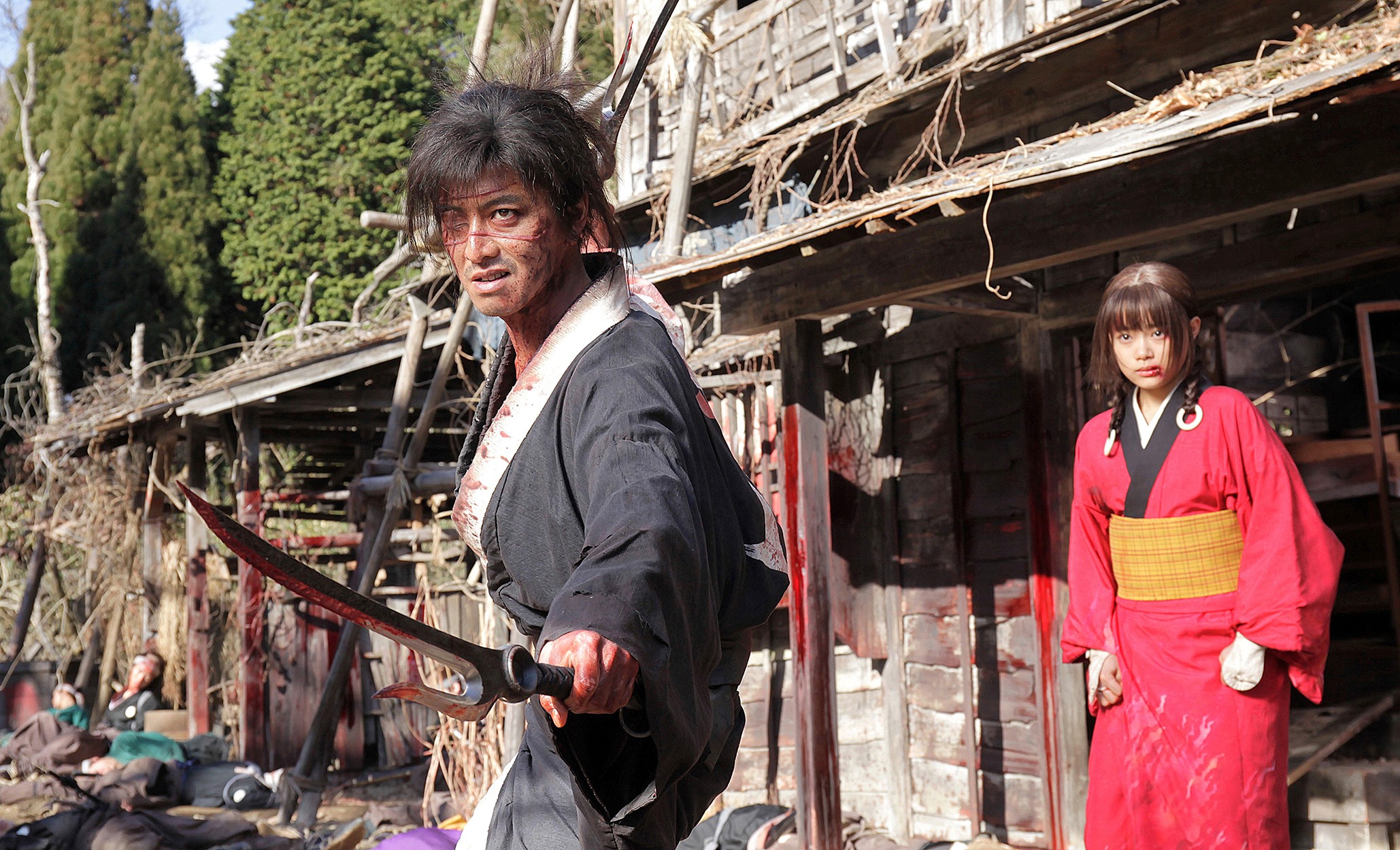 Filmmaker Miike Takashi, in common with his protagonists, takes a licking but keeps on ticking. Blade of the Immortal, Miike's latest to reach the U.S. and his 100th directorial effort, does not appreciably break new ground in its story of a Shogunate-era samurai named Manji (Kimura Takuya) — not even when Manji meets Yaobikuni, a ghostly 800-year-old woman in a white hooded robe, who curses him with immortality.
Manji is in the midst of tangling with about 100 plug-uglies when his eternal life kicks in, courtesy the "sacred bloodworms of the Holy Lama" put into his body by the witch. He kills all his enemies even after losing a hand and an eye (the hand grows back), setting the pattern for the rest of the movie, in which he adopts an orphaned teenage girl (Sugisaki Hana) and helps her avenge her parents' deaths. Cue extras dropping like flies, plus anachronistic hairstyles and makeup.
The 57-year-old Miike became the object of cult adulation with such grotesqueries as Audition, Ichi the Killer, and the Dead or Alive films, but his fans are not all pimple-faced adolescent geeks with macho daydreams. Plenty of pimple-faced adult geeks admire his radiant production values and unapologetic taste for shock. The ever-popular chanbara swordfight films are an international genre staple at film festivals and art houses. Miike has a flair for depicting cruelty and violence, and such talent is usually rewarded, especially in the service of tales of strife-filled ancient Japan.
Movie and pop music star Kimura turns in a standard-brand action-hero acting job, but the cynosure of all eyes are Fukushi Sôta as a baddie with rock-star looks, and Toda Erika as a female warrior. The mood of the film is unremittingly somber. For Miike, bloodletting is a philosophical exercise. As such, Blade of the Immortal is not recommended for beginners.

Blade of the Immortal
Directed by Miike Takashi. With Kimura Takuya and Sugisaki Hana. Opens Friday.