Detailed plans for a proposed 170-acre park along the Oakland waterfront will get their first hearing next week in front of a regional panel that oversees the bay shoreline. The big new park — to be called Gateway Park — is to be located at the eastern touchdown of the old Bay Bridge in West Oakland. The Bay Conservation and Development Commission's Design Review Board will take up the park proposal at a public meeting next week.
[jump]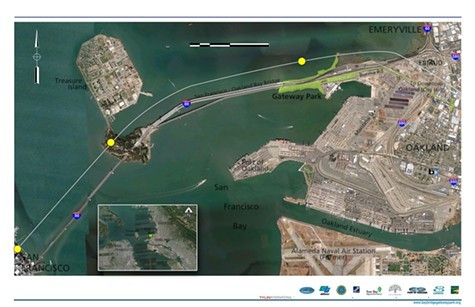 Gateway Park was first envisioned more than a decade ago when the Bay Bridge design team pointed out the area bordering Oakland's industrial district as a potential site to create a public recreation area on the waterfront. Emerging from land originally used by the former Oakland Army Base, the project is expected to cost $174 million in total, coming from a combination of seismic and public funding, tolls from the bridge, East Bay Regional Park District bond measure funds, and private donations.
The first workshop on the project was held in 2010 and the project concept report was completed in 2012. Now, the Gateway Park Working Group — a group of nine Bay Area agencies collaborating on the creation of the park — will bring its plan to the board for the first review of the project on October 7 at 6:30 p.m. at BCDC's office in San Francisco.
The site would expand upon current walking and bike trails in the area and increase shore access for recreational use. While the ultimate governance of the site is still being discussed, the planners hope it will eventually become a regional park operated by the East Bay Regional Park District.
According to the project website, the plan "joins the power and beauty of the new East Span of the Bay Bridge to the fascinating natural, industrial and transportation history of the East Bay," creating "a bold new gateway to the City of Oakland."
Although construction is expected to begin in early 2016 and finish up around 2019, the timeline has not been entirely solidified due to a pending land transfer on the western portion of the site between the US Army and the East Bay Regional Park District.